When I first saw the trailer for Streum On Studio's Necromunda: Hired Gun, a game I had never heard of before, I was intrigued because it looked like a fun fast-paced first-person shooter that screamed Doom Eternal. Also, it is set in the Warhammer 40 000 universe, and so I was worried I couldn't get stuck into the world without knowing the pre-established lore.
Little did I know that would be the least of my problems because Necromunda: Hired Gun turned into one of the worst games I have ever finished.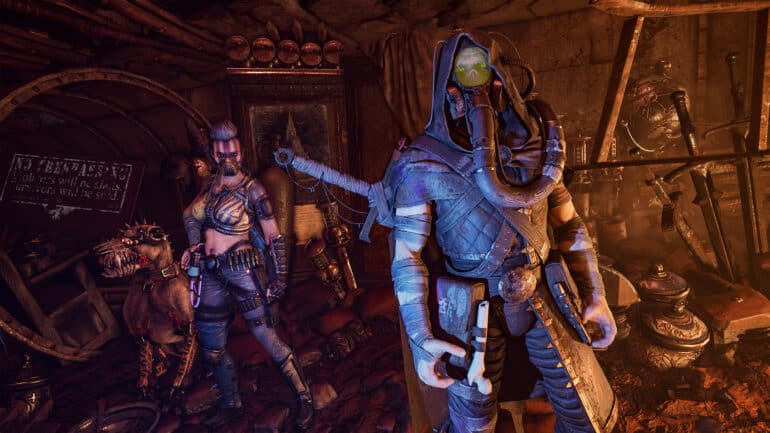 You Call That A Story?
The pre-established lore does most of the heavy lifting when it comes to world-building in Necromunda: Hired Gun, and so all you really need to know is that you play a drab bounty hunter keen on making money for murdering people for this faction.
I would forgive the poor narrative if Necromunda: Hired Gun was released in 2001, because back then the focus was understandably the gameplay. Except, it's 20 years later and we have come so far in storytelling in video games.
Instead, prepare to cringe at the terrible dialogue and boring scenarios you find yourself in.
Heck, even the creators know their dialogue is bad because you can skip most of it with button mashing. Yes, some good games have that option but not when your story is only a few hours long. That just shows that you have no confidence in your writing to engross the audience.
Also, the rare moments there are cut scenes, they are laughable at best. The animations are stiff, the characters are unremarkable and you never really give a damn about what's going on in Necromunda: Hired Gun.
Again, you can skip most of this with just a push of a button, because the honest truth is that what you really came here to do is shoot some meatheads.
Adequate Retro Shooting
The gameplay is by far the best thing about Necromunda: Hired Gun. It saves the game from falling into the "outright unplayable" category.
The shooting is acceptable and I would call it brainless fun at times.
The variety of weapons is good but, unfortunately, never feels that good to use. In fact, weapons never feel all that different between shotgun to shotgun. I would choose guns purely based on stats rather than attributes that fit my play style.
However, I did find that some weapons were good at removing enemy shields and some weren't, but never really understood why. Even the explosions feel unsatisfactory.
Further to that, enemies are painfully stupid, awkwardly animated and repeat the same taunts so often that it will drive you insane. They honestly feel more like bullet sponges that burst after a while rather than challenging foes to defeat.
At first, Necromunda: Hired Gun was quite challenging, but as soon as I realised that I could instantly kill hostiles (big or small) with a takedown button when up close, I found myself doing that every chance I could get because then it meant I could get through them quicker with less hassle.
The takedowns are fine, but be prepared for messy glitches that can take you straight out of the fantasy.
What really makes the action in Necromunda: Hired Gun enjoyable is how fast you can move. You can dash, double jump, wall run and grapple all over the place. So dodging attacks is gratifying and moving around keeps the pacing heart pounding all the time.
Could it be better if you could grapple enemies towards you? Absolutely, but it is good when compared to the rest of the game's poor quality.
In Necromunda: Hired Gun, you also have a hound you can call to your aid. However, I found myself forgetting about him and really only summoning him when I needed the heat off me for a while. I found the canine unexceptional when around and so it really is a wasted gameplay mechanic.
Of course, you can upgrade the dog but, because I didn't find him useful, I saved my money to rather upgrade myself. Except, no matter the amount of money I threw at the cyber upgrades that replaced flesh with machine, I felt little to no differences when I got back into the action.
Hive World Necromunda
Usually when I review games, I love to dive into why the game world is so beautifully crafted. Except here I will be doing the opposite because every level in Necromunda: Hired Gun feels the same.
Level design sees you darting around big levels, and the freedom because of the size is welcome, but, literally, none of the worlds stand out in my memories right now. The best I can say is one is an underground sewer and the other is an underground factory.
Necromunda: Hired Gun feels big but claustrophobic at the same time, and that I guess is praise for the game but doesn't make up for how lacklustre the world feels. Even the hub world you go to in-between levels is ok, but entirely uninteresting after you get used to it because everyone and everything there becomes wooden.
The music feels like they outright tried to copy DOOM's soundtrack. But instead, Necromunda: Hired Gun sounds pathetic and mostly soulless. I do think this could have really elevated the mind-numbing environments but instead let it fall even further from brilliance.
Running on my PS5, the resolution looks decent, but the problem is the FPS.
Toggling a button in the settings allowed me to see it targeted 60FPS. But as soon as bullets start flying, it drops to 40FPS/50FPS and sometimes even to 30FPS when a lot is happening on the screen. It is incredibly jarring when it happens and I could feel it straight away even when the FPS counter was turned off.
The state of the game gets worse though because Necromunda: Hired Gun crashed on me countless times in the middle of fights, losing progress and forced to reload the last save file. Once my save file even got corrupted which frustratedly resulted in hours lost. Hopefully, this gets patched soon so that it doesn't scare away new players.
Final Thoughts on Necromunda: Hired Gun
Necromunda: Hired Gun is definitely below-average. And while it is a budget game, that is no excuse for how bad it can be, especially given I have seen some pretty spectacular budget games out there. The narrative is awful and should just be skipped because you are not missing out on much. The first person shooting is lively, especially the traversal, but lacks far too much for it to be great.
With more polish, attention to detail and passion, Necromunda: Hired Gun has the potential for greatness. Instead, we got something incredibly insignificant.
The Review
Necromunda: Hired Gun
Don't expect this to be a game you will enjoy getting lost in. Instead, it is a brainless shooter that is fun enough to play through but ultimately let down by shallow game design and a bland world to experience.
PROS
Fast-Paced Action
Retro Shooter Feel
CONS
Terrible Story
Unimaginative Characters
Mindless Enemies
Weak Game Design
Kinda Broken
Review Breakdown
Gameplay

0%

Graphics

0%

Replay Value

0%

Sound and Music

0%

Story

0%