When a hotly anticipated title doesn't release a demo before its release, many fans get concerned. What could the developers be hiding? Are there problems with the game? Well, in the case of NBA 2K22, they just wanted to surprise the fans… And that's exactly what 2K Sports and Visual Concepts have done here.
It's tough to release a yearly sports title. After all, how do you go about providing a new experience without changing all the things that matter? Turns out it's all about getting the basics right.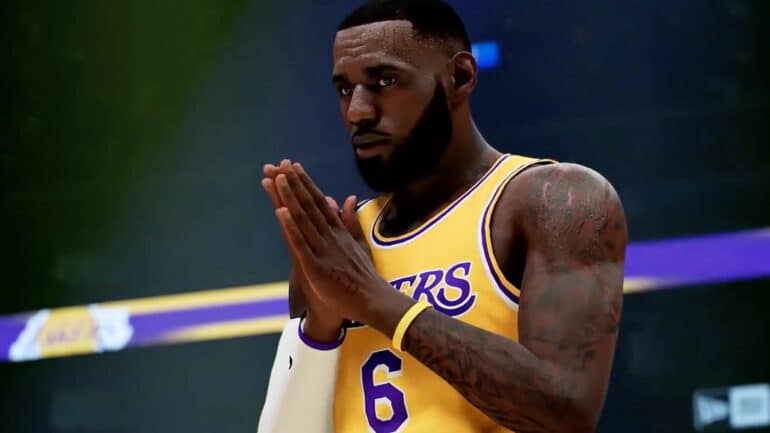 You know exactly what to expect from an NBA 2K game. From Seasons to Quick Matches and Playoffs, it's all here. Those are the standard things you don't need to meddle with.
Instead, the developers revisited the gameplay mechanics, analysing what had worked and didn't work in previous editions. For one, NBA 2K22 is a little bit slower than before, which isn't a bad thing, especially considering how the defence and attack aspects of the game have been tweaked. Rather than frantically racing up and down the court, it gives players more time to pick their next move.
The AI defence also seems smarter and assists you when you're in a pickle, which makes a huge difference when you consider how you'd get punished in NBA 2K21. Blocking received a boost too, where now you'll feel like the MVP of rejections whenever you stop a player from looping one past you.
On the attack side of the game, the shooting meter is far easier to spot and use because the mechanics are simplified, removing some of the complexity that frustrated gamers before. Look, not every shot is a guaranteed slam dunk – pardon the pun – but it feels more realistic than before.
And speaking of realism, stamina plays a big part in the game. If you're sprinting from one end of the court to the other, your player will fatigue. This means looser passes, less accurate shots, and even the ability to track back in position for defence.
NBA 2K22 isn't a quick arcade, pick-up-and-play experience. It requires a lot of time in mastering the basics to ensure you're ready for b-ball at this level. Unlike other sports titles, where you hit the sprint button, pass, and dunk, this game requires you to look at where your opponents are positioned and plan tactics around it. Do the same thing over and over again and they will block your shots. You need to spend as much time practicing your regular commands as you do the in-game tactics. Again, get the basics right and it'll improve the overall experience of the game.
The MyTEAM mode is NBA 2K22's answer to FIFA's FUT. There are a lot more options this year, such as the ability to add a third kit, but the core of it stays intact. It's still a lot of fun and the different challenges help to increase your points and improve your team.
Personally, my favourite mode is MyCAREER, which feel like FIFA's The Journey but a whole lot better in terms of options and output. Your character is fully customisable, including the option to scan your own face into the game! But it's the immersive and fun experience that makes this mode a standout. It could easily just be a glorified Season mode but there's so much more to it.
The NPCs in NBA 2K22 actually feel like real characters that you'd encounter on a journey rather than just serve as story fodder, while you'll get the opportunity to play basketball in all sorts of locations from college halls to even a freaking cruise ship! Seriously, don't be surprised if MyCAREER becomes your go-to mode when you play.
Unsurprisingly, the graphics in NBA 2K22 are crisp, clear and every player looks like their real-life counterpart, including the legends. Heck, even their own movements seem identical to how you remember the players moving on the court. However, it's the whole environment that makes you feel like you're a part of the NBA here. From the court atmosphere to the announcers and entertaining half-time shows, it completely sucks you in. It provides the ultimate fan experience, making you believe you're in on the action and not just in a simulation.
While many people might've been worried that NBA 2K22 would just be a mandatory update of last year's game, it isn't. It's fresh, innovative and delivers where it matters most. It's a b-ball game that considered its hard-core fans first and foremost – a rarity nowadays.
Tell us, have you played NBA 2K22? What do you think of it? Let us know in the comments!