Roll back the clock a little. There was a time, not so long ago, when the only games available were 2D platformers. The release of 3D games in the mid-90s paved the way for a more immersive gaming experience. The formula, however, has been repetitive in recent years, with many large corporations pushing slightly updated games year after the year. Every now and again there's a game that so simple that it brings a much-needed refresh among the 100s of games released each here. I recently received a copy of an indie game, My Friend Pedro, which brings a great change of pace for the action genre.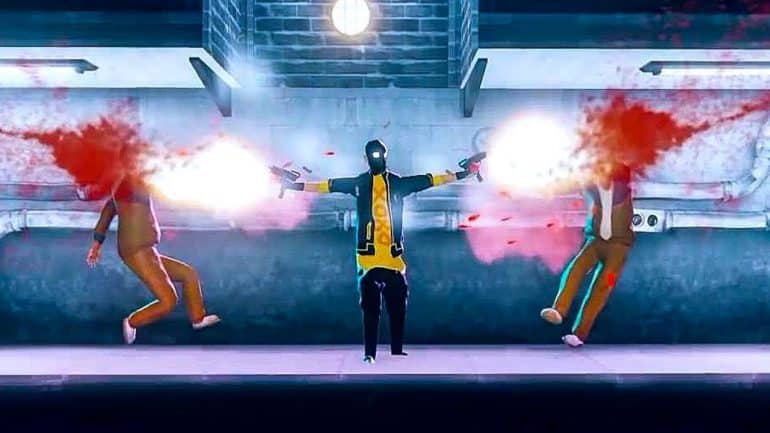 For many indie games, many live and die by telling a great and compelling story. For My Friend Pedro, this isn't quite the case. Instead, the game relies more on introducing new gameplay dynamics than telling a deep and meaningful story. But that's not a bad thing.
Each new level brings a few new challenges, guns and even unlocks new gameplay features. At the start, you're presented with a single pistol, running from left to right as with most other platformers, with the addition of jumping, crawling, etc. To be honest, it was fairly straight-forward and mundane, and I was already beginning to wonder if I would simply be running from left to right shooting bad guys with ease as I complete the game in an hour or two and call it a day.
Fast-forward a few days and I was still at it. As mentioned previously, there are new dynamics to unlock at almost every level, starting with bringing in a second gun, which allows players to shoot at two different locations at the same time. It took some getting used to at the beginning, but once I got the hang of it the game became far more intriguing. Then there's the addition of new guns into the mix, which not allows you to kill the baddies with greater ease, but also means you potentially take more damage yourself.
As the game progressed, however, these baddies brought along with them a bunch more sophisticated armour, the hardest of which was an impenetrable shield, which could only be turned off by a strategically placed switch that would need to be disabled beforehand.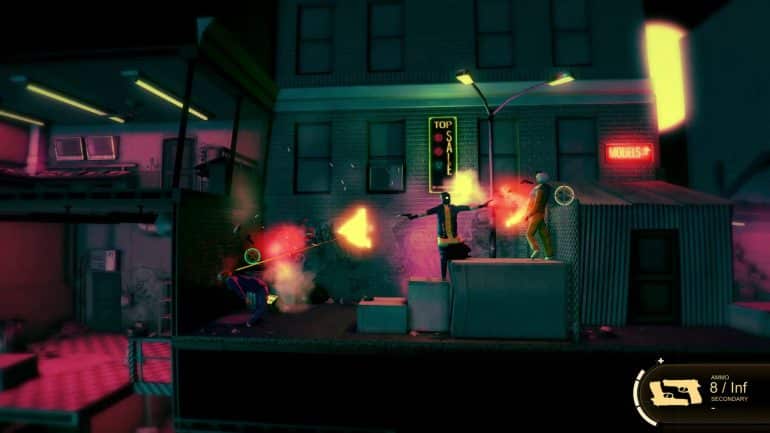 The biggest gameplay change, however, came from the introduction of the slow-motion (bullet time) effect. Much like Max Payne and The Matrix, players can slow down time to maximise the damage with more accurate shooting as ammo becomes more of an issue later on. You can now jump strategically to kill two opponents that wouldn't be possible if played through at normal game speeds.
At times, I found myself running in slo-mo more often than at full speed. But there's a catch, you only have a limited amount of time to use the feature before it needs to be reset, unless you make a kill during the phase, which automatically refreshes the gauge and keeps you going for longer.
Even with all the game dynamics built into the game, it wouldn't be complete without more of a challenge thrown at you. What the game does really well is it allows you to take a moment to observe each of the different scenes per level and plot out exactly what you need to do to get from one end to another. As the adage goes, failing to plan is planning to fail. As you reach the fourth or fifth part of the story, you'll need to be a lot more strategic with your use of slo-mo, weapons, ammo and how you approach each kill.
There are a few additional elements thrown into the mix, which allows you to interact with your environment. Most of these allow you to find awesome new ways to achieve a kill, such as kicking up a frying pan, shooting at it and letting the ricochets do the envisaged damage. Other elements include petrol canisters, bombs, gas tanks, ropes and even a skateboard to breeze through a crowded room without taking too much damage.
Did I mention that there's a talking banana? That would be your friend Pedro. At the start of every level, Pedro provides a set of instructions while also introducing new gameplay elements as your progress. But all isn't as it seems, as it turns out. While the story may not grab everyone's attention, there are a few plot twists to get through. These additions also bring about new challenges and gameplay dynamics, where you will have to use all the skills you've picked up in each of the stages, which will stretch your capabilities to the max.
My Friend Pedro is definitely not a simple, point and click action game, as many games, even mega-budget FPS games, are these days. Surveying your environment and plotting each of your next moves is crucial to succeeding. At the end of each level, you're scored on technique and how well you accomplished the task of clearing out all the bad guys. There's also a nifty gif creator added here, which allows you to save a few moments of your best action sequence during that level.
As mentioned earlier, the action isn't simply running through each scene causing the most damage, but plotting out your next move, and as such, the game has a sufficient runtime. You can easily enjoy 5+ hours attempting to complete the game on your first play-through.
The Review
My Friend Pedro
My Friend Pedro is a strategic, action-platformer, which provides hours of well thought out violent action with a fresh take on gameplay dynamics to keep you interested throughout.
PROS
Fresh game dynamics
Thoughtful action
Reasonable runtime
Review Breakdown
Storyline

0%

Gameplay

0%

Graphics

0%

Replay Value

0%

Sound and Music

0%