Warning: this article contains pictures that may well spoil some of the events of the plot of Red Dead Redemption 2. If that sort of thing matters to you, you have been warned now.
Red Dead Redemption 2 is a landmark title for the year, if not this entire generation of gaming. Whatever you might think about it as a game, you cannot deny that it has a truly massive amount of content and its very hard to see it all in one play-through. It lets you have a very personalised adventure, where you come back with stories of your time in Cowboy Country that was unique to you alone. I've brought back a few of mine to share around the ol' campfire, and I hope ya'll'll indulge me.
Incidentally, the above word translates as "you all will." Try to recover from your aneurysm now, grammar teachers.
Arthur Morgan
At the start of the game, every player is given control of a perfectly good Arthur Morgan. You only get one, so be careful not to break him. Remember to feed and water him and take him for plenty of walks.
I played dress up with mine, and went from suave and sophisticated…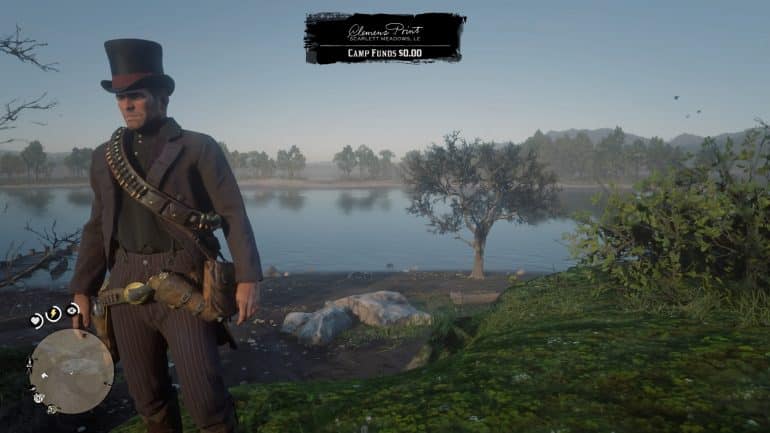 To a little more refined, but with a Wild Man touch….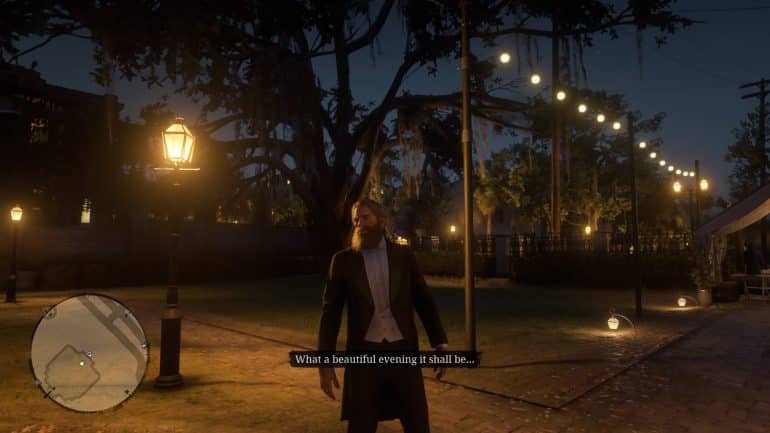 To being a crazy redneck with a beard far too long for anyone mortal to handle…
Horses
Like me, you may find yourself becoming unreasonably attached to your horse. You'll love it and care for it, and do everything possible to build up your bond and make sure it stays safe. From the first moment I walked up to my horse and saw it take a poop in real time at me, I loved her…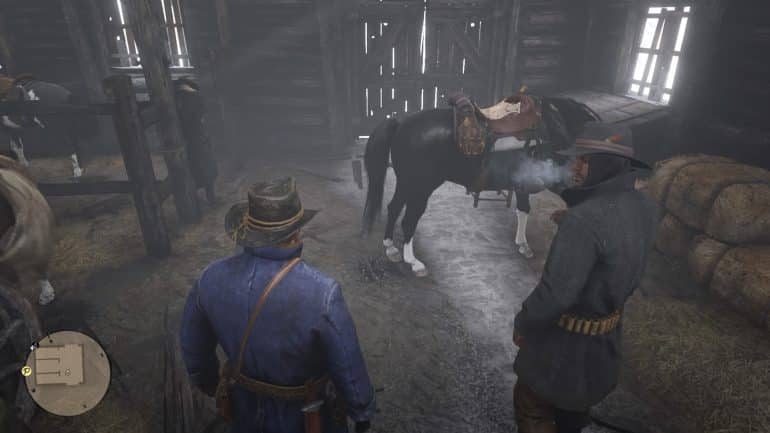 I just had to rear up majestically, as though I was the Lone Ranger.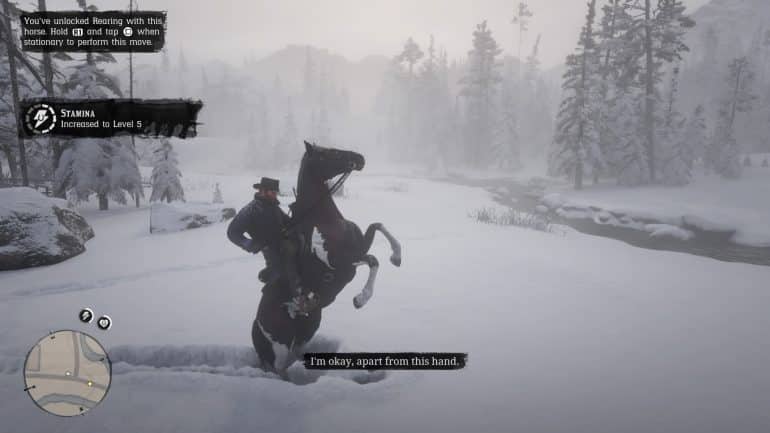 However, if you're also like me, it may take you a fair while to gain a handle on the horse controls. While galloping along, I found it sometimes difficult to gauge what my horse could jump over or go around on its own, leading to a few tumbles here and there…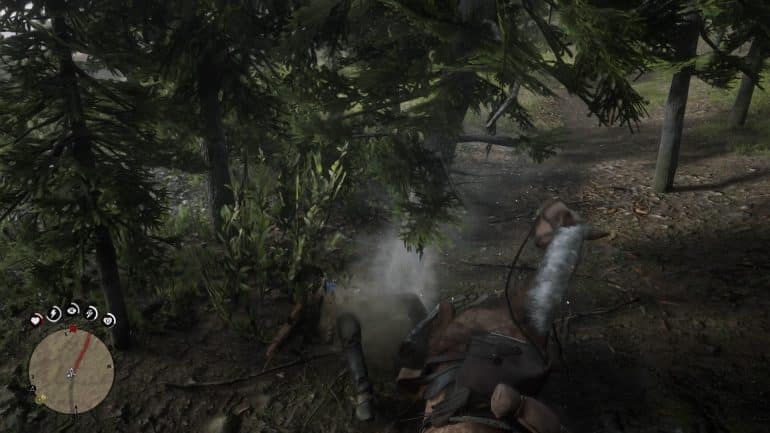 And by a few, I mean a lot…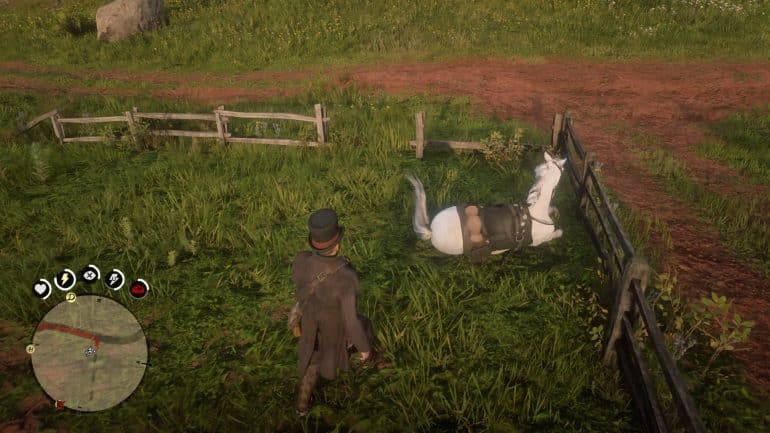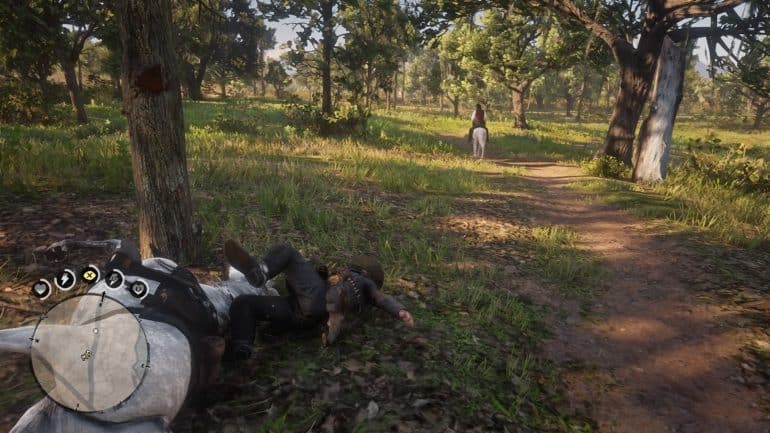 Whether it was a single person accident or one where I took out a caravan or another rider, no one was safe when I was on the road; leading to more than one shootout with angry people I had trampled over.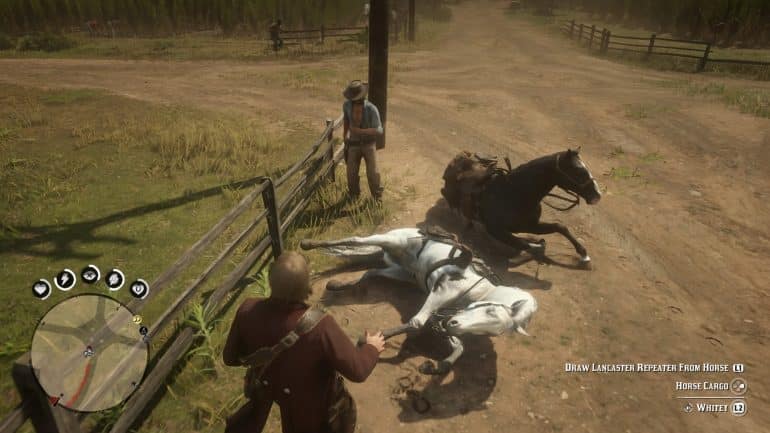 I only managed to actually kill my horsie once though. During a mission where I had to command a train, for some reason my horse was stuck auto-following me along the tracks. You can see him here in the distance on the left.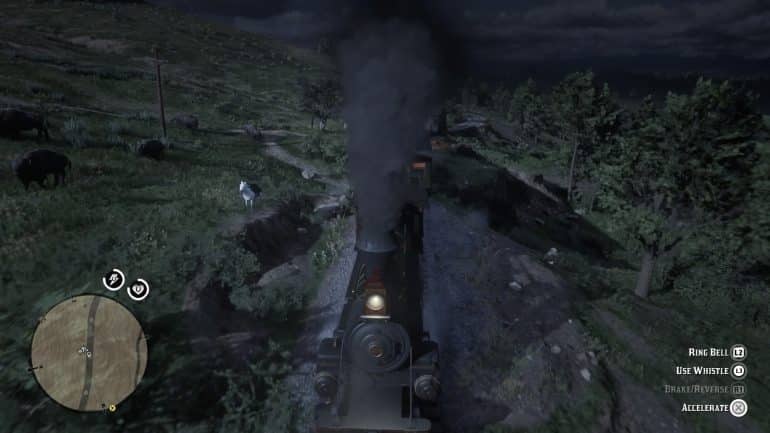 Sadly, he loved me too deeply and tried to get too close to the train where I was driving. A faint whinny and an icon of his death appearing on the map was all I knew of this tragedy.
It's the only time I reloaded my game to start the mission over without dying myself. I went back 10 minutes, but that was a sacrifice I was willing to make for him.
His name was Snowie because he was white. I'm so creative. But I loved him.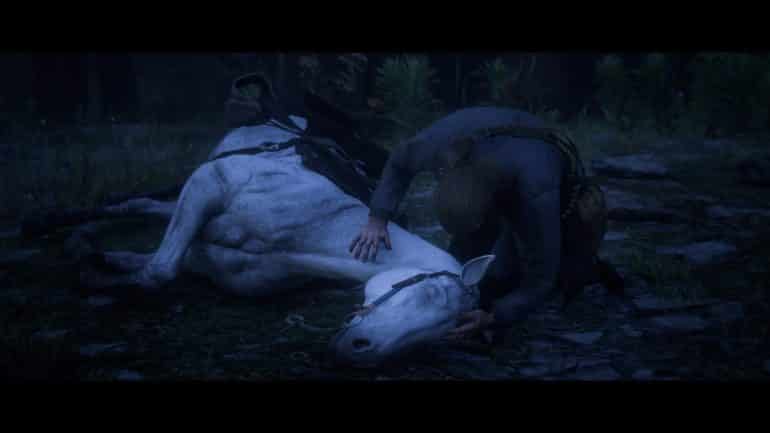 There was one other memorable horse encounter that I had that didn't involve me – I saw a man at the side of the road trying to get his horse to put on a new horseshoe. He had the horse's foot in his hand. I rode past him and said hello. He took his eyes off the horse, and it kicked him in the head, killing him instantly. The horse ran off to freedom, and I looted the man's dead body for 25 cents.
The circle of life.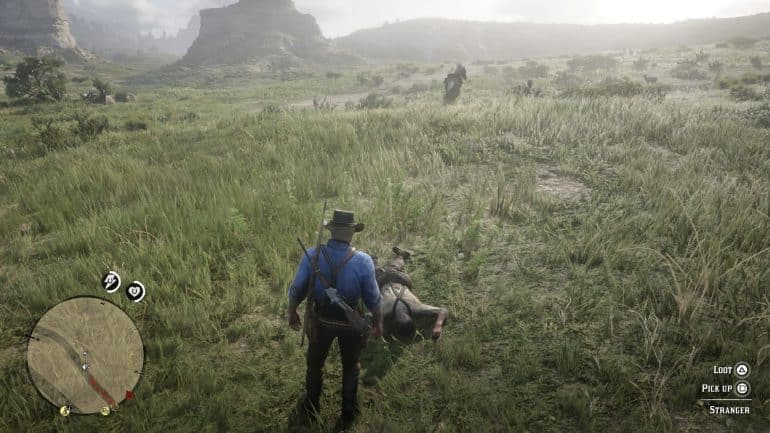 Nature and Wildlife
Hunting and fishing play substantial roles in the game as sources of wealth or just as sidequests to complete. I had a couple of memorable encounters, including one where I went all Leonardo DiCaprio in The Revenant: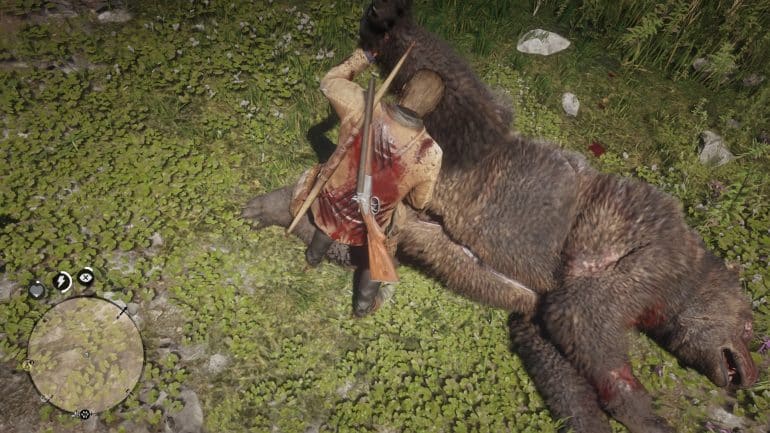 And one time with a boar that even Robert Baratheon would be afraid of: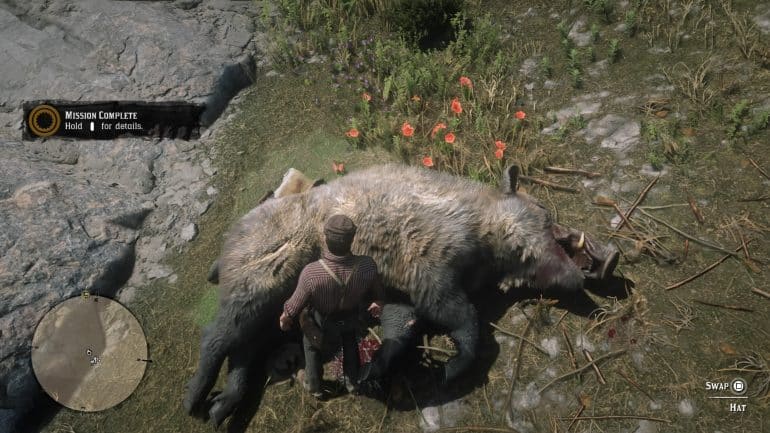 And finally, one time where I spent 10 minutes stalking a rare albino moose through a storm. I had just killed the beast and was busy taking its hideaway as a sign of my success when I heard an odd noise.
Seconds later, a cougar hit me from the bush and slew me.
Bastard.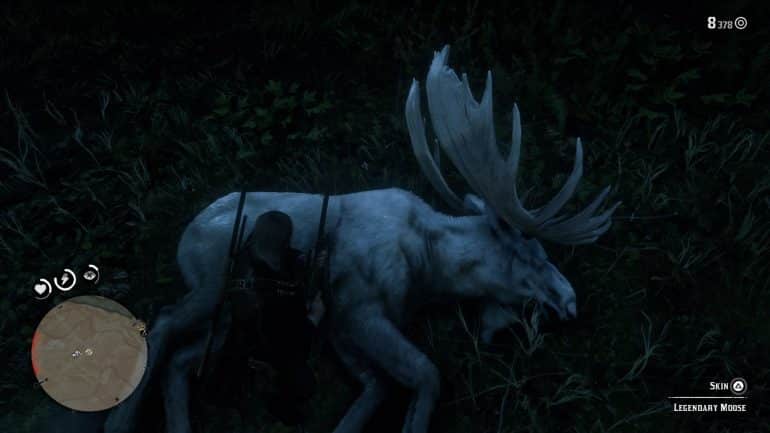 Pictured above: Me, seconds before becoming cat-food.
During my travels, I also found a couple of interesting little diversions and explorations. High up in the mountains, I discovered an old Native American cave painting.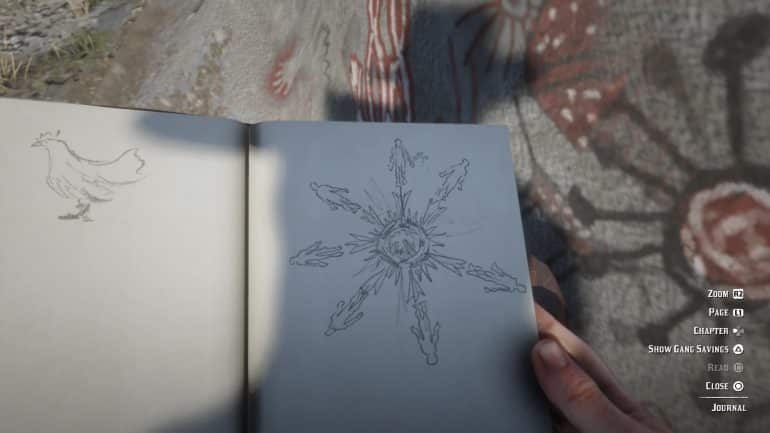 I didn't think much of it, and took it down in my notebook, along with everything else I saw.
Sometime later, I discovered a cave in a different area that showed statues similar to the pictures. This led to solve a puzzle and get a few gold bars.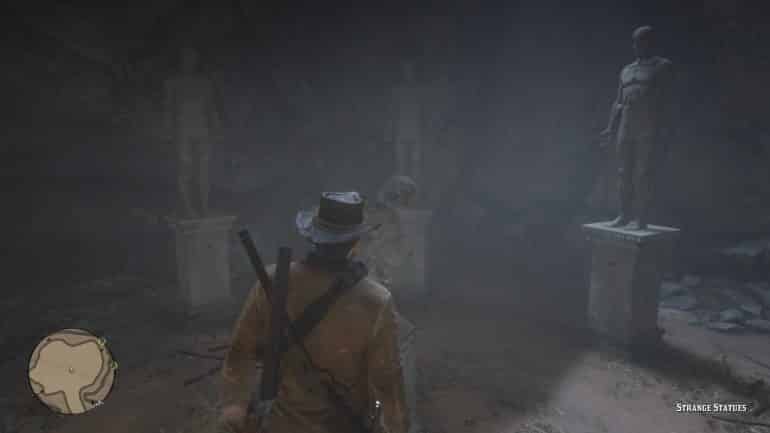 No quest indicator. Just me exploring the world and making my own adventures.
I also found a Hobbit house in the wilderness. That was pretty cool.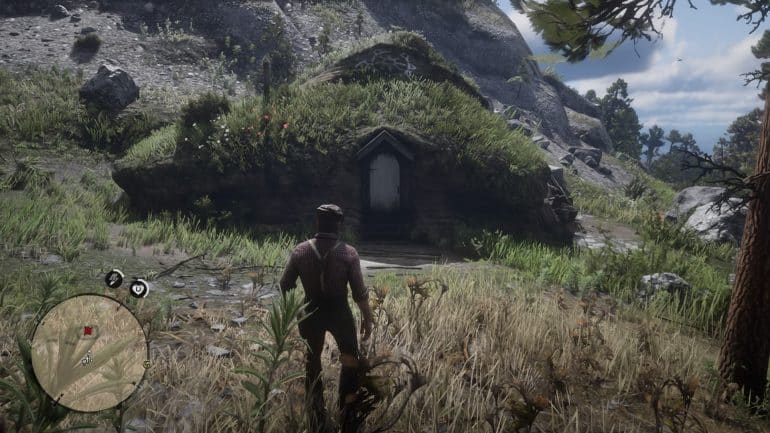 Strangers
Stranger encounters happen randomly in the world, whether you are in the wilderness or in town. Some are unmarked on the map and some become big questlines. Most of them are interesting, dynamic and whimsical in how you approach them.
I was playing as a good guy during my playthrough, and would often stop and help people bitten by snakes and stuck in traps etc. Sometimes I would find these people in town again, and they shout at me about how grateful they were and would give me a gift of some kind.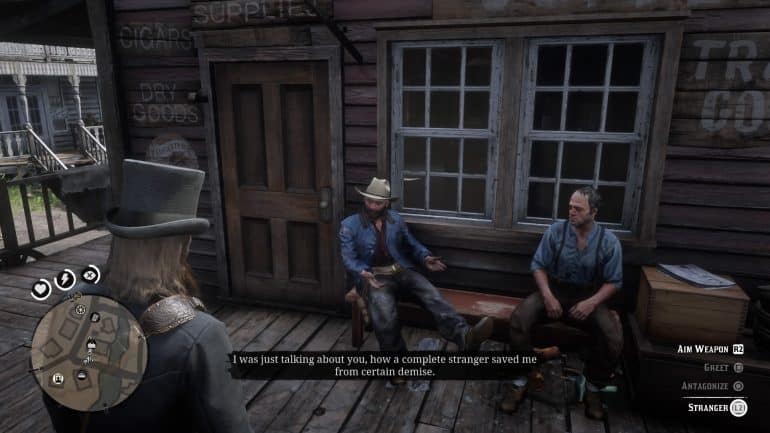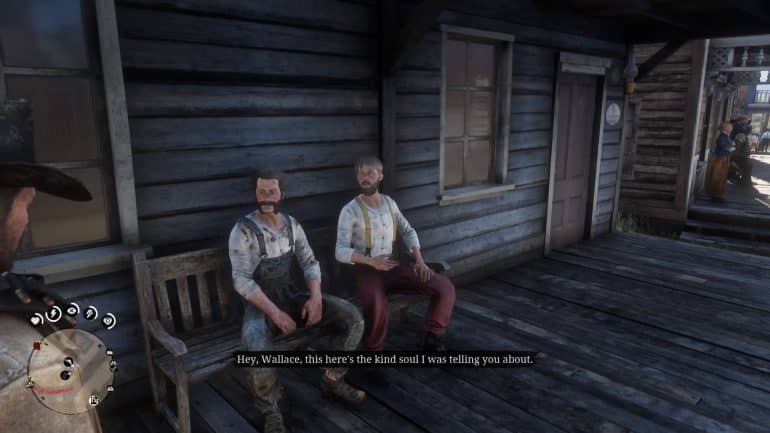 If you're playing as a bad guy, you can do things like shoot a civilian in the leg, and when you come back, they will have a wooden leg and will attack you as best they can and run you out of town. I never saw such evil deeds, being a paragon of justice such as I am, but the opportunity is still there.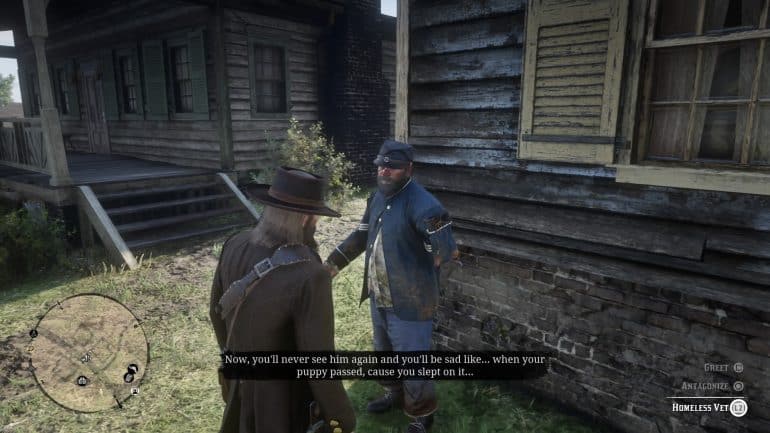 This Civil War Veteran just wanted someone to stop and give him a hug. When I did so, later in the game he saw me again and was overjoyed. He stammered and realised he had never asked my name. We had a sweet bonding moment.
I saved this man a short distance outside of town and took him to the doctor. There I watched his arm get amputated in graphic detail. The fingers still twitched after the doctor was done. I paid his doctor's fee. Later in the game, I happened to wander past a hanging. Who else did I see but my one-armed man – having murdered an innocent woman?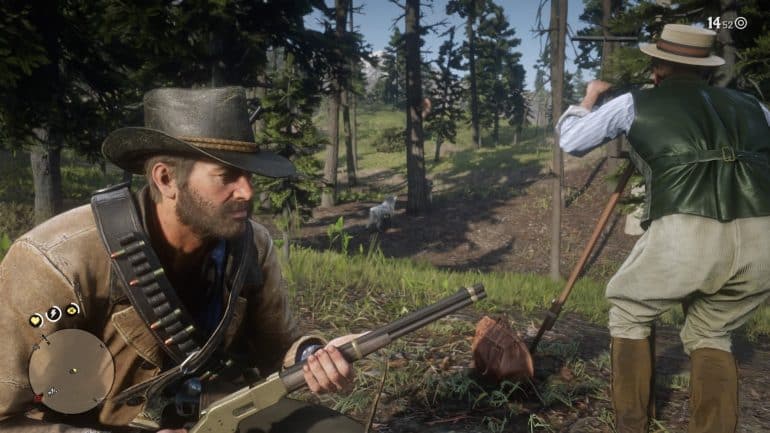 I really enjoyed this side quest series, where I helped a naïve young photographer take nature shots of animals that were trying to kill him. Here I am during a mission involving wolves. Did you know that sometimes you can shoot an animal and it falls to the ground but doesn't die, instead of crying for you to put it out of its misery? I learnt that during this mission.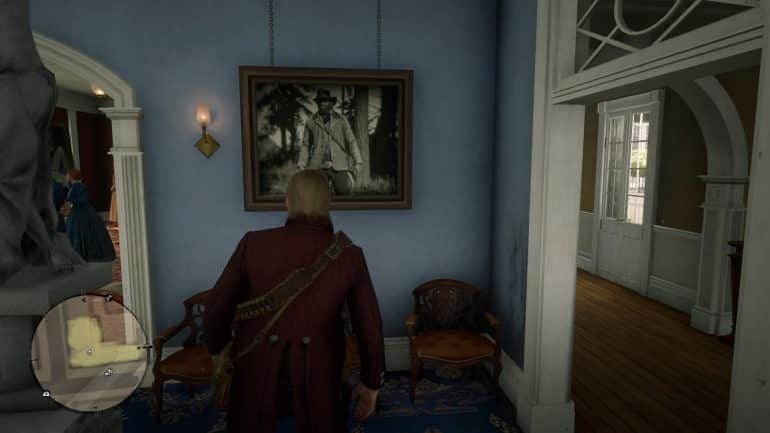 Anyway, after the last photography mission, my friend told me that one day he would hope to publish his photos we had taken together. Many hours of play later, I was in a random art gallery, and I just happened to notice these photos on the wall. My friend had kept his promise.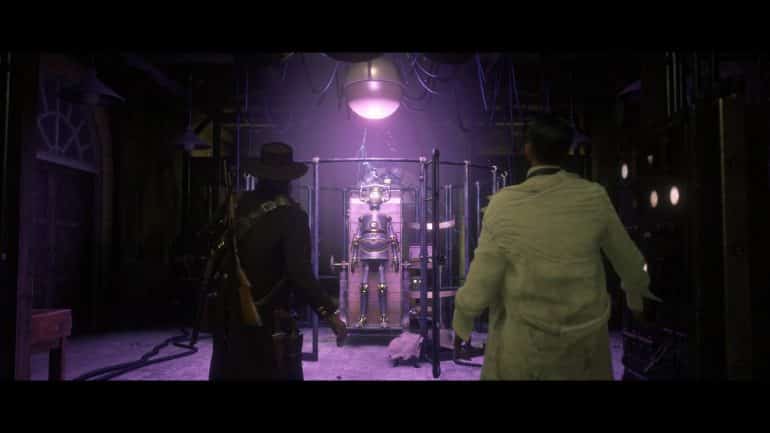 This man made a robot. It didn't do much, but it was a cool effort for 1899.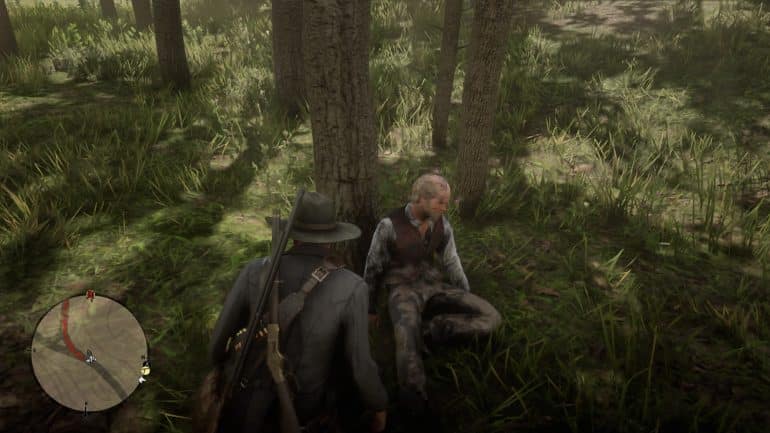 This man asked me to look after his goods while he went into town and came back. Like a schmuck, I sat there for a good amount of time. However, eventually, when I got bored, I wandered away and only a couple hundred metres away, I saw that he had collapsed drunk under a tree.
I robbed his carriage.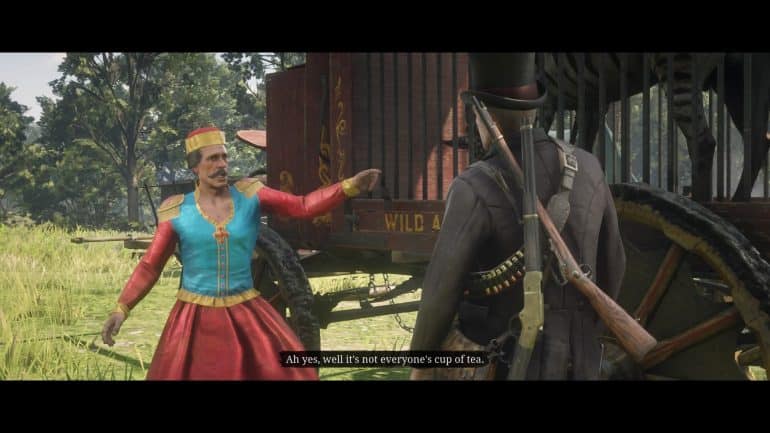 This above quest is the sort of wacky adventure that Rockstar do quite well. I found a strange British circus owner, who claimed to be the first female animal wrangler, despite clearly having a large moustache still across his face. I should have known better than to trust anything he said, but he asked me to look for his missing animals.
First I set out in search of a Zebra from Limpopo (no, really)…
Only to find it was a donkey with paint on.
Then I went looking for a fearsome Lion…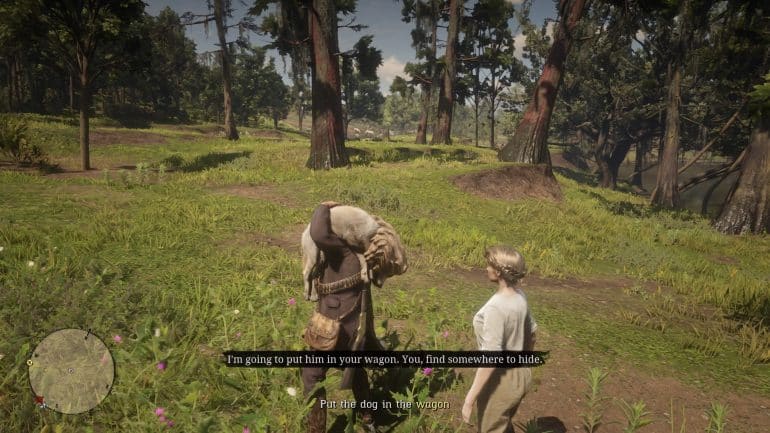 And it was only a dog with a wig on.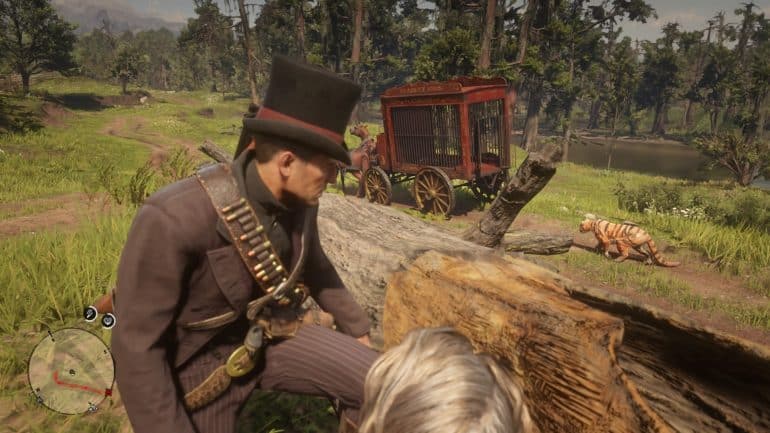 The Indian Bengal Tiger was just a native cougar with stripes painted on.
And so, with all this in mind, I set off to find the second lion. Expecting another dog, I cheerfully went up to where it was hiding, only to be faced with pic below: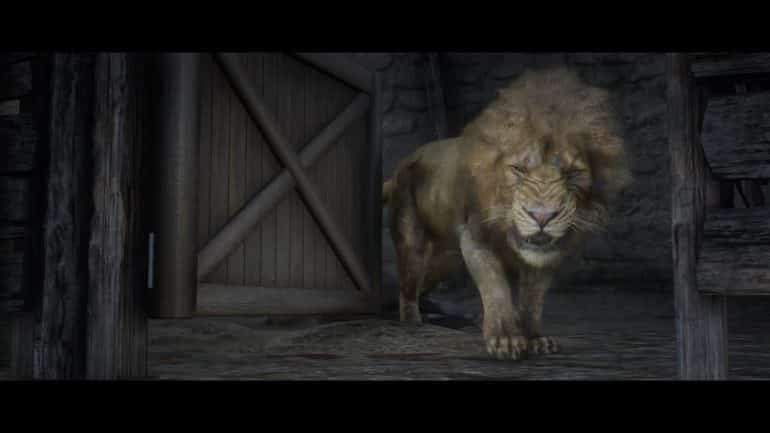 Well played, strange circus man.
The final stranger from my adventures I want to talk about is the man above. He had a small camp, and during a ride at night he invited me over. He asked for some whiskey, and when I gave it to him, we sat into the night as he told me of his life's regrets. After a while, he just seemed to fall asleep while talking. I saw that he had died. Having had his say.
I hope that he died with some peace at least.
Gang and Friends
The Van Der Linde gang that you are a part of in this game is a big positive to be said for the game as a whole, as I found myself bonding with each and every member in some way or another. You really did feel like a family at times.
Here I am fishing with the adorable small child version of Jack Marsten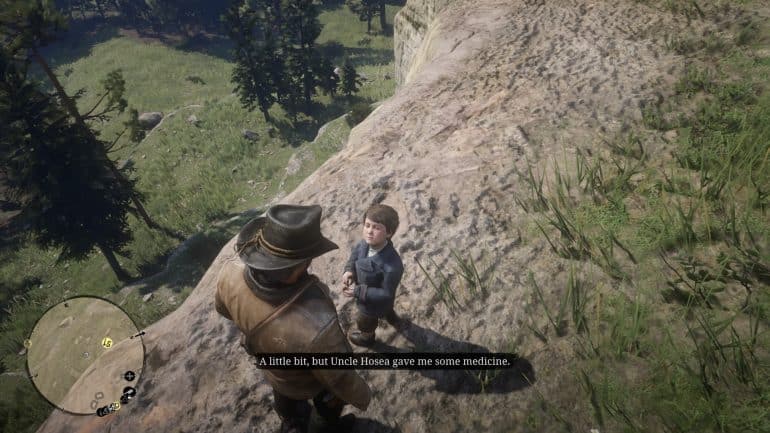 Look how cute he is!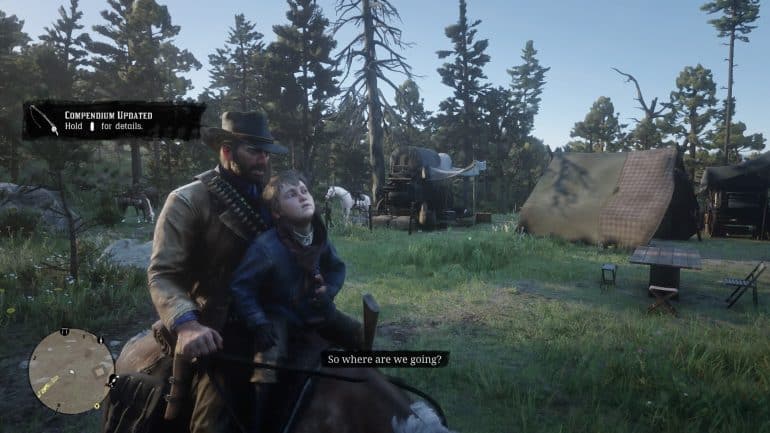 Much better than the ugly low-polygon teenager he becomes in the original game.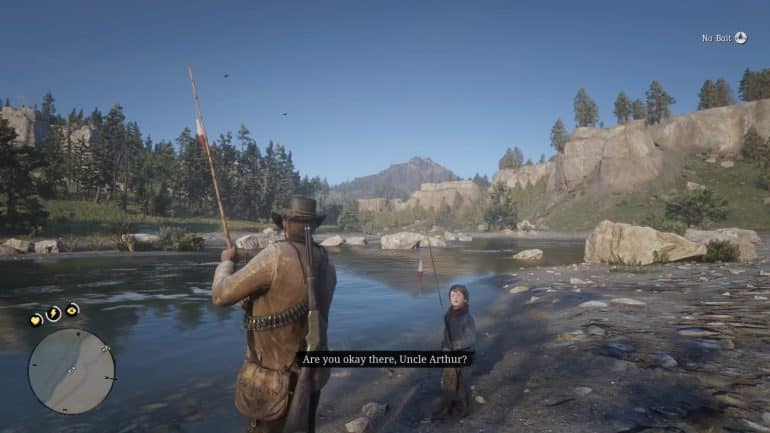 Every now and again, you'll come back at night and everyone will be just having a bit of a song together. You can sit down and join in, and sing to yourself all the way to your bed.
The most senior members of the gang are Dutch Van Der Linde, Hosea Matthews, and Arthur Morgan. The latter two were like your two adoptive fathers, and there's a wonderful mission where you can go fishing with them, singing dirty songs as you go back to camp. Not to be missed.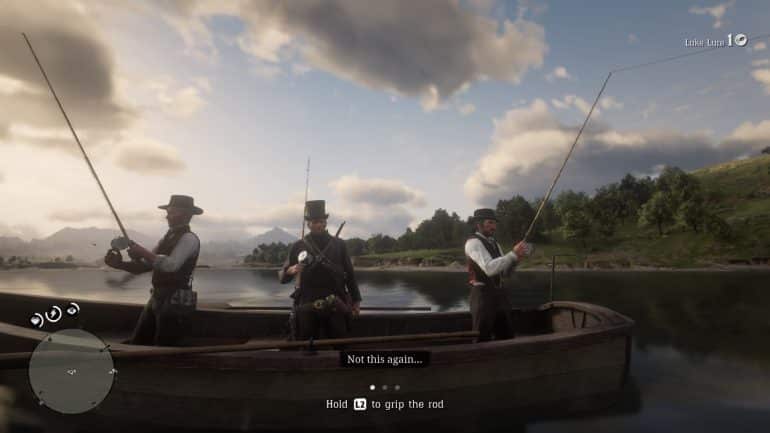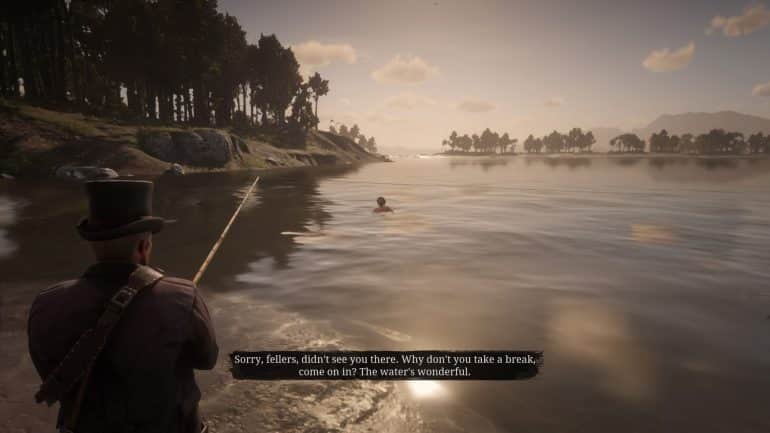 A mid-game mission has the young Jack gets kidnapped, and it's the first time that you see Dutch lead literally everyone he knows to hold a gun. The fury of your family is palpable, and it makes for a wonderful, cinematic moment as you storm this fortress to save the small, innocent child.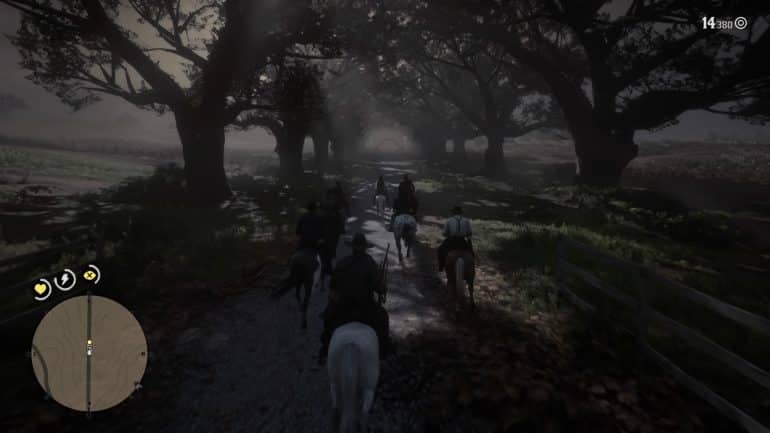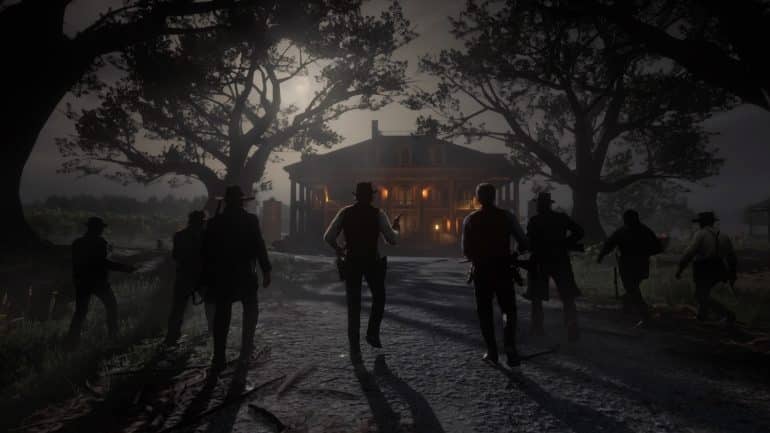 There's also quite a party once you get him back.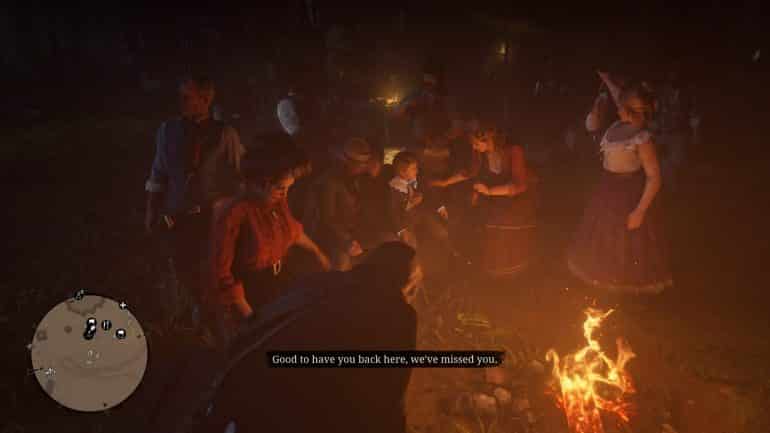 I'll miss the gang members in this game. You really get a sense for what John Marsten has lost in the first game by the time you play this one. And what it cost everyone in the end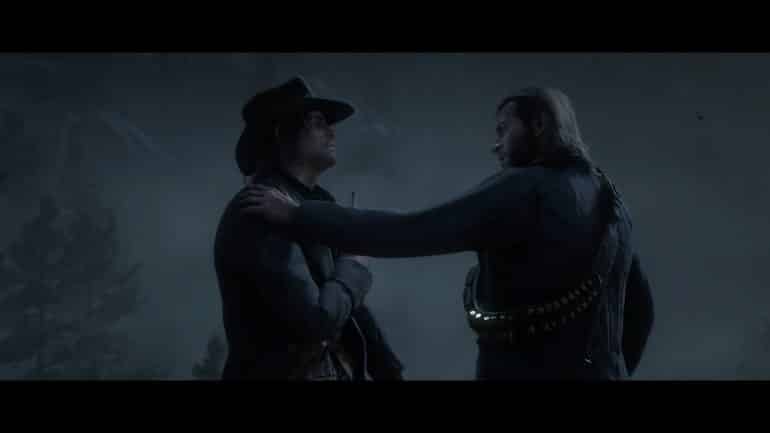 Cinematic Shots
Red Dead Redemption 2 is cinematic in the best possible way, with some excellent scale, views and framing that makes you feel like you are part of this grand epic and tragedy.
To finish things off, here are just a couple last shots of my own adventure. I haven't covered even ten per cent of the interesting things in this game, but this was my journey, and you will have yours. There's swamp cults, ghost trains, strange characters to meet, and places to see. May your Arthur be as filled with a zest for life as mine was.
Happy trails, partner!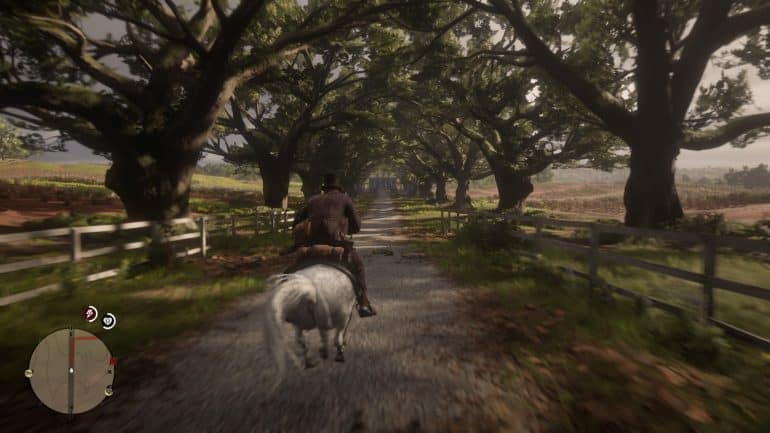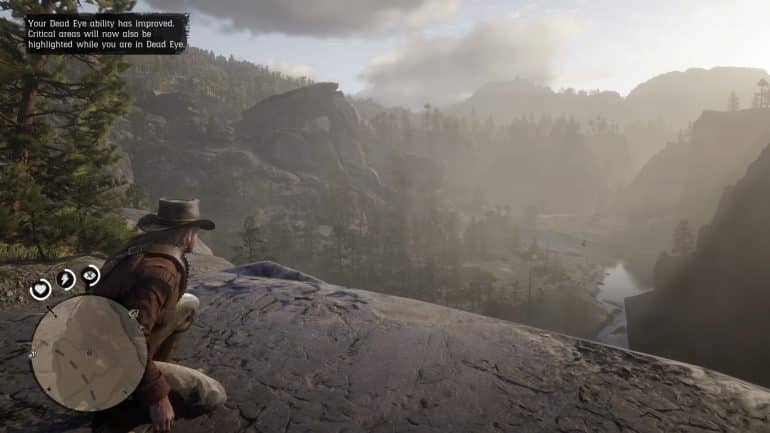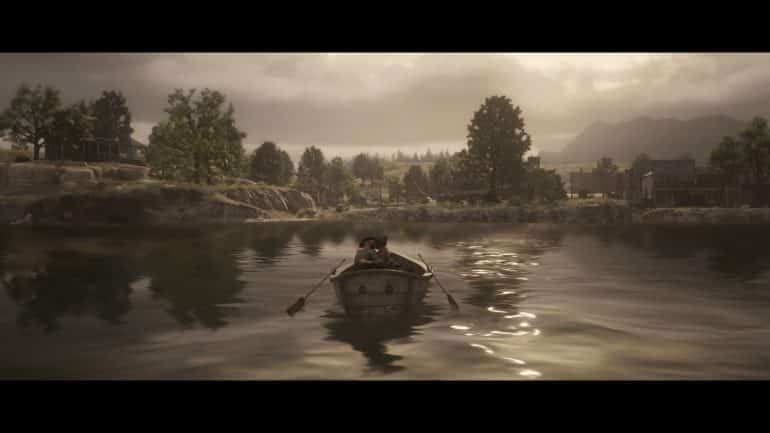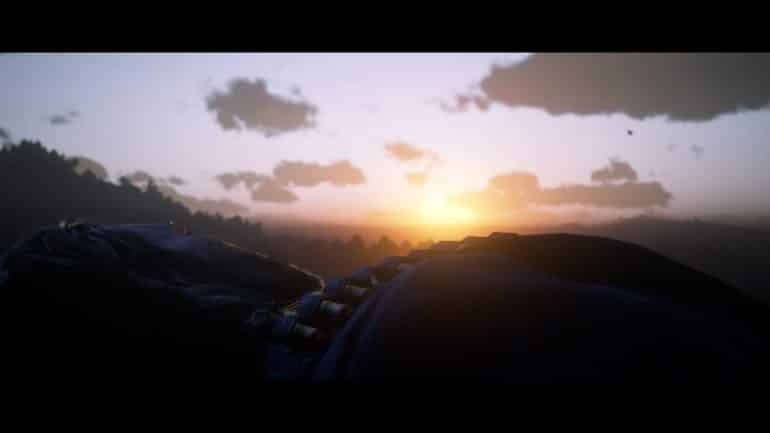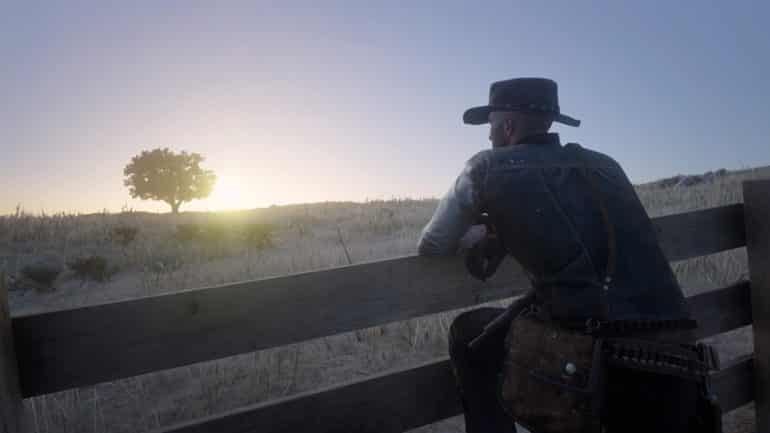 Sunrise – Sunset.