Since there are going to be no spoilers here, let me rather call this film Avengers Series Phase 2 Volume 3

or

That Incredible New Marvel Movie

. How much detail qualifies as a spoiler? Okay, I'll boil it down for you then…
So there's this guy who does things because he's a hero. He has enemies. There's more going on than you can imagine. He also has friends. Lots of things happen. Some other things happen. Then even more things happen, with a side-order of extra things. Oh, and the Marvel Cinematic Universe gets turned inside-out, on its head and wakes up in a field wearing somebody else's trousers.
Also, it's brilliant. I'm not exaggerating, and I'm not just saying it out of a love for what the whole series of films has achieved. I'm saying it because it's true. As I watched the film unfold, I had so many WTF?! moments that I couldn't believe the audacity of it for being so much more than I ever thought possible. If it were a car, it would be an airplane. It's that absurdly fantastic.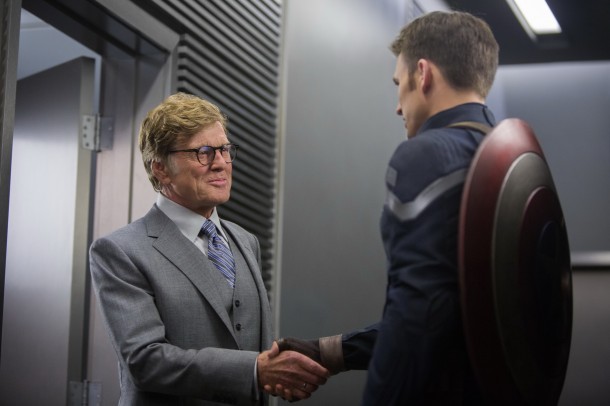 The Marvel films have been smart because each character's episode has a unique feel. The Iron Man films are usually light and fluffy, adventures that make superhero films fun again. The Thor films are majestic and have some romance to them. The Incredible Hulk was brooding and had a Fugitive quality to it. Captain America was '40s action-adventure, lots of nostalgia. The Avengers was a fanboy's dream come true.
This one, quite simply, is the thinking person's entry into the MCU.
I'm not saying it's perfect. But there's so much that's done right here that it outweighs any minor problems. Honest Trailers (got to love them) described Captain America as nobody's favourite Avenger. While he may not be my favourite, he's certainly not my least favourite. That title is reserved for Black Widow. Yet in this film, she was good. Really good. I even liked her. You have no idea how hard it is for me to say that because I never thought I ever would. Yet I have to admit that this film would be less without her. And if it can do that for her, then just imagine what it does for the other characters.
There are so many references in this that you'd need to watch it several times – and pause the screen when it comes out on DVD – just to get it all. But strangely it doesn't matter, those are party tricks in comparison to what's really going on. The big thing here is the impact this is going to have on the other films, and the S.H.I.E.L.D. TV series. And it will, in huge ways. If these films have been a jigsaw puzzle, this is the one that suddenly tells you the picture on the box was wrong and what you thought you'd built so far isn't what you thought it was.
It's painful not being able to give out any specific details about this film, because I just want to yell out to the world every little secret it holds. So instead, I'm going to say three things:
Firstly, I have a fluffy red Welsh dragon toy called Dewi, and he sits on my sofa giving me stern looks from time to time. He's cool, and right now he's wondering when I'm going to be acting normally again, because I certainly wasn't in this wild state before I saw this film.
Secondly, as long as movies like this are being made, make mine Marvel.
And thirdly, please Mister Projectionist, stop turning on the damn cinema lights before the end credits have finished. Haven't you figured out YET that there are tag scenes at the end of these things?
However, I'm willing to tell you my favourite 3 non-spoiler things about seeing this film:
1) Stan Lee doesn't not show up again, which won't surprise anyone in any way whatsoever because it's not a surprise.
2) That Spider-Man 2 trailer. Hmm. It made me wonder if Electro is really a villain who needs to rise, and if he does is it because his alarm clock went off? Say, for that matter Aunt May isn't an idiot, so stop telling dumb stories about cleaning the chimney when there isn't one, Peter Parker. She'll see through that. What a dope.
3) Ooh, those end credits looked sooooo pretty. I want to hug them and squeeze them. Which is all perfectly natural.
Thank you, and goodnight.
[yframe url='http://www.youtube.com/watch?v=7SlILk2WMTI']