After being raised by his mother and grandfather, in accordance to the laws of The League of Assassins, Damian Wayne has to meet his father, Gotham's Dark Knight… Batman!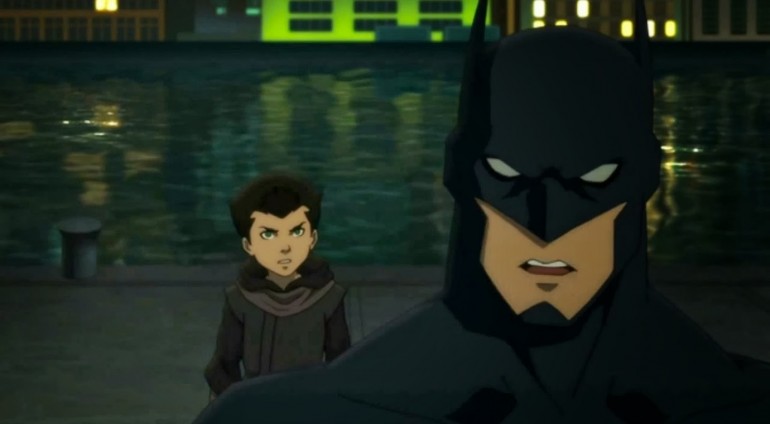 This movie tells a totally different origin story to the comic version, known as "Batman and Son". But make no mistake about it, this film still manages to hold its own whilst offering something new for fans of the comic. In this rendition Ra's Al Ghul and his empire has been destroyed by one of their former heirs, Deathstroke. Slade was trained by The League and ready to take his rightful place as heir to the empire and most likely father a child with Talia, but all this was taken away when Ra's Al Ghul encountered Batman and believed that only the Caped Crusader would be able to make The League of Assassins a force to be reckoned with. Knowing that Batman would never do this willingly, a plan was hatched in order to obtain the next best thing, Batman's DNA.
Years later, fuelled by jealousy and angered that he never inherited his kingdom, Deathstroke returns with his army of ninjas and takes what he believes is owed to him. Ra's Al Ghul has fallen, not even the Lazarus Pit could save him. But Talia knows one person that could save the rightful heir, someone that could protect her son, that someone is Batman. Talia returns to Gotham and introduces their son, the child prodigy of The League of Assassins, Damian Wayne.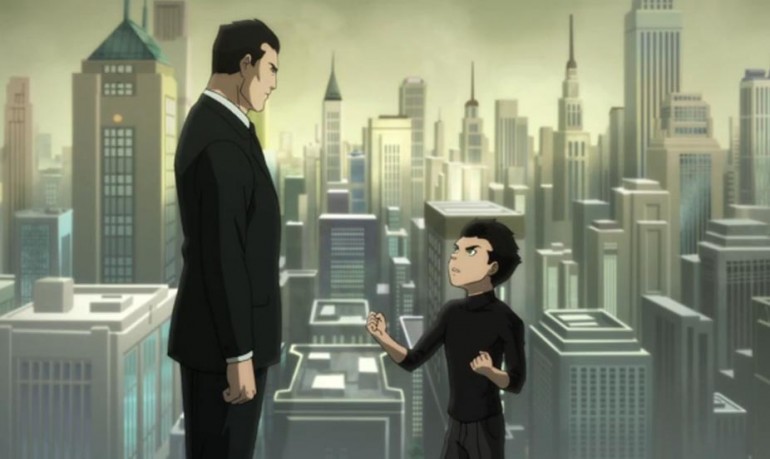 This film is thoroughly enjoyable, catering largely to the adult fan base of DC. Talia throws in quite a few overly sexualised innuendos and there are plenty of jokes about Batman not "Using Protection" as Dick put it. Damian is captured perfectly; he is self-righteous, arrogant, cocky, defiant, violent, brazen and all the other things that make him awesome. The Damian from the comics has transitioned well to the motion picture. From the get go he lets his father know of his abilities and takes certain liberties with the rules posed by The Batman. What I found kind of strange was that everyone seems to dislike him almost immediately when he, in actual fact, has not even given them enough reason to dislike him as yet. In the comic rendition Dick and Alfred were patient, understanding and still entertained his behaviour. In this film Alfred rights him off from his first impression and Nightwing does the same. The banter between father and son is awesome. Damian even manages to surprise Bruce with his level of skill and intellect, but Batman has one thing that Damian does not have… friends. Damian is a trained killing machine that needs the guidance of friends and family. His entire life he has been guided by assassins, robbing him of emotions other than those that lead to anger.
I am enjoying the fact that they are starting to involve more and more of Deathstroke in the Batman media now. Before he was largely an enemy of Nightwing but now he has moved beyond the student and is ready to rival the teacher. But in this film the main focus of Slade Wilson's attention is Damian as. He wants to destroy The League's past in order to create his future. By the looks of things, this Deathstroke has not received any superpowers, but he is still as quick and deadly as ever.
The action scenes are violent as blood spurts in all directions, even the blood of a child – even though Damian is no ordinary child. Deathstroke's actions still feel a bit shocking and overtly violent but this makes for great entertainment that will leave viewers on the edge of their seats.
Voice acting is a bit of a 50/50 here; Jason O' Mara pulls it off once again, proving that while he may not be Kevin Conroy he is a good Batman. The youthful Stuart Allan does a great job as Damian Wayne too. His voice was well suited to the character and, although youthful, it does not sound immature. On the other hand, Ra's Al Ghul and Deathstroke were not as great. Ra's Al Ghul was not represented properly in this one. Instead of being the eternal warrior that he is, he is made out to be and sounds like an old man. This is most likely being done in order for it to be believable that Deathstroke could dispatch of him. But come on', R'as Al Ghul is not some senile pensioner! Thomas Gibson is also not well suited to voicing Deathstroke. His voice does not sound powerful and threatening enough. And whilst he had a load of lines and threats to dish out, I could not help but feel that his actions were speaking louder than his words.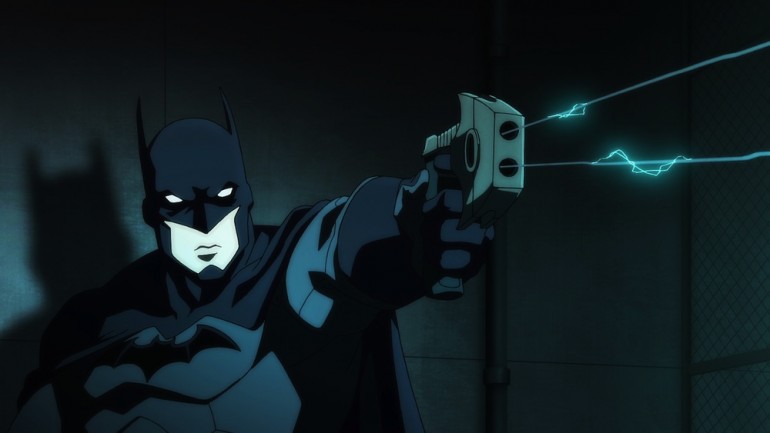 A saving grace is the art. The art is amazing. The character designs are all great – Jones even gets a tail! But once again, the only character design that fails here is Ra's Al Ghul. He is presented as a long haired, skinny old man. The other character designs are great with costumes boasting a lot of detail and panelling. Talia also looks the part in this one and it is easy to see just how she became a love interest of Batman. The animations in the action scenes flow naturally and are timed perfectly, whilst backgrounds are detailed and not an afterthought.
Son of Batman is a great introduction of Damian Wayne to the animation universe. He is definitely one of the favourites to ever put on the Robin costume. It is great to see that even though the father considers his son to be from a different upbringing, they are in fact more similar than they think. Batman and his new Robin need each other in order to prevent the darkness, both in Gotham and in their souls.