Set in the same universe as "Cars", Disney brings you "Planes". It follows the story of Dusty, an ordinary crop dusting plane, who has the dreams of becoming the fastest plane on the planet.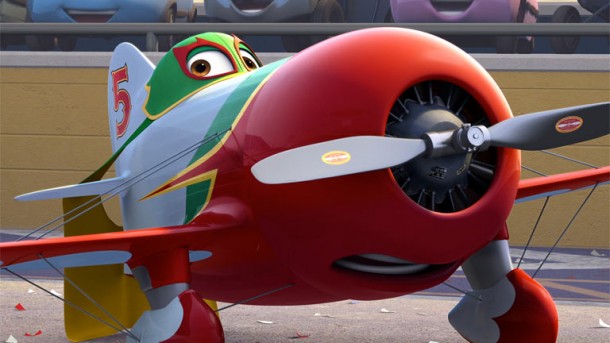 The Story
Last year we reviewed the Cinema 3D version but now you can own this Disney movie on 3D Blu-ray, although the story still leaves much to be desired. Planes tell us the same story of a protagonist with big dreams that seems somewhat limited by reality, so you can guess the predictable ending to this one. Dusty is not witty, loveable nor memorable. For a character voiced by Dane Cook, if you were expecting great jokes, you will be left wanting. Much like "Cars 2", in order to prove his worth Dusty has entered in a World Race featuring planes from all over the world. The only redeemable aspect would be the vast array of accents and characters brought about, thanks to the concept of the world race. But these characters are not memorable; they serve their purpose and nothing more. This story is filled with clichés and does not really offer the viewer any surprises or fun. It is meant to be a fun movie, but it ends up to being a bland motion picture with a script that will leave you unsatisfied.
Video Quality
Thank heavens that this is a 3D Bluray review as its video quality certainly has some redeeming features for this movie. Having watched this film in 3D at the cinema, it is safe to say that the home video version is better with its 1080p/MVC MPEG-4 encode, however it is far from being a superior 3D spectacle. At times during the Planes it almost seems as though the 3D has disappeared. This is mostly noticeable in scenes that involve less action and more conversation between characters. It is in the action scenes that the 3D takes flight. The planes seem to pop out of the screen at times and they look more rounded and realistic. 1.78:1 is the original aspect ratio for Planes, allowing for great looking environment and graphics that lift the movie ever so slightly. Colour contrasts work well in order to provide a crisp picture that beats the big screen counterpart. Environments are expertly detailed, vivid and realistic.
Audio Quality
The DTS-HD Master Audio allows for an excellent soundtrack and score as it makes use of all seven channels… perfectly! The racing scenes sound realistic, the engines roar across the screen. When propellers start up and jet engines ignite, the sound booms to the point that neighbours may think that they are living close to an airport. Dialogue between characters is crystal clear, allowing for soft sounds in the background to go on without disturbing the viewer from hearing the interactions between the characters.
Extras
The 3D Blu Ray comes with a few added extras, nothing really fancy or exceptional here:
– Klay's Flight Plan) — A 16 minute High Definition discussion with the filmmakers on the production and the film's development.
– Meet the Racers—A 7 minute High Definition character biography collection featuring Dusty, El Chupacabra, Ishani and Ripslinger.
– Top 10 Fliers — ESPN radio host Colin Cowherd counts down the biggest names in aviation, presented in High Definition with a running time of 6 minues
– Deleted Scenes presented in High Definition
– High Definition Trailers
– Franz's Song) —A High Definition song and dance deleted scene of the little VW car/plane hybrid, definitely for the kids! Running time 3 minutes.
Conclusion
Planes is nothing more than a CG spin-off of the Cars franchise. It attempts to make a new buck yet offers nothing new or inspiring to the current market for kids movies. Whilst the video and audio quality of the 3D Blu-Ray may make the movie more bearable, it still falls short of winning. With offerings such as Frozen, it is a wonder why Disney let this film leave the runway. Unless you have a kid that is obsessed with planes and all things aviation, it may be best to veer past this purchase.