I've entered numerous debates with people regarding my disdain for Now You See Me in hopes of someone perhaps changing my mind. I want to love it. I really do. I've seen it five times already. And each time I've hated it more. Magic is awesome. I love magic. But this isn't magic. Now You See Me ruins the fun of magic. You'd think that the Extended Edition of the film would sway me in favour of the crime thriller, but instead I found its extras on the history of magic far more interesting and entertaining. Now You See Me I don't want to see you anymore – even in your pretty Blu-ray picture quality.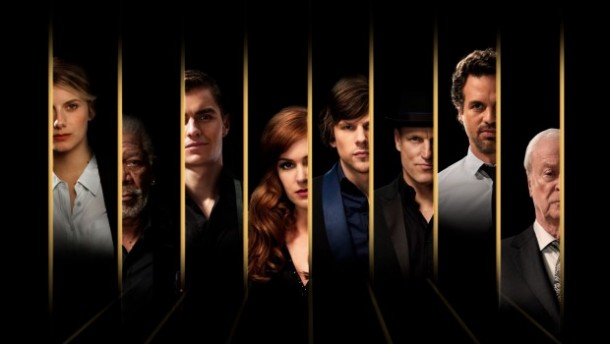 The Story
One of coolest things about magic is the ability to capture the imaginations of audiences who are required to engage in a certain suspension of disbelief. There is a sense of wonder as the coin or card reappears suddenly, seemingly from nowhere. "How did they do that?" is the most common reaction. Whatsmore, when you see a magician do something amazing in a live show, you know that it's all just a glamorous trick, a polished illusion. Unfortunately, Now Your See Me gives away most of the wonder of the magic in the film by employing the help of flashy CGI gimmickry, bright lights, roundabout camera tricks and a number of predictable twists. What should be a smart sleight of hand crime caper spins out of control into the Michael Bay version of The Prestige.
J. Daniel Atlas: The closer you think you are, the less you'll actually see.
The complicated plot revolves around four professional magicians (an arrogant magician (Jesse Eisenberg), an escape artist (Isla Fisher), a pickpocket (Dave Franco) and a hypnotist/mentalist (Woody Harrelson)) who join forces to stage the world's biggest magic show, sponsored by a rich investor (Michael Caine). For the final trick, while on stage, they rob a bank in France, leaving the FBI and the unsuspecting bankers dumbfounded. Tough cop Dylan Rhodes (Mark Ruffalo) is called in to investigate. Together with the help of an INTERPOL agent (Melanie Laurent) and a professional magic debunker (Morgan Freeman), the three set out to capture the gang, who decide to call themselves The Four Horsemen.
Merritt McKinney: [hypnotizing a cheating husband] Anytime you think of Janet you're going to see me naked, that's not a pretty sight!
Anybody who ventures into making a film about magic is aware of the possible comparisons to Christopher Nolan's The Prestige. Louis Leterrier certainly was. As a result, he overcompensates every magic trick with unbelievable computer imagery. Magicians levitate and do masterful acts, but every single one can be concluded as simple VFX. But a movie about magic without magic is the least of its problems.
Now You See Me squanders a great cast and what should have been a great premise. It seems everyone is playing the same character, with different talents. Every character is paper thin and every character could easily be shrugged off as the arrogant type. Surely, an ensemble cast that includes the likes of Michael Caine and Morgan Freeman could offer characters a little deeper than that. Dave Franco's Jack Wilder, the least explored character in the film, offers the most excitement during a faceoff with the FBI, using magic (throwing cards, using mirror illusions and sleight of hand) to overpower them.
J. Daniel Atlas: I did *not* see that coming.
Now You See Me constantly taunts its audience during the film and its trailers with lines like "The closer you think you are, the less you'll actually see" and expects them to be surprised that there is a twisty ending. Nevertheless, there are a number of clever set pieces here and there. There is enough entertainment to get you through the 115 minutes, but barely. It's a decent idea in the hands of the wrong people.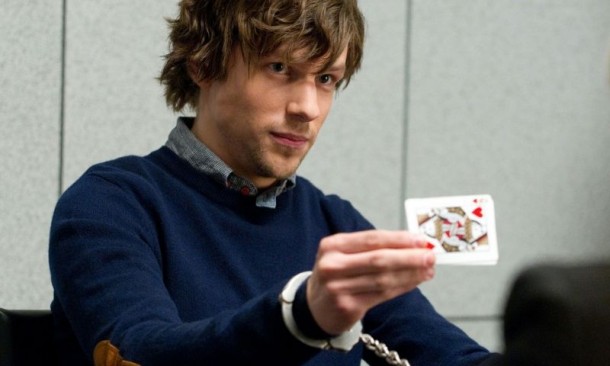 Video Quality
Now You See Me isn't all smoke and mirrors, the Blu-ray release is presented in 1080p/AVC High Definition in its original aspect ratio of 2.4:1 widescreen and delivers crisp and clear picture of the highest grade. It really is top-notch. There's no sign of any digital defects at all. The picture has strong contrast and well saturated colours. Blacks are dark and skin tones are natural. There is little to complain about in the video quality department besides the annoying flares that appear every few seconds. But that's seems like a post production gimmick rather than an error.
Audio Quality
Now You See Me's lossless DTS-HD Master 7.1 mix is the disk's biggest winner. It's impeccable and packs a mean punch. The score and effects fully immerse the audience into the film. Dialogue remains clear even when loud sounds crash over the sound system. Everything is mixed really well and the dynamic range is excellent. For those who can't take advantage of the full 7.1 soundtrack, a Dolby Digital 2.0 is also included.
Extras
Despite being an Extended Edition of the film there seems to be a lack of extras on the disk. Furthermore, it was really hard to tell the difference between the extended cut and the theatrical cut of the film. Whatever was added seems insignificant and doesn't further the story in any way. The disk does boast a rather large amount of deleted scenes however. Some of them perhaps deserved a place in the film, while others were correctly deleted.
Now You See Me Revealed – featurette
A Brief History of Magic – Hosted by magician David Kwong
Deleted Scenes
Audio Commentary
Conclusion
Even with the film's limitations the Blu-ray offers little to improve the experience, despite having excellent picture and video quality. The documentary "A Brief History of Magic" is a welcomed extra, but isn't enough to make this a worth while purchase. If you enjoyed the film you might want to rent this though.
[yframe url='http://www.youtube.com/watch?v=oq4kqGcTbQM']