The latest in a long line of Grand Prix bike racing simulators is almost here, and MotoGP 23 is the name. If you are an avid fan of bikes and track racing, this is the game for you. If you are looking for a bike game that is Need For Speed style, unfortunately, not so much. While you can wreck your bike as much as you want, you will have to deal with the consequences of it impeding your race, and street racing isn't the name of the game here. With an authentic Grand Prix experience that lets you tune your bike, tyres, brakes, and everything you can think of, here is the full review of MotoGP 23.
RELATED: Assetto Corsa Competizione Review – Sports Car Racing Done Right
MotoGP 23 Is An Amazing Simulation Game
When I logged onto this game, I wasn't expecting the level of dedication to realism you can find because I had never played their previous MotoGP games before. Almost every aspect of your racing experience can be tweaked, from the weather you are racing in, the number of laps, the difficulty of the AI you are racing against, and the list goes on and on. What really struck me was the number of options you have for tuning your bike, how your weight distribution comes into how you are riding, how you can feel yourself slipping on the tarmac easier if it is raining, and so much more. If you want to get first-hand experience on what it is like to be a racer in this league without actually going out and doing it, this is the game for you.
The graphics are phenomenal. The light in each frame is almost photo-realistic; you can see details of every sticker on the bike, you can switch between a bunch of camera angles, you can enable having to change gears yourself or have an easy ride as the game changes gears and automatically breaks for you, you can manually choose what kind of tires you want to use on the front or rear wheel to customise your experience entirely, the list goes on and on.
RELATED: Forza Horizon 5 Review: The Best Racing Game
Mechanics of the MotoGP 23
While I only had access to the quick modes available on the game, there is a ton more for you to explore when MotoGP 23 releases, like single-player career mode, multiplayer options, and comprehensive customisation for your bike from the build and performance to its appearance. There are also short races like the New Grand Prix and Time Trials.
With New Grand Prix, you can choose how you want to play your race. You start with choosing your race options, which player you want to represent you, with a choice of 22 players from around the world, and which track you want to test your grit on. Each of the 22 players has its own character and bike design, with their racing number, team, and endorsements for you to view.
I spent some time testing two of the 20 maps available on launch, Autodromo Internazionale del Mugello, Italy, and Circuit Ricardo Tormo, Valencia. Both tracks were immaculately designed, and at times I almost forgot that I was playing a game and not watching a race because the visuals were incredibly realistic. Each map out of the choice of 20 has different locations and lengths of the track, depending on what you feel like playing.
New Grand Prix lets you customise your racing conditions too, from the choice of 3 to 23 laps, with varying weather conditions like rainy, wet, cloudy and sunny to choose from and options to have the weather transition between rainy and foggy and vice versa. You can also tailor the difficulty of the AI riders that you are racing again, starting all the way down at 20-30% for Easy and ending with 101-120% for Extreme. You can choose how strictly you get penalised for penalties, whether you want to consider your tyre and fuel consumption for ultra-realism, whether or not you suffer damage every time your bike tips or crashes, and so much more.
Once you start the race, you get a calendar selection where you choose what events you want to participate in, from practices to qualifiers, sprints, warm-ups, and the actual race. This really excellent option makes it feel more like you are taking part in a race of this calibre and really ties into the simulation experience.
Don't even get me started on manual setup for your bike. Not only can you choose your tyre and brake setup for each tyre, but you can also set up everything on your bike, from the tyres' compound to the bike's suspension, the vehicle's geometry, your transmission settings and your ECU. If you want an excellent simulation experience but don't know too much about all those technical things, don't sweat it. There is a guided setup system for just that occasion.
With the Time Trial option, you are a tad more limited in your choices for race options, but you get much the same. The only standout here is that you can balance bike performance, meaning that no matter how tuned your bike is, it will perform in line with other options.
RELATED: Logitech G923 TrueForce Racing Wheel Review – A Handful
Sound and Music
One thing I noticed about the MotoGP 23 was that, much like real racing, there isn't any music playing while you are racing, leaving you to listen to all the revving and whirring of your engine, which helps manage your riding. But, of course, suppose you are one of those gamers that likes music while you race. In that case, you should add a playlist in the background. Still, it would take away from your authentic simulation experience with the game.
Gameplay Experience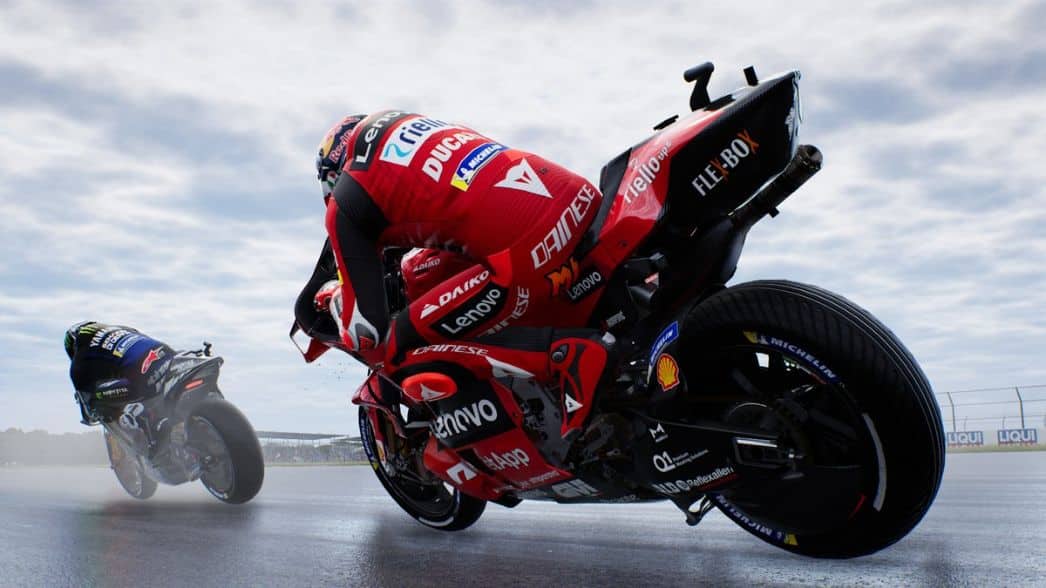 I decided to dive straight into MotoGP 23, not knowing what to expect and had an extremely smooth experience. However, I felt like it was a little too easy until I realised that the default settings are super accessible and catered towards new players, with aids like neural steering, neural throttle, and neural brakes, all of which make it a lot easier to enjoy the beauty of the game but didn't really help with feeling like I was playing a simulation game.
As soon as I turned all of that off, I immediately noticed the difference. There are a lot of different controls for aspects of racing, like a button for your clutch, you can manually gear up and down depending on what you need, you can shift your weight onto the front or back wheel, or just leave it centred, there are different controls that you can manage with the arrows (if you are playing on PC) and a lot that you need to keep in mind, much like if you were a real racer. If you want the whole simulation experience, tweak these settings. Otherwise, an experienced racer might feel like playing the game on autopilot. The game might have been better on a console with a remote than on a keyboard, but that is the case with most racing games.
There are so many ways to tweak your game, bike, and gameplay experience that you won't get bored replaying this game anytime soon. While it is an entertaining experience, the real value lies in how it makes you feel like you are in a pro-racing simulation, with stunning graphics and more control over the simulation than you will really know what to do with. Stay tuned for the 8th of June to play this game for yourself.
RELATED: Biker Boyz Could Be Racing Towards A Reboot or Sequel
Are you excited about MotoGP 23?
The Review
MotoGP 23
The latest in bike racing entertainment, MotoGP 23 is a fantastic, and incredibly realistic bike racing game where you can race on tracks from all around the world.
PROS
There are a lot of options for customizing races and bikes.
There are accessibility options that make it beginner friendly.
The game is beautiful.
CONS
There are so many aspects to keep in mind that it can be a little intimidating.
Review Breakdown
Gameplay

0%

Graphics

0%

Replay Value

0%

Sound and Music

0%