It's a new year and a new raft of annual release sports games. I don't care one jot for American ball sports. No sir, gimmie that gas-guzzling, rubber-burning, baby fox hunting motorsport baby! And no one does it better than our friends over in Milan at Milestone Studios — the guys almost solely responsible for every racing game out there currently. And now, they're back with MotoGP 21.
The advantage to having a monopoly on the genre is that you get very very good at it. And they are. Every title they release is now so near perfection that it means that I really only have one question to start with: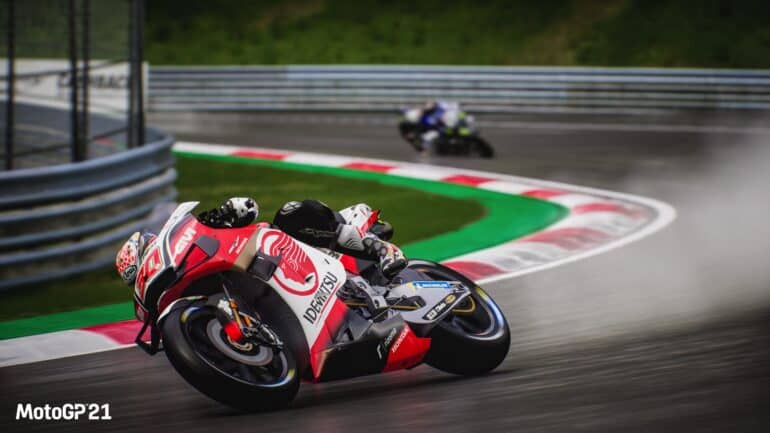 Is this year's release (MotoGP 21)enough of an improvement over last years to warrant the not inconsiderable price?
In a move that is totally counter-culture currently, I am going to start with the objective facts and later get into my subjective feelings about it all. The truth is that MotoGP 21 could really just have been called MotoGP 2020.2.0.
It looks fantastic, but then so did 2020.
The obvious improvement is that there is a specific next-gen console version designed to be enjoyed in full fat 4K 60fps. In fact, the game store seemed to take great joy from telling me the MotoGP 2021 version I was trying to download is only available to those better than me and I should rather download the pleb version found 3 pages down between Fable and Minecraft. The gaming equivalent of being told to use the servant's entrance when trying to enter a restaurant.
The in-game experience is still brilliant with the feeling of speed and danger of a continuous passenger on your shoulder. I played MotoGP 21 for a very long time before I felt I had enough of a handle on it to actually write about it and never once in all those hours did I ever find myself slumped back on my couch, casually staring at the TV over my now magnificent lock-down beer belly, flicking this way and that and winning races.
It was the edge of the seat, sweaty palms, white fisted stuff, where your focus climbs out of you and presses your head forward till you realise you have clamped your arms between your chest and your knees and makes you bite your lip and swear a lot.
MotoGP 21 is a very serious racing sim, like Formula 1, just with half the number of wheels.
So what's different, because 2020 was also balls out thrilling?
There have been a few additions to the bike dynamics, which for the most part really work. The suspension physics have been tweaked and now when you throw out the anchors at 290km/h to try get around the Moggots/Becketts complex in Silverstone, you feel the bumps that make the bike bounce around like a fat kid on a horse and it's not just aesthetics either. Try taking a corner when the bike is that unsettled and you will be pulling weeds with your face far into the outfield.
That brings me to a new feature in MotoGP 21 that I do really like.
You have the option to either respawn, ah la every other racing game out there, or you can choose to activate what they call Active Bike Retrieval, which means you come carrots, get up and have to hoof it over to where your bike is laying, all ungracious like, like a princess with her skirt over her head. It is a sequence so you don't have to actually do anything, but it does add another layer of realism.
In my opinion, this works when playing against other real players, but in AI mode, you are the only idiot who has to do it, so your AI opponents crash into you, then magically reappear on their bikes and they're gone, while you are still running to retrieve your steed.
The other really cool new thing in MotoGP 21 is the Long Lap Penalty, an idea Formula 1 should implement which could simplify the mess of available penalties the race stewards can hand out during a race. Here, if you misbehave and have a jump start or gain an advantage by exceeding track limits, you literally get sent to the naughty corner, a track extension somewhere on the circuit where you need to go the long way around and take the pain for your indiscretion.
Back to the technical improvements in MotoGP 2021.
Milestone has added brake dynamics, which also, somehow, really work. Brakes that are too hot will be less effective and too cold, they may snap and send you straight to the scene of the accident. How you turn that kind of fluid dynamic into code is still beyond me and probably why I haven't heard back from Milestone regarding a job…
That's the on-track stuff. But as any enthusiast of motorsport at this level will tell you, what happens on track is only a small percentage of what goes into a race weekend. There is R&D, marketing, publicity and inter-team wheeling's and dealings — not to mention starting your own junior team in the Moto 3 and GP2 categories. And, in this regard, MotoGP 2021 is pretty much the same as 2020.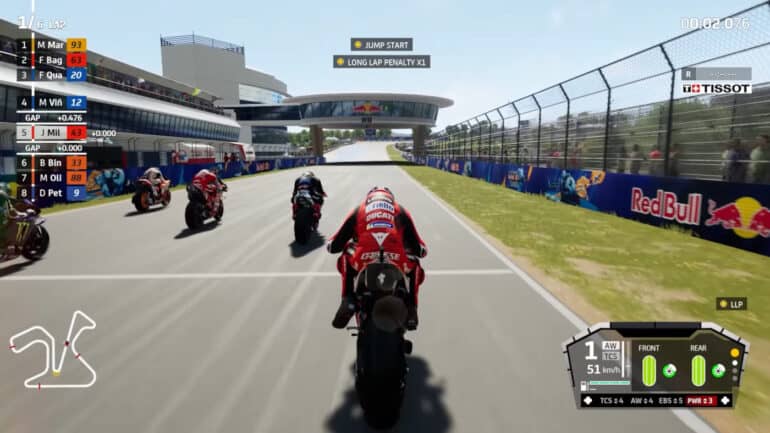 MotoGP 21 is a complex game, which is what you expect from a game officially endorsed by the MotoGP.
It is at its core a racing simulation, but the mistake 2020 made, in my opinion, was how hard it was for someone new to the title to get into the game. It had very little in terms of tutorials and how-tos.
You can argue that that's what Winter Testing and Free Practice 1 – 3 on a race weekend are for, but there are those delicate snowflakes out there who need a safe space to test their wings, so to speak. MotoGP 2021 has heard the stamping of their flabby little feet and rectified the 'problem' by providing tutorials on every aspect of bike setup and race weekend protocols, which makes it the most accessible instalment in ages.
As if we needed another reminder that nothing is as it was and we are now living in the 'new normal', MotoGP 2021 has TWO race calendars.
There is a legacy bike/rider/track option where you can race against the legends of the sport like Rainey, Schwantz, Doohan and Gardner on the truly scary 500cc GP bikes of the '80s and '90s, but there is actually very little to differentiate these bikes and riders from the modern bunch. It sometimes just feels like a reskinning exercise.
Another area which could be improved (2022 maybe) is the avatars of your competitors and the various menu screens. They all feel like a carry-over from 2019. Having said that, this is a game about racing and as such, it is truly brilliant, which we expect from Milestone.
The graphics editor is better (not by much) than 2020, so you can really customise your look, from helmet to leathers to bike and the usual track builder function is there.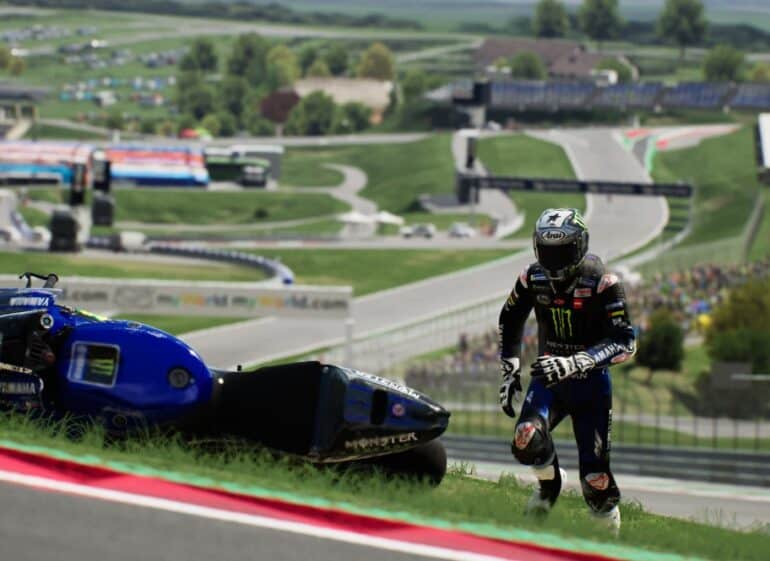 So to sum up, is MotoGP 21 better than 2020?
Yes. Is it better by a lot? As I said, it feels more like a late-life patch for 2020.
If racing is all you want to do and the technical fettering makes you clammy with excitement, then 2021 does offer more. Also, if you are new to the series, 2021 is going to hold your hand until you feel safe to proceed on your own.
Because of these things and because MotoGP 2021 is not a patch for MotoGP 2020, I would say yes, it is worth it. The truth is, you are going to spend days and days and days playing this game because it is good and it is demanding.
The Review
MotoGP 21
Value for money wise, this is another winner from the boys and girls at Milestone.
Review Breakdown
Gameplay

0%

Graphics

0%

Replay Value

0%

Sound and Music

0%