The world of motorsport is at a pretty stagnant place at the moment. You have Lewis Hamilton and Mercedes completely dominating Formula 1 again for the 5th season in a row and Marc Marquez is doing the same in Moto GP. Though we shouldn't blame these guys for being that much better than the rest of the field, it does make for some pretty boring viewing.
In 2017 I had F1 2017 to distract myself from another season of more-of-the-same by running my own World Championship. Last year, F1 2018 was as brilliant as 2017. But there was the problem. It wasn't THAT much better, much like the actual F1 season last year was good, but not THAT much better than 2017.
So when I got the opportunity to review what I consider to be the premier motorcycle racing title, I was a little apprehensive.
I never played Moto GP 18 but when searching online for some gameplay videos, that feeling of apprehension wasn't allayed. The game looks exactly the same as last year's game. Has Milestone gotten lazy and just re-skinned MotoGP 18 and released it just to tick that box off for the year?
I mean, it's not like game publishers don't do that. They make a few minor cosmetic changes to this year's release so they can throw more resources at a big release the following year. 2018 was a pretty big evolution of the game, what with the introduction of the Unreal Engine it was built on.
I'll be honest, I had made up my mind before even playing the first minute of this year's release and I'm kind of glad I did. When I started getting into the game, I realised that this is a very different monster. Sure, it looks the same and the tracks are the same and the riders are the same, but that's not a bad thing. MotoGP 18 is a beautiful game.
MotoGP 19, however, has more than one substantial development built in under the skin.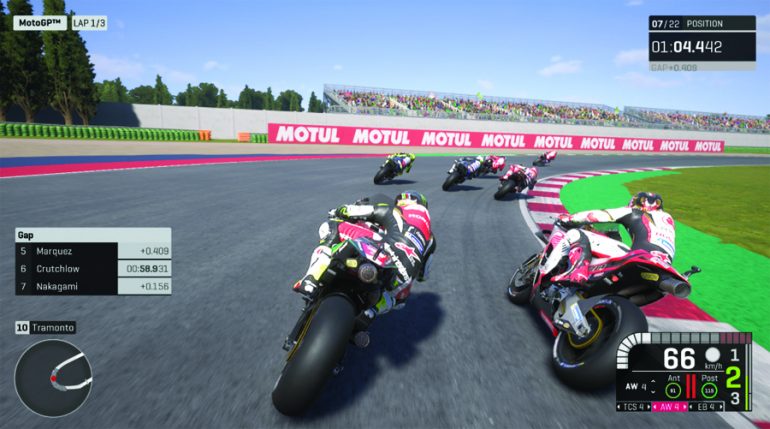 The first and most important is the use of Neural AI to run the virtual competition. Without getting into the nitty-gritty of what Neural AI is in theoretical terms (a concept so complicated you can think of it as Blockchain and String Theory discussing Dark Matter over a few beers), in practical terms, it's a learning computer that teaches itself how to ride a Moto GP bike. It goes from pootling around the cul-de-sac with training wheels on to Marc Marquez level through a series of trial and error situations. Much like we learn.
The cutest part of this whole narrative is how Milestone and their AI dev partner Orobix believe they are in control of this machine learning. All AI developers believe they have created an AI, what they don't realise is that they have just developed another piece of the AI. It is one thing being developed in various parts of the world and it is slowly becoming self-aware and whether we are using it to simulate racing motorcycles or nuclear war scenarios, it is learning about us.
Anyway, extinction event prophecies aside, the AI in MotoGP 19 is crazy good. It doesn't study the riding styles of the current grid. It actually learns from scratch. The downside to all this AI wizardry, besides the inevitable rise of the machines, is that frame rates are kind of pegged at 30fps. Not ideal, but Milestone says they will be patching that shortly after release so powerhouse consoles like the Xbox One X will get higher FPS.
The next big development is that Milestone now has dedicated online servers. This means no more lag while trying to navigate the first corner where 20 bikes are all trying to occupy the same piece of tarmac. They have also developed their lobby algorithms to favour matching up players with similar experience levels and attitude towards racing. This is a big step toward ensuring the right players are racing against each other, rather than just trying to make sure each race is full.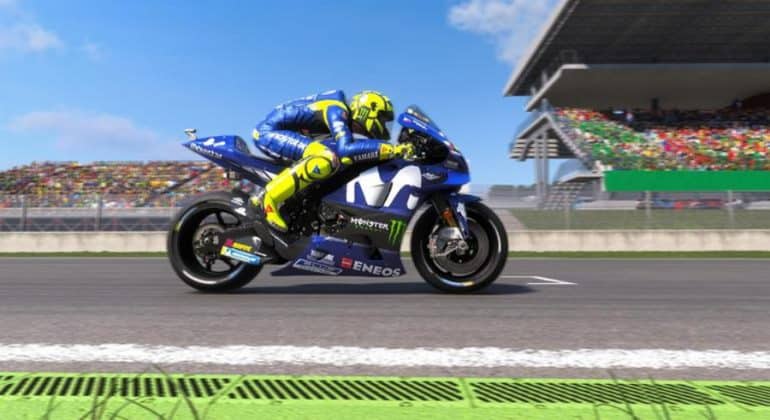 The feeder series is back after being missing from last years release. Moto2 is back as a stand-alone series and the bikes, upgraded this year to 765cc 3 cylinder machines from last years 4 cylinder 600's, have gotten the same extreme attention to detail as the Big-Boy bikes. There is a Career Mode for this series too. You will start off with 3 chassis options, set up to favour either straight line speed or cornering stability. You then get to upgrade things like brakes, exhausts etc.
If like me, you see the '80s and '90s as the golden age of MotoGP, when cowboys like Kevin Schwantz and Wayne Rainey were doing hot laps around Mugello on their back wheel in the rain, MotoGP 19 has got you covered. Though not a Championship mode, you do get challenges to complete for either a Bronze, Silver or Gold medal, each unlocking new stuff which can be used in your 2019 championship campaign. These are tons of fun.
Then there is the esports angle. This is becoming a huge element in any sports game. In Formula 1 every team has an esports team and the prize money is massive. But more than that, players who win the championships get to compete in real F1 cars.
In MotoGP 18 the esports side to the game was a bit mild-soap, largely due to non-dedicated servers and whatever. In MotoGP 19 they have added Director Mode, which allows spectators to show what the race looked like from their perspective in the grandstand. This is really awesome for those wanting to stream their own championship.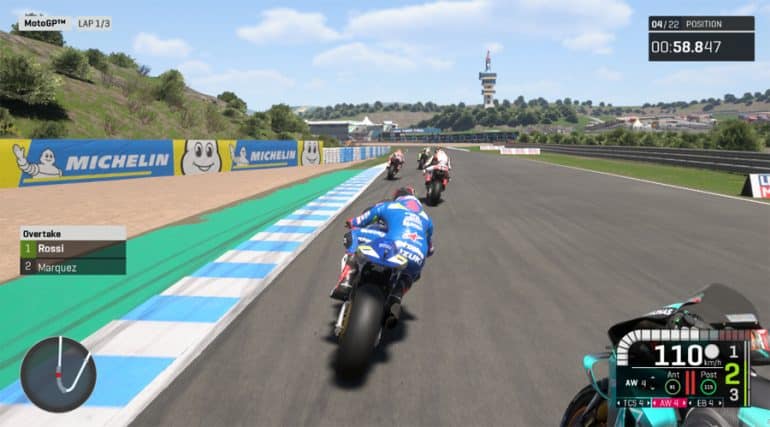 So taking all these developments into consideration, the creepy good Neural AI, the heavy focus on Director Mode and esports, the historical races and the total revamp of the online experience, MotoGP 19 is a very impressive racing game. It looks great, plays well and is the future of gaming.
MotoGP 19 is definitely worth the money. Milestone has knocked this one out the park!
The Review
MotoGP 19
MotoGP 19 is not only a step up from MotoGP 18 in every way, but also one of the best motorcycle racing games currently out there.
PROS
Great AI
Robust modes
Beautiful looking bikes
CONS
Framerate
Some of the visuals can look dated
Review Breakdown
Storyline

0%

Gameplay

0%

Graphics

0%

Replay Value

0%

Sound and Music

0%