In the past few weeks, fans have discussed many theories about Moon Knight. We've talked about his multiple personalities, and how they might be connected to the different totems. We've traced the history of Khonshu (F. Murray Abraham), the god who empowers Moon Knight, in an attempt to understand how he is connected to the moon totem. And lastly, we've even worked hard at shedding light on his "great big lie," that he told about being Steven Grant. However, all of these may pale in comparison to this Moon Knight theory—that the show's big bad Arthur Harrow (Ethan Hawke) is the Egyptian god Anubis who is working to free Ammit and take back control of the underworld.
With the MCU quickly rolling out its Phase Four, Marvel fans have begun speculating over which characters who'll soon make their debut in the cinematic universe. In the past few months, we've heard and seen announcements about characters like Ironheart, Ms Marvel and, even heard the good news that Netflix's Daredevil (and co) are entering the universe too.
But while many viewers believe that Moon Knight's Arthur Harrow will turn out to be the MCU's Doctor Doom, one Redditor's theory about who the character really is makes a lot more sense.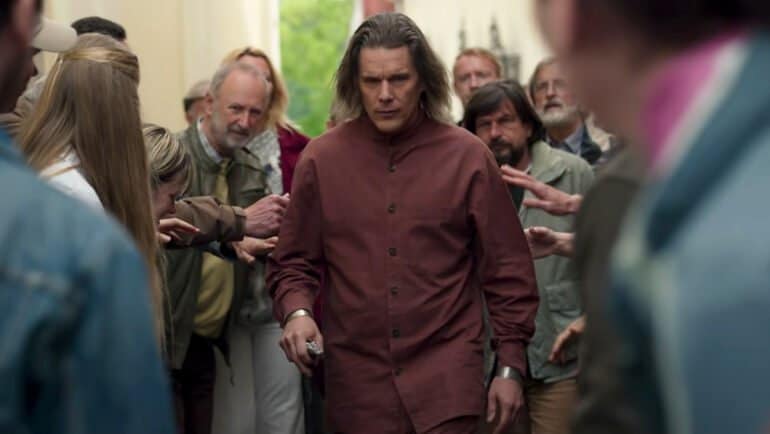 In a recent post, Redditor TheMediocreCritic revealed his theory about Moon Knight's Arthur Harrow being the Egyptian god Anubis. As the god of the dead and protector of the scales in mythology, Anubis is collecting followers that he intends to offer as a sacrifice to Ammit.
TheMediocreCritic reveals that he was closely studying Egyptian mythology (after he was inspired by episode two of Moon Knight) when he stumbled upon Anubis — helping him to piece his Arthur Harrow theory together.
"Suddenly all the pieces fell in place," he explains in his lengthy post. "The clues are everywhere. And his lies are starting to make sense."
In Egyptian mythology, Anubis (protector of the scales) would measure a person's soul and Ammit would devour all those who weren't worthy to enter the afterlife. This is similar to what we see Arthur Harrow doing in the first episode of Moon Knight. Using his tattoo, he is judging the souls of his followers.
Accorring to ancient texts, souls heavier than a feather would be devoured by Ammit, and souls lighter than a feather would ascend to a heavenly existence.
"The scales are essentially the symbol of Anubis," the Redditor continues to explain. "Secondly, when Harrow summons animals to attack Steven (Oscar Isaac), they are Jackals. Anubis has the head of a jackal. It's an extension of himself."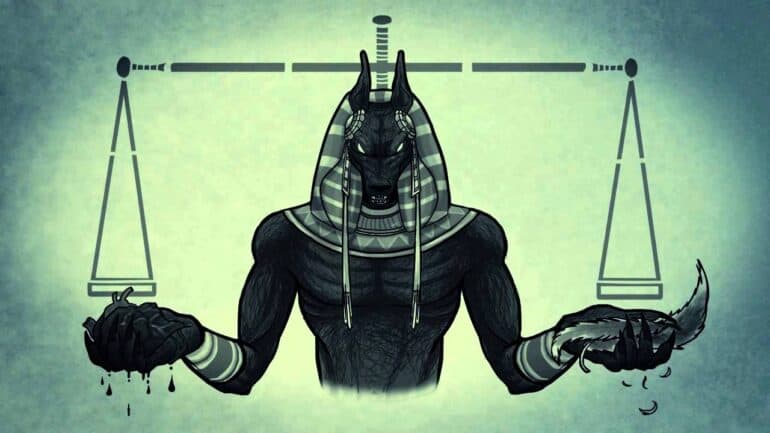 "Thirdly, if Ammit has been imprisoned by the other gods, how was she able to grant her powers to Harrow? Unlike Khonshu, she does not seem to be able to talk to Harrow. So how else could harrow obtain the power of the scales and the sliver of her power unless he always had them?"
The fan theory suggests that Moon Knights Arthur Harrow is lying about other things too. "Harrow also says that he was the former Avatar of Khonshu but Khonshu himself, who is present right up to this comment, says nothing. Harrow says he cannot hear Khonshu, but I think he can. Harrow is lying. He is playing Steven and Khonshu. I think he may need Khonshu to help him open the tomb."
But it gets much deeper and more interesting.
According to the history books, Anubis (also called Anpu), was reputed to be the inventor of embalming and is depicted as a protector of graves as early as the First Dynasty.
He and Ammit were defeated and cast out of the pantheon when they rebelled against the ways of the gods. By wanting to be the judge, jury and executioner, the two Egyptian gods sought the power of the souls for themselves.
"Anubis is now stuck in mortal form, trying to find a way back into the realm of the gods. As a mortal, the underworld is hidden from him; this is why he needs the Scarab. He is going back to free Ammit and overthrow the gods."
The twist? TheMediocreCritic believes Khonshu was part of the uprising too.
"This is why he is banished. He quickly realized that he had been on the wrong side and now fights against Ammit (Sofia Danu) and Anubis."
This would also explain why Harrow was his avatar before Steven. He was trying to help him, until of course he realised that he disagreed with his methods and his plan.
There are a ton of Moon Knight theories out there at the moment, but this Arthur Harrow one has a lot of weight and makes total sense.
What do you think, is Moon Knight's Arthur Harrow actually Anubis?