After 12 years Pixar creates a prequel to one of its most memorable movies, Monster's Inc. Monsters University is an origin story that tells the tale of, now best friends Mike and Sully, during their college years at the MU Scare Academy. Yes, scaring does not come naturally to monsters, it is a lifestyle choice and in order to be a professional scarer you need to get to class!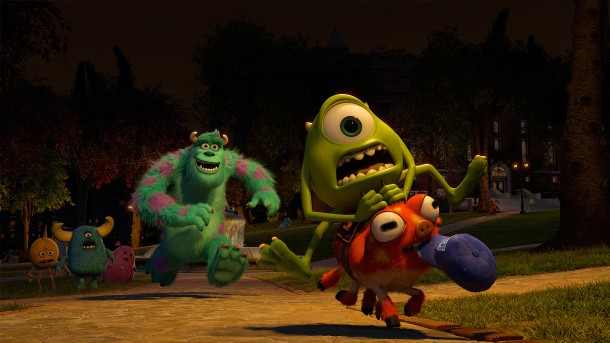 The Movie
Mike Wazowski was never the most popular monster, whilst being energetic and friendly he struggled to make friends. But his life would change forever the day his junior school decided to take an excursion to Monster's Inc.
Remember this is a prequel, so a child's scream is still the only thing that keeps the world of the monsters going. It is the only equivalent to an electric power source. After a sequence of events, Mike is left smitten and wants to be a scarer and according to his role model, the best scarers go to Monsters University (MU).
Flash forward to the present and Mike is about to experience his first day at University, looking forward to reaching his goal of being a scarer. When it comes to the theory of scaring, Mike knows it all. He is diligent, studious and focused on his goal. However, when it comes to practicality Mike is deemed not scary enough. Let's face it, he does not look like the eye from the Doom franchise.
University is also the first time that Mike meets the naturally talented scarer James P. Sullivan, or Sully, as we know him. When it comes to scaring, Sully was bred for success. His family has a legacy of being the best in the business. Whilst naturally gifted, Sully does not have the smarts or focus to hone and perfect his skills. He is more of a laid back life of the party kind of guy. So as you can see our protagonists are foils to one another, although they despise one another they are forced to work together if they hope to become professional scarers.
What follows is a fun-filled colourful adventure about a bunch of misguided misfits working towards a common goal. This sounds like a recipe for success, but sadly Monsters University is not as impressive and heart-warming as its predecessor.
Having watched both films over a hundred times recently, mostly thanks to my toddler loving this franchise, it is safe to say that whilst the animation has improved leaps and bounds the story has not. But it serves its purpose of being a decent film for all ages that teaches the kids the importance of teamwork, forgiveness, hard work and the greater good, whilst introducing subjects such as the dangers of being self-righteous and filled with arrogance due to pride.
Monsters University is also filled with lots of jokes and supporting characters which manage to assist in keeping the movie light-hearted and fun. So it makes for fine family viewing albeit it not as great as its predecessor.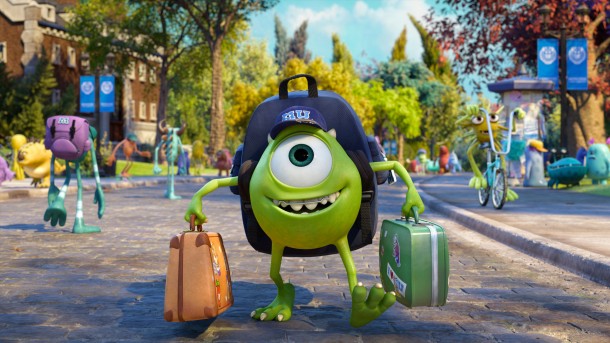 Video Quality
Visually this film is stunning, you could not expect any less from the combined efforts of Disney and Pixar. At 1080p the movie is lush and filled with enough colours to grab the attention of an adult, never mind the children that the movie was aimed at. Once again, this is a Blu-ray that looks way better on my television than it did in the cinema and I watched it in 3D!
You can even see the individual strands of Sully's hair. That's how superb the details are on this Blu-ray! Also this time round, Mike is rounded way better and his skin looks more smooth and realistic. My main problem with Monster's Inc was that the animation looked too square and rough around the edges at times. Monsters University does not suffer from this problem at all.
Audio Quality
The Dolby TrueHD 7.1 allows for some great scaring roars that will shake your TV room, whilst it keeps the dialogue crisp and clear during conversations. In this monster-filled world, each monster presents its own unique sound from the slithering and sliding on snails to the clicking of crabs. Each jump, screech, and roar is audible and dynamic. I just love that college marching band score that lingers in the background throughout the movie.
Extras:
Although this claims to be a collector's edition Blu-ray, all that you are given is one short film and some commentary. The short film, The Blue Umbrella, is a cute tale about love in a society where people seem to no longer connect with one another, however, it seems that non-living objects are able to still interact with emotion that had once seemed lost. It is a short and sweet love story that features some rather amazing animation.
There is a 3D and 2d Blu-Ray Ultimate Collector's Edition available that contains far more extras such as art galleries, promo videos, and character design featurettes. So if you are looking for the full package I would suggest you get the Monsters University Ultimate Collector's Edition.
Conclusion
Monsters University makes for a fun family adventure that will keep your kids entertained for a good while as it is filled with lush vibrant colouring and zany looking characters. Is the story memorable or spectacular? Unfortunately not, the plot is straight forward and rather thin, but it does offer a little twist to the tale.
All in all, Monsters University still remains a visual spectacle that is backed up by superb audio quality. It is definitely a movie worthwhile being in your child's collection. However, I would recommend you spend a little extra and get loads more in the form of the Ultimate Collector's Edition.