Remote control car aficionados, beware! The latest line of Monster Jam trucks, which are carefully modelled after the most popular monster vehicles, are bigger, meaner, grittier and better than ever before. If you've ever dreamt about driving over large obstacles and mauling through and over anything standing in your way, these bad boys allow you to take hold of the remote controller and unleash the power.
Let's start with the smaller scale RC, the official 1:24 scale Megalodon monster truck replica.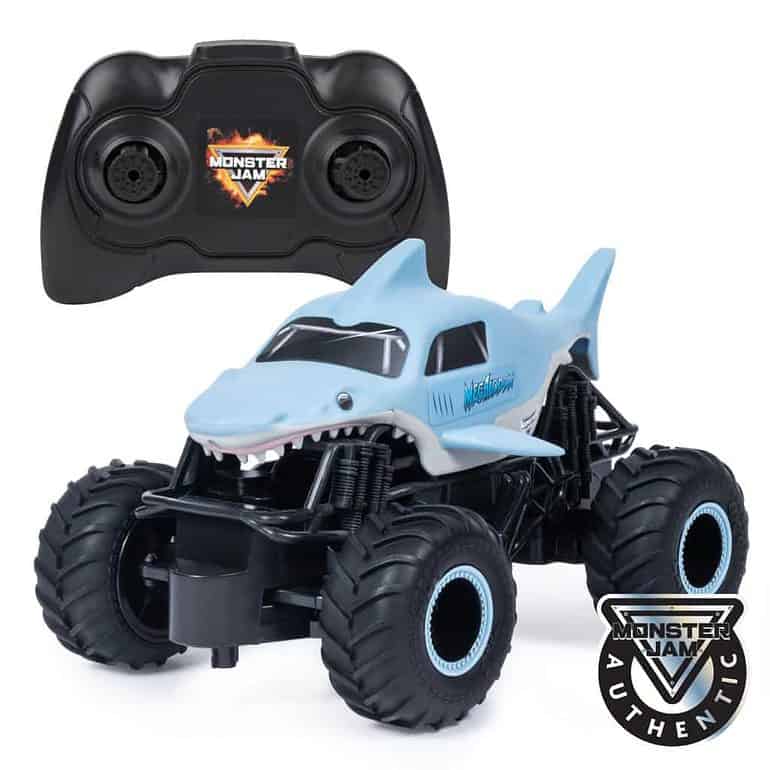 With water-resistant design and custom performance tyres, the shark-like Megalodon STORM is able to ride on both water and land with ease. As the packaging so accurately points out, this vehicle is able to "conquer any terrain". In fact, Monster Jam even promises that you'll be able to take these out to "race on snow, mud, rocks, grass and more". That's pretty impressive.
Removing it from the box, you'll be impressed by the solid build of this little truck. The USB rechargeable Megalodon has authentic graphics, details and even oversized lightweight tyres. Plus, it just looks pretty damn cool racing around.
You'll be even more impressed by the fact that you'll be able to control the vehicle from up to 100 feet away with the 2.4GHz frequency controller. And it's quick. Unlike other racers this size, the Megalodon actually packs a lot of power and speed – even through some tough and muddy terrain. It just never behaves like a cheap toy.
So, with so many positives about this little guy, you can just imagine how much praise I have for its bigger and meaner brother, the Monster Jam RC- 1:15th Scale Grave Digger.

For those who don't know, the Grave Digger is a monster truck racing team in the Feld Entertainment Monster Jam series founded by original driver Dennis Anderson. Monster Jam has managed to recreate the popular monster truck in a very realistic way.
Right out of the box, the Grave Digger is ready for action. Like the Megalodon, it features authentic graphics and, of course, monstrous oversized BKT tyres.
But it's not just a pretty face either, it drives like a beast too. I managed to drive the 1:15 scale vehicle over pretty much anything in its way – including large rocks and bumpy surfaces.
What's also impressive is just how well the truck handles. I was able to rocket over ramps and down the stairs with the Grave Digger landing back on its wheels most of the time. It's just that sturdy.
In fact, if I'm honest, my two-year-old even found ways to throw it around without it falling apart. That in itself is a miracle. But it's also a testament to how well these toys were made.
Whether you're a young kid or a kid at heart, these Monster Jam Monster Trucks are a must-have. They're highly enjoyable.
Available from all good toy stores now, or online at Just Fun Toys.