Sony Pictures has released a teaser for Paul W.S. Anderson's Monster Hunter which features the massive monster, Black Diablos.
Loosely based on the popular video game series of the same name by Capcom, the story follows an elite military force led by Captain Natalie Artemis. After falling into a portal, the soldiers find themselves in a world populated by giant monsters that are immune to their firepower. In their desperate battle for survival, the unit encounters a mysterious Hunter whose unique skills allow him to stay one step ahead of the powerful creatures.
As Artemis and the Hunter slowly build trust, she discovers that he's part of a team led by the Admiral. Facing a danger so great it could threaten to destroy their world, the brave warriors combine their unique abilities to band together for the ultimate showdown.
Written and directed by Paul W.S. Anderson, Monster Hunters stars Milla Jovovich as Captain Artemis alongside Tony Jaa, T.I., Ron Perlman, Meagan Good, and Diego Boneta.
The film is a production by Sony Pictures, Constantin Film and Impact Pictures – with Anderson, Jeremy Bolt, Robert Kulzer, Martin Moszkowicz, and Dennis Berardi also serving as producers.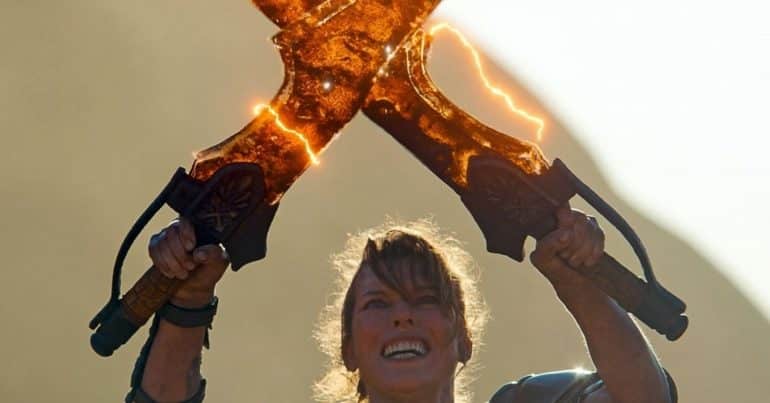 In an interview with Empire, Anderson said he drew from Jovovich's own experiences playing the game when picking weapons for her character.
"Although Milla's character's not specifically in the game, she chose the same armour and weapons she uses [when playing the game]. So there were aspects of her game character that got folded into the movie representation."
Jovovich says her weapons of choice are the famous Dual Blades.
"I experimented with different weapons during the game and was able to kill more monsters with those blades. I thought they'd look really beautiful in an action sequence."
Monster Hunter is scheduled for release this December.