So 2020 may as well not have happened and after a year of COVID-19 insanity, I'll admit, having something like Monster Energy Supercross: The Official Videogame 4 slide cross my desk has been the respite I have needed.
Milestone is one of my very favourite games developers, they seem to have a passion for things I am also quite into.
When I was younger I use to race motocross and back then Supercross was just one of those things you heard about those crazy Americans doing, but then South Africa entered the 20th century and every home had a set top decoder and suddenly we had access to dozens of channels and some of those channels would be sports channels catering to extreme sports like Supercross.
I would watch guys like Jeff Emig and Jeremy McGrath tearing around an indoor track under floodlights, the steel and chrome glinting like fireflies as they launched what seemed like a thousand meters into the air.
There were grandstands full of passionate fans being whipped into a frenzy. There would be fire and smoke and confetti shot into the sky when the winner flew across the line, usually twisting the bike into some impossible acrobatic feat as if to ensure we had no doubts about their level of skill.
So this is what I would be looking for when playing this game because we know Milestone has got the physics absolutely near perfect. We know they know how to make an immersive motorcycle game.
With titles like MXGP, Ride and MotoGP in their stable, it's safe to say they are the leaders when it comes to making you feel like you are flying through the air, two wheels under you and handlebar grips in your hands, while sitting on your couch with a controller in your hands.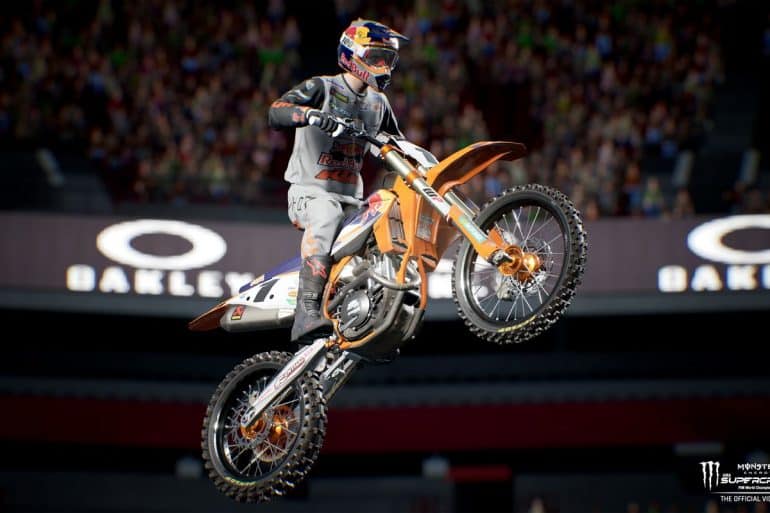 New To Monster Energy Supercross 4
Does Monster Energy Supercross 4 take me away to a place where my senses are overwhelmed with the roaring of engines, the smell of exhaust fumes and the stadium lighting is blinding as it flashes off steel and plastic?
I know that the challenge for developers when it comes to 'Official' sports titles that have to be released every year is to keep pushing development and load the new release with enough innovative new stuff to convince the Average Joe like you and me to part with their hard-earned money. So, in that sense, I am coming up a day late and a dollar short. This is my first outing with MES so I have nothing to compare it to, except MXGP 2019.
Though MXGP was also an 'Official' release, endorsed by the FIM, it has a fairly arcade nature to it and by-in for a new player is challenging but still hugely fun.
Monster Energy Supercross 4 takes itself far more seriously.
Career Mode is probably where I would spend most, if not all my time.
There is the now customary RPG-style skills tree. Though perhaps not as deep and consequential as the skills tree found in F1 2020, for example, it definitely works.
I could feel the difference in the way I could throw the bike around and how it responded when increasing my various stats. Gaining new skills, at least initially, is very hard work, which makes progressing massively rewarding, but that's just me. I generally always play my games on the most difficult setting because that is the ultimate challenge. I never feel like I have done a game justice unless I have beaten it knowing that it threw absolutely everything it had at me.
For a more casual player, I think the cost of entry may be a little high.
Granted, Monster Energy Supercross 4 is a more serious racing sim and there are far more forgiving options out there and that's probably why Milestone has several same genre options.
Having said that, there are training modules, but even these feel like they were developed by a U.S Marine Drill Sergeant and the intent behind them is to weed out the weak. I kind of like that, but again, a potential entrance barrier for the more casual player.
The next step once you have survived the training is something found in the actual Supercross series known as Supercross Futures, which in the real world is like Supercross Lite.
The tracks are slightly shorter, the jumps less punishing and the bikes less powerful.
In the real world, I can see the benefit to this but in Monster Energy Supercross 4 they seem to have forgotten about this distinction. I could honestly not tell the difference between Futures and the full thing, other than the bikes are slower, which makes clearing massive jumps that much harder. On more than one occasion I flew straight into the second hump of a camel jump just because I couldn't get enough speed to clear both.
This is the real world will result in broken forks, at best, and a broken neck at worst.
Personally, I think the best training comes from just going out and racing and pushing yourself until you get your first point, then improve your first stat in your skill tree and then you begin to notice improvements in your abilities and your bikes responsiveness, then you start winning more points and increase more stats and so on. There is no better teacher than failure.
The AI in Monster Energy Supercross 4 would seem to have been developed by the same Drill Sergeant that designed the Training modules. There are 5 variants and all of them will set lap times that are fast and metronomically consistent. Again, not too much of an issue for me but for a more casual player, this could be a problem.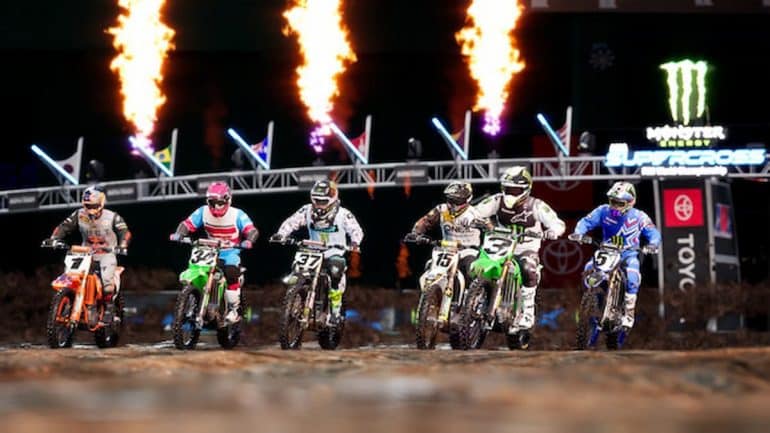 As an 'Official' title, I understand the need for an accurate sim experience and Supercross is not easy — trust me I know, I've tried the real deal. It takes buffalo balls of brass to complete a single lap, never mind doing it in any kind of competitive time.
But if you are making it prohibitively difficult for new players, you better hope you are adding enough good new stuff to keep your existing player base excited. Even something like rewinds, which most sports games have so you can try to correct a mistake without having to start from the beginning or lose a bunch of time, should be infinite or at least be something you can do very often. In Monster Energy Supercross 4 rewinds would seem to be a very limited resource.
Strange.
F1 2020 is a great example of balancing a truly complex racing sim with a gentle entry curve.
Other than that, Monster Energy Supercross 4 is not as prone to silly inconsistencies like leaving track limits or riding over Styrofoam bollards resulting in death, and the atmosphere is really immersive. On my large 4k TV, soundbar cranked up and the Xbox singing, the whole experience is intoxicating.
I really like Monster Energy Supercross 4 and will recommend it to anyone who is serious about their racing sims, but I would be more cautious recommending it to someone looking for a more casual gaming experience. Fortunately, you don't have to look too far as I said, Milestone has something for everyone.
I give Monster Energy Supercross 4 a big thumbs up!
The Review
Monster Energy Supercross: The Official Videogame 4
Monster Energy Supercross 4 is a head down, balls out racing sim that cares little for your sensitivities. It is loud and brash and spectacularly rewarding to the brave and stupid, which is what the real-life Supercross formula is. Whether it's a big enough step up from Supercross 3 I don't know. But as a new player with a masochistic streak, I love it.
Review Breakdown
Gameplay

0%

Graphics

0%

Replay Value

0%

Sound and Music

0%