There is something uber cool about the American Supercross championship. It's like a sport that they created to be like a video game, and then created a video game of it. It's really a parody of real motocross. Everything is more and bigger and designed to be spectacular, which, when you think about it, is exactly what you want from sport, isn't it? Especially if you want to attract sponsors like Monster Energy, who have a bit of a rep for getting in bed with everything over the top.
As the Monster Energy Supercross title suggests, this is developer Milestone's third bite at this apple. I reviewed #2, and I liked it. I wasn't wild about it, but not because it was a bad game.
Monster Energy Supercross was the game that tried to bring the world of Supercross into the same league as the WRC and F1 franchises. It came close, but there was no eSports development, which is really the owners of the sport giving the game their stamp of approval. This time around there is no official word on an eSports league, but the signs are positive that this may happen in the future.
The first sign would be that this is an exact replica of the 2019 season, with all 100 riders competing in that season, across both the 450SX class and the 250SX class – all the bikes, all the sponsors and all the tracks. I don't remember exactly, but I recall in Monster Energy Supercross – The Official Videogame 2 they had to leave out certain tracks due to licensing issues. Not anymore baby!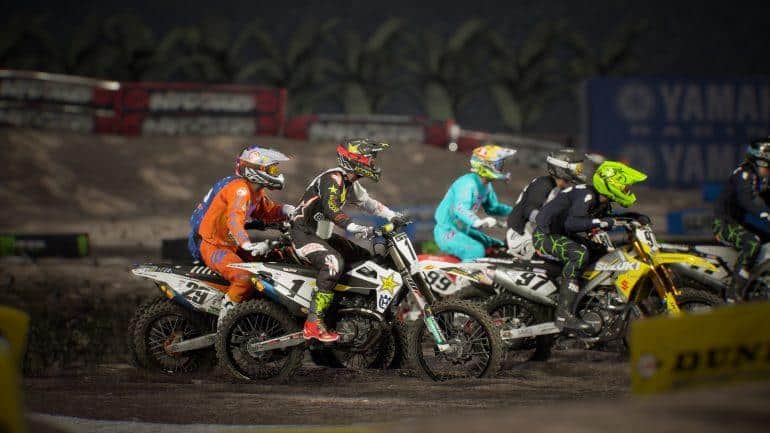 The other sign which makes me believe an eSports league is imminent is the fact the game now has its own dedicated servers. Though not absolute proof, it would be one of the things they would need to get in place if they were going to make this competitive. There is also a Race Director mode where you can host a competition online and manage the whole thing, which is pretty sweet. Then there is also a co-op mode that allows you to recreate the Factory Supercross Practice Tracks, which in reality is where the manufacturers of the competition bikes do all their testing, in California.
So a lot of new stuff in Monster Energy Supercross – The Official Videogame 3, but is it good?
Well, I have to say yes (because it looks great and there is new stuff), but I just don't like bike racing games. What do you play it with? You cant use a controller because that isn't immersive. You can't use a steering wheel because it doesn't translate. So I spend my time wobbling around the track, crashing into everything – mainly other competitors.
Now before you judge me, there are approximately 24 contestants on track all at the same time, so I don't care who you think you are, you are going to crash into someone at some time.
The controls are really sensitive and if you even clip one of those fake track bounds hay bales with sponsorship all over it, you will fall. Land a jump wrong, you will fall. Try do a gnarly trick in the air, you will get it wrong and fall. That said, the falls are extremely entertaining.
To be fair, I did eventually hook a lap up and came 3rd and it is extremely entertaining when you are at the sharp edge of the pack. That being said, I don't think there is enough here to make me buy Monster Energy Supercross – The Official Videogame 3. Its new features don't add much for me personally.
The Review
Monster Energy Supercross - The Official Videogame 3
In light of the game being only slightly better than its predecessor, I have to say, don't bother.
PROS
The thrill of the series is very well captured in the graphics, music and dynamics of the game.
Dedicated servers make for almost zero latency when playing online.
All the tracks, riders, sponsors and bikes are available.
CONS
Not different enough to the last release to be worth it.
Bike handling is too sensitive, even in Standard mode.
Review Breakdown
Storyline

0%

Gameplay

0%

Graphics

0%

Replay Value

0%

Sound and Music

0%