Monster Energy Supercross 2: The Official Videogame is self-evidently officially the game of something, and what that something is, is the AMA Supercross Championship. For those of you not in the know, this is one of the premier supercross championships in the USA, and if you don't know what supercross is, that's fine too. Basically, it is motocross, which is off-road dirt-biking but transported onto tracks in large stadiums, where tight cornering and successful jumps are emphasized during races. It is motocross with more flash and celebrity about it. And now it has an official game. The second one, even.
This leaves us with understanding who exactly this game is for. We have a few possibilities. Customer Number 1 would be someone that simply cannot get enough of Monster Energy drink and wants as much of the logo in their life as possible. Customer Number 2 has a deep interest in the AMA Supercross Championship and would love to play a licensed game with their favourite tracks and riders in it. Customer Number 3 has an interest in authentic off-road dirt track sports and would love to play a recreation of one in a video game that felt realistic. Thankfully, all three of these customers are fulfilled in some way, but if you are not one of these three, this game probably won't be for you.
This title is developed by Italian study Milestone S.r.l., who have had pretty much all their dev experience put into racing games of one kind or another, including MotoGP games, Rally games, and the like. My last experience with them was their singularly unimpressive title Gravel from last year, which I reviewed before but now find extremely hard to remember on any level. But let us not hold that against them too much, and instead look at this game for its own merits.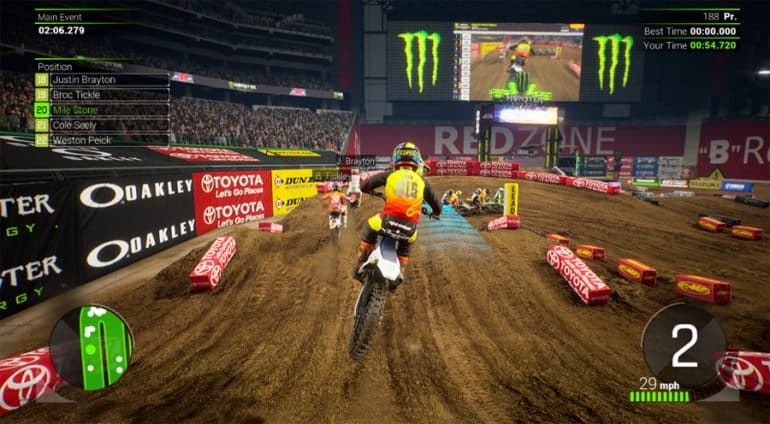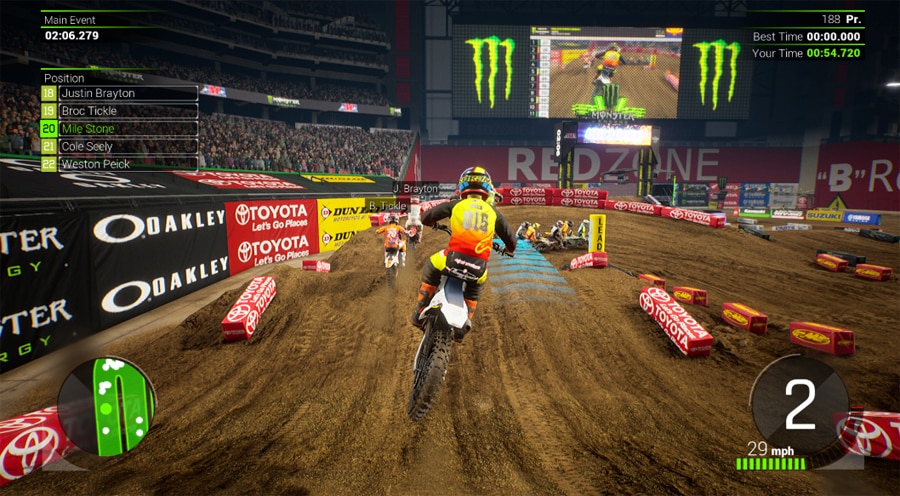 Monster Energy Supercross 2: The Official Videogame features all the major tracks from the major divisions of the championship, which includes 250cc East, 250cc West and 450cc. You can mix and choose these to create your own league, and then you can race in them as any number of authentically licensed real-life people. If you know who these celebrities are, then you may find this aspect extremely appealing. The greater focus, however, is on the career mode, where you start by creating a rider, from an admittedly low-featured create-a-character mode. You name them, choose their casual and race clothes, and you're off. You then enter the world of AMA, where you are given a week at a time to decide what you would like to do on each day. Your rider can engage with fans and the press, practice their racing, go for training or complete formal races. Your rider also levels up and earns currency, which you can then use to buy more customizable parts for your outfit and bike. There is a good array of officially licensed items to both wear and put on your bike, but the downside is that these get quite expensive, and you are often left to grind as a form of artificial longevity in the game. Other game modes include a time trial mode and an online mode, which I did not find very impressive, as it lowers the number of riders available in one race from 22 to 12 and did not even improve the netcode that much as a result.
Gameplay is of course what we are here for, so let's get a little bit more into that. Monster Energy Supercross 2: The Official Videogame has some pretty fair technical elements, and it can get quite engaging at times. You can control your gearing, manage your cornering, work with the lines dug into the ground by other riders, position your weight properly during a jump so that you don't crash, and deal with weather effects like dry or wet terrain. There is a form of easy mode, where a blue line shows you the optimal route, but this can be disabled. There is a rewind time ability for when you really mess up, but what is nice about the game is that you can use or not use these features to make your game more realistic or arcade-y for yourself on any given race. The AI is slightly hit or miss, and on some races can be extremely exploitable. Often, they race as though you simply weren't there, which can give a bit of a robotic feeling to the game as a whole.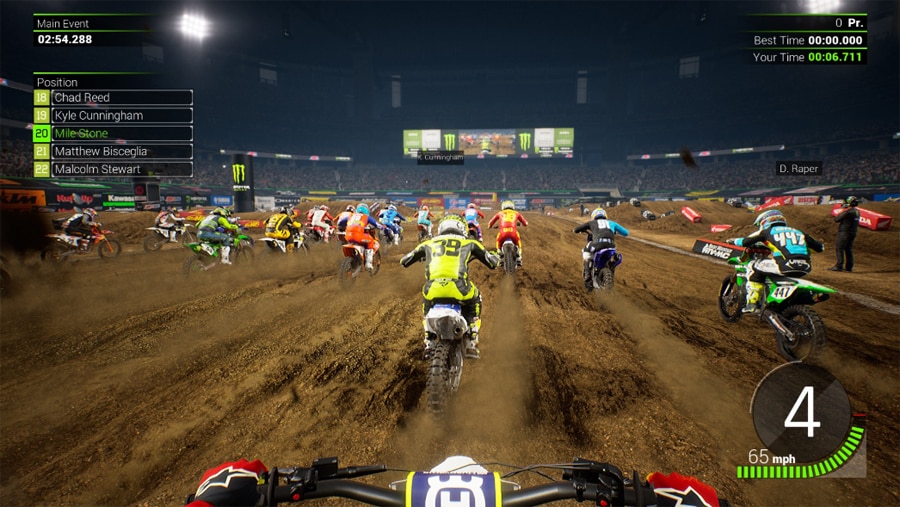 Personally, I feel that the game look quite ugly and uninspired; boring perhaps more than anything in how it looks. Which is a pity, as it detracts from how you might enjoy the gameplay even more. I know that not every company has an unlimited budget, but the stadiums look extremely bland and the character models look like something from circa 2007. It damages the replayability in some ways, as I have been a bit spoiled after games like Forza Horizon, where I just love going back out into the world. Here, the tracks start to blend into one overtime for me, and I failed to see why I should carry on caring.
Of quite a bit of interest to me was the track editor mode. I love the track editor modes in most games that have them, and it was equally fun here, possibly the highlight for me, as I zipped around my slightly insane monstrosity of a creation that I called a race. You have four stadium types that you can choose as your base, and then any number of elements and jumps to make it exciting. It added some longevity, I will say.
Monster Energy Supercross 2: The Official Videogame is, of course, a sequel, and if you have played the original, this one is better, both in terms of gameplay-feel and realism and amount of content. Basically, everything has been tweaked to some extent, and usually for the better, so in that aspect it is nice to see such a superior sequel learning from its past. Most huge budget series rarely, if ever, learn that lesson.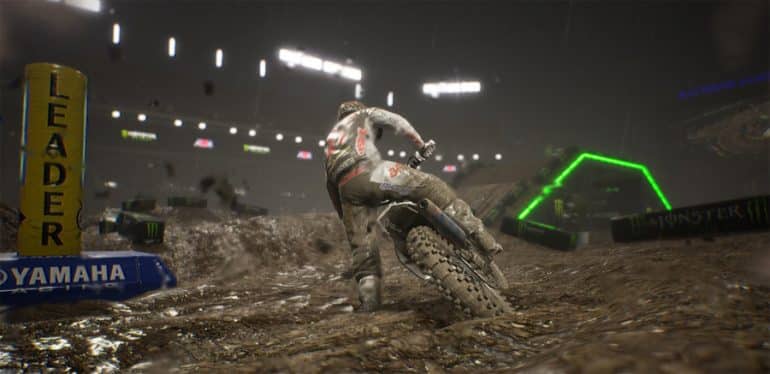 At the end of the day, Monster Energy Supercross 2: The Official Videogame is fine. Fine is probably the best word for it. If you want a fairly technical supercross game you will do well with this, but if I had to judge it purely on how fun it is, the MX vs ATV series is probably still better in my view. But with licensed elements, there's that too if you like that sort of thing, and it's overall quite inoffensive as a game. Its just sort of there.
The Review
Monster Energy Supercross 2: The Official Videogame
At the end of the day, Monster Energy Supercross 2: The Official Videogame is an adequate supercross game, but that is about it.
PROS
Feels more realistic than previous entry
Track editor mode
CONS
Uninspired visuals
Game can feel bland at times
Review Breakdown
Storyline

0%

Gameplay

0%

Graphics

0%

Replay Value

0%

Sound and Music

0%