Dirt bike riding is an activity that doesn't need an extensive explanation for why it's so appealing for a lot of people. If you want a physical and adrenaline-filled activity to keep your kids engaged, then you should definitely be checking out mini dirt bikes for kids.
While being tons of fun, dirt biking is also an effective exercise and a surefire way to relieve some stress. As a wonderful way to spend some time with your family, you'll also feel like this is a totally rewarding experience for everyone involved. Why? For your kid, owning an electric motorcycle is a practical way to teach the importance of responsibility, caring for their items and also the joy of riding and exploring the great outdoors.
Learning how to properly maintain kids dirt bikes is something that needs extra care and attention, giving young riders the opportunity to learn the mechanical skills needed to work on a dirt bike. As time passes, these skills can be transferred towards wrenching vehicles, like cars.
Choosing to buy mini dirt bikes for kids isn't something that should be done blindly. There are quite a few things worth putting into consideration before making your purchase. Therefore, we've compiled some choices including budget bikes, gas dirt bikes, bikes with training wheels (yes, this is an option) and electric bikes — along with some of their safety features. These aren't toys after all.
The Best Mini Dirt Bikes for Kids
Honda CRF50F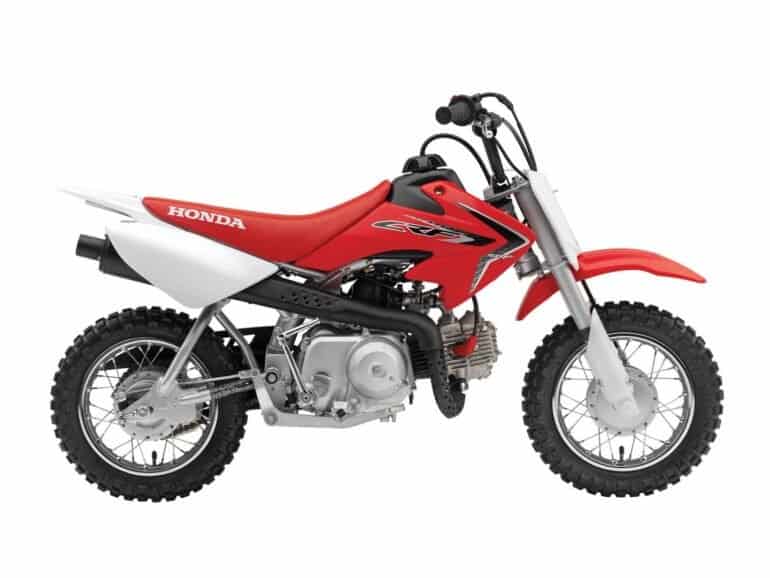 This is probably the best dirt bike for a beginner rider. This is because this mini dirt bike has a small and agile frame along with a smooth power delivery. The bike (which has a top speed of 33 MPH – about 53 KPH) might be a bit intimidating to young riders at the start, thanks to its powerful kick-start, however, this fear will quickly be faded away once your kid gets a feel for the three-speed semi-automatic transmission. Riding a small dirt bike is similar to riding a bicycle, albeit with a lot more power within it.
As a Honda bike, its reliability is impressive as it is basically bulletproof for anyone that doesn't intentionally throw it in front of a moving vehicle. The CRF50F (the smallest trailbike in Honda's CRF lineup) can also be tuned to stand the test of time.
Yamaha TT-R50E
This is a super reliable gas engine bike that will feel absolutely right for younger riders. Yamaha has an awesome fuel injection system. As Yamaha's smallest four-stroke dirt bike, your kid will easily feel comfortable sitting on it and powering it. The Yamaha TT-R50E offers all the fun that can be had using a 2-stroke engine while sparing you the hassle of premixing the fuel.
With a three-speed fully automatic transmission, this bike is one that will be easy to master. The shaft drive keeps the need for maintenance down while serving as a convenient safety feature.
If you're looking for a pick from our mini dirt bikes for kids list, this might just be the perfect fit if you want to avoid excessive maintenance. It's another excellent choice for beginners.
KTM 65 SX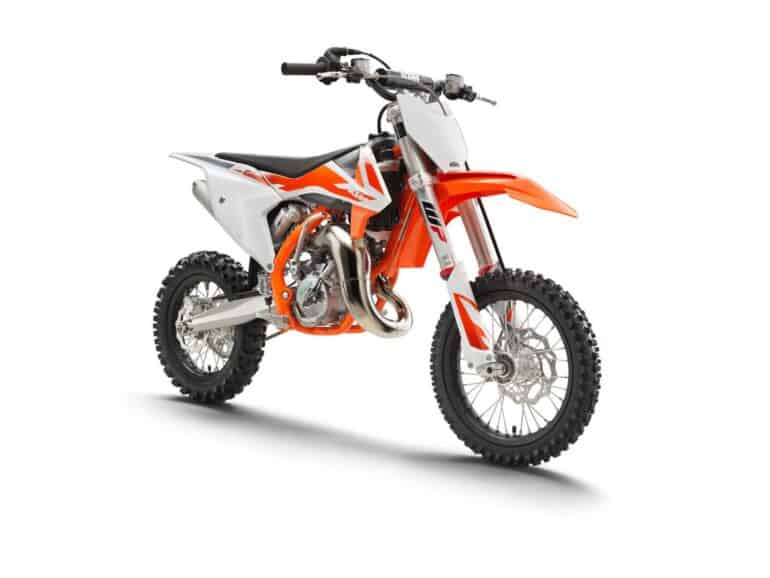 For the slightly more experienced kids, this bike is one that will come in clutch both literally and figuratively. It comes with a manual clutch, six-speed transmission and a 65cc engine. As it is KTM, the Austrian manufacturer's smallest displacement bike, you'll enjoy the perks of a 0.0-gallon fuel tank in addition to all the other features it is equipped with. At a claimed dry weight of 117 pounds, this bike is one that is going to be difficult to bet against.
If you need a bike that is competitive among the mini dirt bikes for kids, you'll love the power its two-stroke power engine brings to the mix. The KTM 65 SX is the perfect transitional bike for kids looking to convert to the adult biking world.
KTM SX-E 5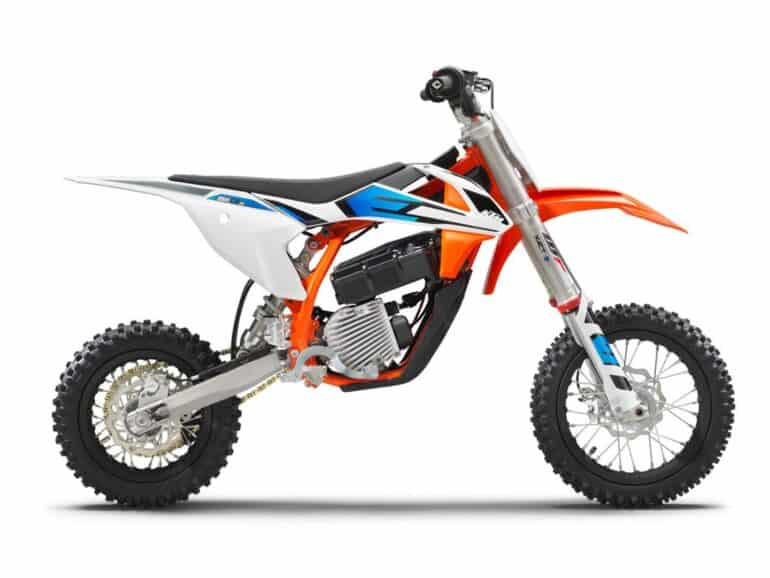 Another model from the Austrian manufacturer, this KTM bike is an electric dirt bike that is absolutely suitable for beginners to use. As innovators in the e-sector of dirt bikes, this option is one that is sure to provide some nice performance from a more eco-friendly vehicle.
It features a throttle and brakes that are highly responsive along with a complete suspension system that makes it great for dirt tracks. With a waterproof layout, it uses an air cooling motor that will allow a biker to ride without having to worry about overheating its engine. With a two hour range, your kid will be enjoying some purely fun cruises for a while. The cherry on top of this already awesome bike is the presence of aluminium rims that help with the grip of its Maxxis tires. The seat height is also adjustable, with its highest setting being 27.5 inches and the lowest being 25.7 inches.
Honda CRF125F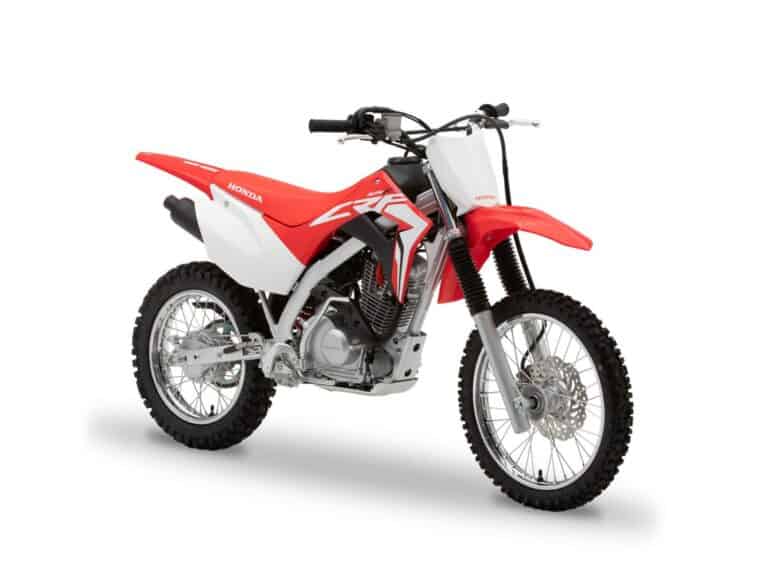 The Honda CRF125F is a bike that is the smallest displacement motorcycle to use a manual clutch among the CRF trailbikes from Honda. It features a four-speed gearbox alongside a rear drum brake. This is a bike that comes with a lot of speed along with a controllable powerband and low ground clearance compared to other bikes on this list. This is certainly one for the taller kids as it possesses wider wheels. The clutch lever here shouldn't intimidate them too much thanks to the height advantage.
It has an electric start button and kick start that makes for an interesting feature. This is going to be extra convenient for when the battery dies. If your child is the right height, this will be a good choice for a taller kid among the mini dirt bikes for kids.
Suzuki DR-Z50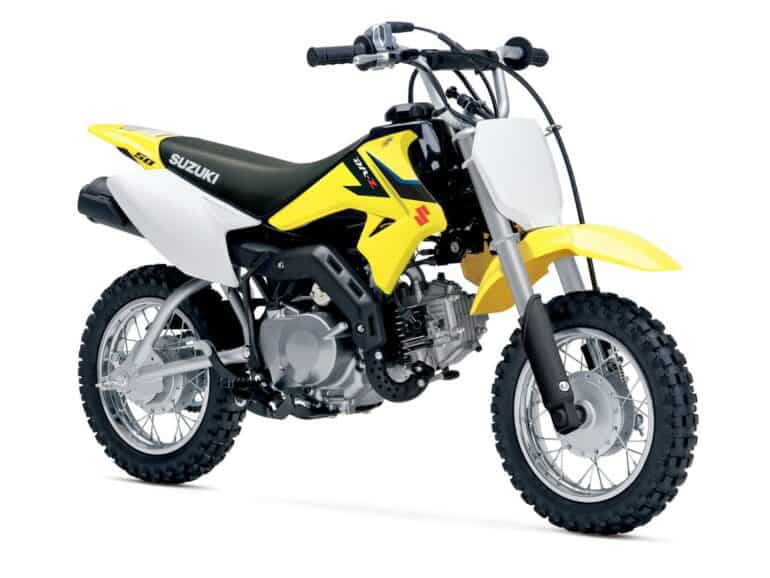 This bike is a unique model because its parts are a bit harder to find if they need replacing. Otherwise, it's a very solid pick if you're looking to purchase an environmentally friendly gas engine bike.
It uses a combination of both electric and kick start which is extremely useful if the battery ever runs down, or its starter is totally gunked up. The triple gearbox is great for building the confidence of a young rider. With dedicated use and practice, this bike could quickly pave the way towards their smooth transition into a full adult-sized bike within a few years.
Speedstar 49cc Upbeat Kids Dirt Bike
Described as "the perfect dirt bike for your younger child", the Speedstar 49cc Upbeat kids dirt bike (which is suitable for 4 – 8 year olds) has a top speed of 55 km/h and features front and rear disc brakes. This means it has been designed to be as safe as possible. With an affordable price of R7000 ($450), this is a great option for younger kids and the perfect choice for a first bike.
Choose the Right Dirt Bike For Your Kids
It's probably not the best idea to choose cheap dirt bikes just to save a few bucks. While you might not have to buy the highest quality electric ride or the best models, you need to consider safety and the skill level of your young children. As beginners, they probably won't need the most powerful engine (big engine size) or anything with high speed options.
Our list of mini bikes for kids contains some of the most solid picks you could choose from if you're looking to get your kid a motorcycle and introduce them to the exciting sport of dirt biking. Now you can make an informed decision and choose a good option for your kids, whether they're trail riding or racing around a dirt track. Enjoy your new dirt bike.