We've all heard about Minecraft by now. However, unlike the other games in the franchise, Minecraft Dungeons doesn't feature an open world, nor mining or building.
Nope, this is a very cool hack and slash-styled dungeon crawler set in the same universe and created by the same developers who assembled the popular sandbox video game.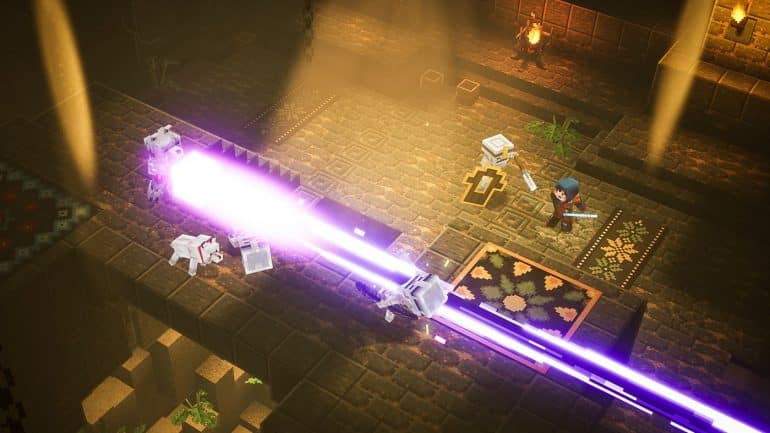 Minecraft Dungeons is instead focused on players exploring a monster-filled isometric hand-crafted world where they deal with puzzles, boss fights, traps, and of course, finding treasure.
Here is your chance to win a code of Minecraft Dungeons: Hero Edition for the PlayStation 4!
Fight your way through an all-new action-adventure game, inspired by classic dungeon crawlers and set in the Minecraft universe! Up to four friends can play together, or you can brave the dungeons alone. Includes a Hero Cape, two-player skins, and a chicken pet. It also includes two DLC packs, when they become available.
Features
• Dungeon Creeper! Battle new-and-nasty mobs in this all-new action-adventure, inspired by classic dungeon crawlers.
• Multiplayer! Up to four players can team up and fight together in co-op mode.
• Power Up! Unlock dozens of unique items and weapon enchantments for devastating special attacks.
• Options! Personalise your character, then fight up-close and personal with melee swings, hang back with ranged attacks, or tank your way through swarms of mobs, shielded by heavy armour!
• Epicness! Explore treasure-stuffed levels in a quest to take down the evil Arch-Illager!
Minecraft Dungeons: Hero Edition retails for R549 on Koodoo is available from 26 May 2020 on Playstation 4, Xbox One, Windows PC and Nintendo Switch.
To stand a chance of winning a code for the game (courtesy of Gamefinity), all you need to do is quote one of the features mentioned above (in the comments section below).
Competition closes on Monday, 28th September 2020.
The Giveaway is restricted to South African readers who have signed up for our newsletter only and cannot be exchanged for cash. Terms and conditions/Site Disclaimer rules apply. One entry per person. The winner will be contacted via email and will be selected on a random basis.