Miles Morales' Spider-Man + a clone + Venom symbiote… It's all in a day's work for Marvel's friendly neighbourhood Spidey.
We will always remember Peter Parker as the original Spider-Man. However, it is Miles Morales who has now become the main Spider-Man of Marvel Comics.
Miles has made a name for himself as a superhero, having his own family, friends, and villains different from the original Spider-Man. In this case, Venom is also one of these characters, but with a somewhat unique touch and maybe a different name…
Recently, Miles Morales' history in the comics has been quite eventful. He had a somewhat personal arc to Peter Parker's Clone Saga; however, this time, Miles had to face three clones: Selim, Mindspinner, and Shift. All with different powers and personalities. At the end of the story, Shift was the only clone left alive.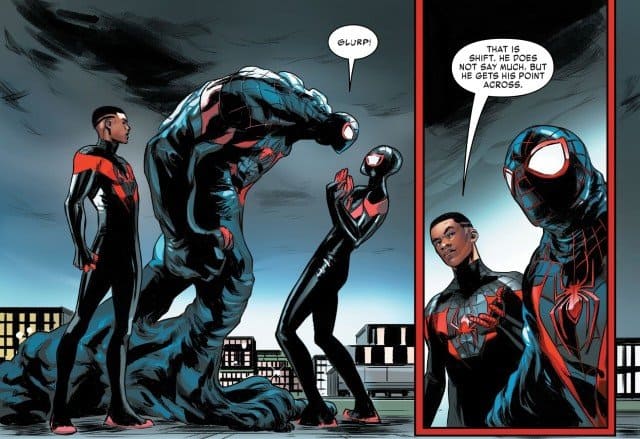 During the events of Miles Morales: Spider-Man #33, and with Shift by his side, Miles Morales, after being visited by the Beyond Corporation due to a possible inappropriate use of Spider-Man's name, is confronted by a supervillain. Believing that the Assessor is behind these actions, Miles joins forces with Shift and visits the Assessor's massive complex.
Here they are confronted by dozens of guards, which awakens the fighting spirit of Shift, who is obviously more aggressive than Miles. Just as Venom would talk to his human host, Shift talks to Miles, who tries to reassure the clone not to rip the Assessor's minions' heads off.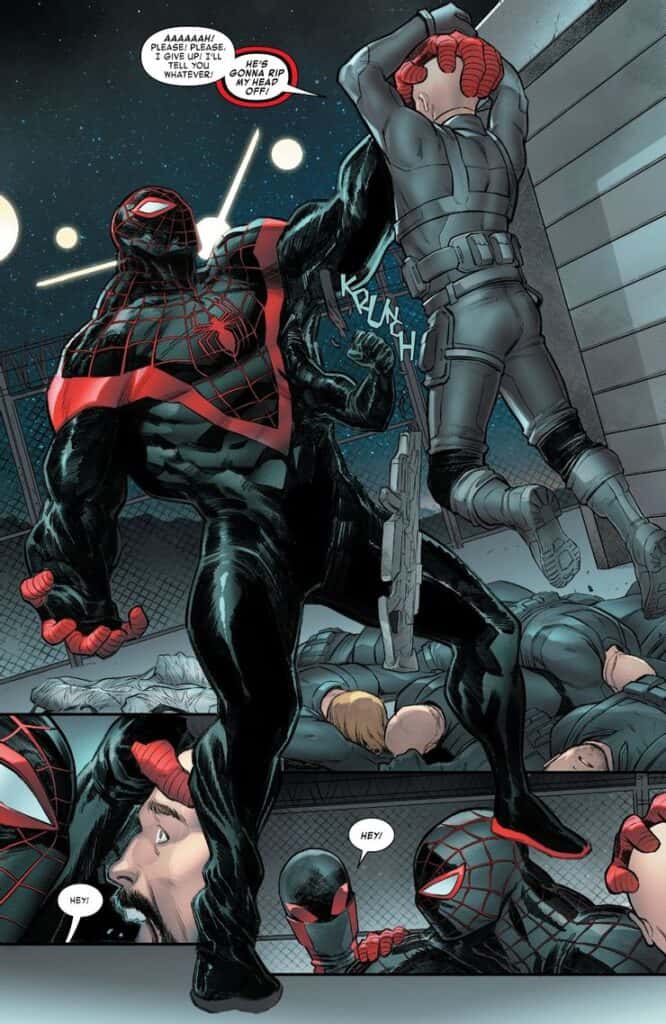 This interesting interaction between Miles Morales Spider-Man and Shift demonstrates the similarities the clone has with Venom. However, unlike the symbiote, Shift is shy and doesn't know much about the world, a task that falls to Miles to fulfil.
In this chapter of the comic, we get a glimpse of how Shift could become another anti-hero, just like Venom.
And maybe, seeing the popularity of the Venom movies, Shift could appear on the big screen, or simply have more protagonism in the comics now that Miles Morales has become the Spider-Man of reference.