It's been a long time coming. Microsoft has announced the imminent launch of the Xbox Wireless Headset. With the launch of the Xbox Series X|S, Microsoft set out to create a true-to-life entertainment system. Its focus was to deliver realistic gaming experiences that load fast and sound great. Having a high-quality set of headphones at an affordable price is a key aspect of delivering on those promises.
With the next-generation of accessories for Xbox and Windows PC, innovation has been key. This innovation focuses on performance, quality and accessibility to deliver on that sought-after immersive experiences. This is the aim of the Xbox Wireless Headset.
The Xbox Wireless Headset will deliver best-in-class audio along with great voice quality, design and comfort, each of which is tailored for your unique gaming style.
Xbox Wireless Headset Lifestyle
It's all about that immersive experience. The Xbox Wireless Headset delivers expansive sound. This is available across your device range while providing comfort during your gameplay.
The Microsoft team spent countless hours observing what makes a great audio experience, fine-tuning the setup while still providing a configurable auditory experience.
Immersion is created by means of leading audio technologies for spacial sound, including Windows Sonic, Dolby Atmos, and DTS Headphone: X. These technologies bring a sense of realism to the audio precision that fully surrounds the user. This precision makes all the difference when needing to listen for those enemy footsteps creeping up on you in-game.
As with the majority of gaming headsets, delivering clear and intelligent chat audio quality is just as critical. The Xbox Wireless Headset features dual beamforming microphone elements. Voice isolation makes it easier for the mic to pick up your voice, drowning out those unnecessary background sounds.
Auto-mute support is also introduced on the headset. This means that when you're not talking, it automatically mutes the microphone. This allows for clear channels while you game, with the manual mute option also available.
Outstanding Design and Comfort
Elegance through simplicity. This design philosophy flows through the Xbox Wireless Headset, intentionally understated. This ties in with the shapes and colours from the new consoles. This is extended to the controls, indicators and even the matte black finish of the Xbox Series X. A design that blends into your living room space without feeling out of place.
Another aspect of creating the perfect headset is in its design, not merely on aesthetics, but in the areas of comfort and durability.
The Xbox Wireless Headset was engineered with maximum levels of comfort to extend those heated gaming sessions without feeling uneasy. This is achieved with a lightweight design and ultra-soft large earcups crafted from polyurethane leather. This allows for even distribution of weight and pressure over the ears.
Unique Experiences, Tailored to You
Delivering on next-generation experiences is a basic requirement of the Xbox Wireless Headset. This experience is available across multiple devices, from the Xbox Series X|S, Xbox One, and Windows 10 PC and even your smartphone.
Microsoft has added multiple connectivity options for the unit. This includes Bluetooth for your mobile device, as well as the same wireless technology in the Xbox Wireless Controller. There are no dongles or cables required.
An interesting addition supported by the headset is its simultaneous connection. This means that users can pair the device with the Xbox console, while connected to your Bluetooth on your smartphone at the same time, with dual audio streams.
What that means is that users can hear the audio from their game, while dialling in to a conference call at the same time. It may not seem all that necessary, but with remote work environment means that anything is possible.
Being a wireless device, battery life is an important feature. The total playtime is expected to reach around 15 hours once fully charged. It takes around three hours to completely charge. But if you're in a rush, there's no need to panic, with the Xbox Wireless Headset delivering up to four hours of battery life from just 30 minutes of charging.
We've Seen It Before
Although the majority of us would not have noticed, Microsoft actually teased the Xbox Wireless Headset in the Xbox Series X|S launch trailer back in October.
British actor, Daniel Kaluuya, can be seen picking up and putting on the headset in the ad, with no one noticing it at the time.
Microsoft is known for having teased upcoming devices in videos prior to its unveiling. Xbox Chief, Phil Spencer, appeared in interviews in 2020, prior to revealing the Xbox Series X|S, where he hid an Xbox Series S on the shelves behind him.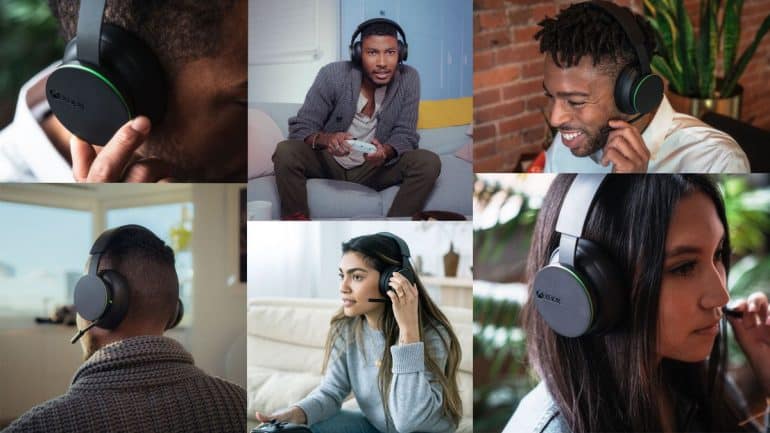 Xbox Wireless Headset Availibility
The Xbox Wireless Headset will be available in South Africa from 28 May 2021 and is expected to carry a retail price of R1,799 when reaching our shores.