After Microsoft's acquisition of ZeniMax in 2021 (gaining access to Bethesda IPs), many wondered which gaming studio the technology company would purchase next, especially with Phil Spencer hinting at more acquisitions down the line. Well, after months of speculation, Microsoft has announced that it will be acquiring Activision Blizzard for $68.7 Billion, which works out to around $95,00 per share.
With all the problems Activision Blizzard has faced recently, including allegations of sexual misconduct involving senior executives, many companies have started to distance themselves from the publisher. Even Phil Spencer stated that Xbox would be evaluating their relationship moving forward — which seems to have meant that they will be buying the company.
The Microsoft Activision deal is set to be finalised sometime in 2023. Should this go through, Microsoft will be the third-largest gaming company by revenue, behind Tencent and Sony.
The deal comes as Xbox revealed that their subscription service Game Pass has more than 25 million subscribers currently. The acquisition is sure to grow the service even more. The purchase includes a number of big and dormant franchises, including StarCraft, Call of Duty, Overwatch, Diablo, Crash Bandicoot, Guitar Hero, Tony Hawk's and more.
Chief Executive of Microsft, Satya Nadella, reiterated Microsoft's commitment to gaming and creating an all-inclusive environment for players. "Gaming is the most dynamic and exciting category in entertainment across all platforms today and will play a key role in the development of metaverse platforms, We're investing deeply in world-class content, community and the cloud to usher in a new era of gaming that puts players and creators first and make gaming safe, inclusive and accessible to all."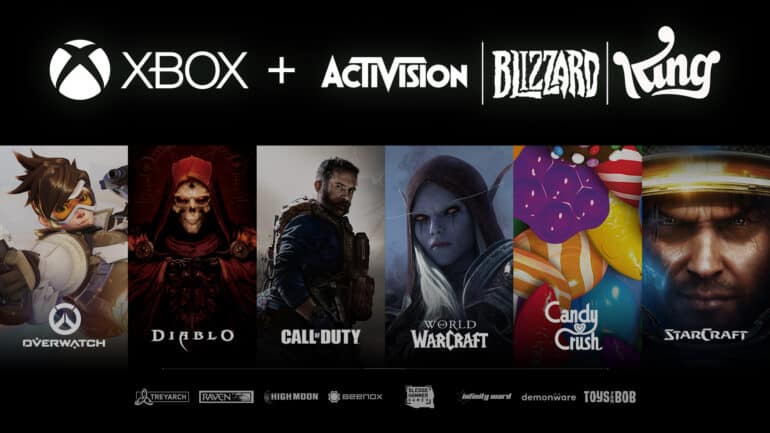 Activision Blizzard's Chief Executive Officer, Bobby Kotick, who himself has been embroiled in the publisher's recent troubles, will continue to serve in his role and help grow the gaming business. Once the deal goes through, Kotick will be reporting directly to Phill Spencer, Chief Executive Officer of Microsoft Gaming.
The Microsoft Activision news has many excited, while others are concerned that this might be the start of Xbox becoming a gaming monopoly.
What many hope is that Microsoft's acquisition of Activision Blizzard will see the publisher finally exorcise its demons for the benefit of both the developers.
6 Other Gaming Studios And Companies Microsoft Could Purchase
We all know that the company is aggressively growing its portfolio of first-party studios, and has more than enough money to buy more game developers. In fact, Xbox Boss Phil Spencer has even said that they are always open to buying more developers that would complement the direction the company is heading in. "The Game Pass portfolio and subscriber base continues to grow. We're launching a new console. Last year was our biggest year ever on PC in terms of revenue as Xbox Game Studios. A lot of the business is doing really well, so we're always in the market for new opportunities with studios.
With this in mind, we decided to take a look at some of the gaming studios Microsoft could purchase or potentially scoop up:
Deciding to rather focus on Pachinko machines rather than the amazing gaming IPs they own, Konami might be a great fit for Xbox.
Buy purchasing the studio, Xbox will gain access to an amazing gaming catalogue that includes Metal Gear, Bomberman and Contra, just to mention a few.
If those titles were added to Game Pass, it could be a huge boon for the popular gaming service.
More importantly, Microsoft could help revive these IPs that Konami clearly doesn't care for anymore.
Imagine a new Metal Gear Solid game or even Contra that doesn't suck.
With Phil Spencer hinting that Microsoft is keeping an eye out for a Japanese developer to join their first-party studios, Konami might be a perfect fit.
2
Warner Bros. Interactive
With Spider-Man seemingly at home with Sony, Microsoft might need their own superhero franchise to compete against the friendly neighbourhood Web-Head.
Over the last year, there have been many rumours that both EA and Microsoft were toying with the idea of buying Warner Bros. Interactive. Of course, it would only make perfect sense for Xbox to add the Warner Bros. Interactive library to Game Pass, which in turn might even get a few Batman fans to sign up for the service.
Just imagine what the Arkham franchise could mean for the Xbox brand moving forward.
It has been mentioned that Xbox wants its consoles to become the best place for playing RPGs, hence the acquisition of studios such as InXile, Obsidian and now Bethesda.
It would be ideal then to acquire one of the biggest RPG developers out there: CD Projekt Red.
Last year there were rumours that Microsoft was in talks to buy the developer, but so far this hasn't happened.
With Cyberpunk 2077 set to be one of the biggest releases of this year, acquiring the studio behind it would definitely benefit both Xbox and their Game Pass service.
The Danish studio behind the critically acclaimed Limbo and Inside would also make a perfect fit for Xbox.
Although the studio is known for taking their time with their games, they have always exceeded the expectations of fans who have become accustomed to waiting patiently for them to release their next project.
There is already a relationship between the studio and Microsoft, who published their first game Limbo. And with Inside releasing first on Xbox One, it would make sense for the company to cement the relationship.
For next-gen, Microsoft will need to add more story-driven exclusives to their roster if they want to compete with the likes of The Last of Us or even God of War. This is why long-time collaborator Remedy Entertainment might be the perfect fit.
With narrative-heavy games such as Control and Alan Wake under their belt, Remedy Entertainment knows how to weave a story.
Having worked with Microsoft on Quantum Break, it might be worth it to add the studio to the Xbox family.
This might seem a bit far-fetched since SEGA has its fingers in more than just the gaming pie. But the internet has been flooded with (unsubstantiated) rumours that Microsoft could be eyeing SEGA.
Apparently, the first clue is the fact that the new Xbox Series X controller is the same blue that SEGA uses.
Microsoft has mentioned that they would love to acquire more Asian studios, so this doesn't seem completely ridiculous.
Imagine the whole Sonic library on Game Pass. And with SEGA and RARE working side-by-side, we might even see the blue hedgehog returning to his glory days.
What do you think? Is Microsoft's acquisition of Activision good news?