Did you know that sharks have fantastic eyesight, including the ability to see in colour and night vision? Well, it'll be particularly useful for them when they decide to read the colourful Metalshark Bro by Bob Frantz, Kevin Cuffe, Walter Ostlie, and Chas! Pangburn.
Imagine if Jaws, Deadpool and Shirtless Bear-Fighter had a baby. Got it? Now, throw in a whole lot of heavy metal—I'm talking about Judas Priest and Megadeth here, not those scene dookies—and shark slang words. This, my friends, is Metalshark Bro, the fin-tastic and gill-arious bastard lovechild of fantasy comedy comics.
Everything about this book is over the top and constantly living in the realm of ridiculousness—and it's absolutely glorious. Just read the basic premise of the story below:
A heavy metal musician tumbles out of a yacht into the Indian Ocean, only to be gobbled up by a shark. Satan's douchey nephew, Beelzebra, rocks up on his bitchin' hog and tells the shark that he took one of Satan's own and needs to fill the void in the legion. Of course, the shark looks confused, so Beelzebra turns him into the anthropomorphic Metalshark Bro.
But MSB just wants to be a normal shark, you see, because humans suck. Well, Beelzebra gives him a hitlist of souls that the dark lord wants and promises to turn him back into a shark if he follows through—but can you trust an edgelord demon's word? With no other options, MSB sets off with this list of names, battling Ninja Nuns, evil skeleton dudes, a pants-less goat wizard, hellish donuts, as well as a host of other punk-ass bad guys. He isn't alone, though, as he befriends a winged eyeball known as Ira along the way.
If this hasn't sold you on Metalshark Bro yet, I don't know what will. From a narrative point-of-view, it's your traditional Labours of Hercules quest, where the hero needs to complete a series of tasks to reach his goal. The razor-sharp wit and humour, though, add an entirely different dimension to the tale, as you breeze through the pages and MSB's journey. It isn't a heavy or laboured read by any means, as the panels pack numerous laughs and self-deprecation along the way. Expectedly, with such a title, the book never takes itself too seriously and is completely self-aware of what it is.
The plot twist, while predictable, is what redeems MSB and cements his and Ira's friendship. I'm not going to spoil it, but you'll be able to call it from the opening pages. Still, it doesn't stop you from enjoying the ride. The ending also provides a satisfactory swansong to the characters, while leaving the door open for a potential sequel if the creators opt for a reunion tour.
Naturally, this story wouldn't be able to succeed if the art sucked—but thank the gods of double bass, it doesn't. There's a familiarity, easy-on-the-eye appeal to the illustrations. The designs of the characters are so striking that you could see them adorning various t-shirts and other memorabilia. Look, it's cartoonish in nature—think Rick and Morty or Drew Rausch's work on Edward Scissorhands—with even the moments of violence being so outlandish that you'll probably chuckle at it. Yet it complements the writing perfectly.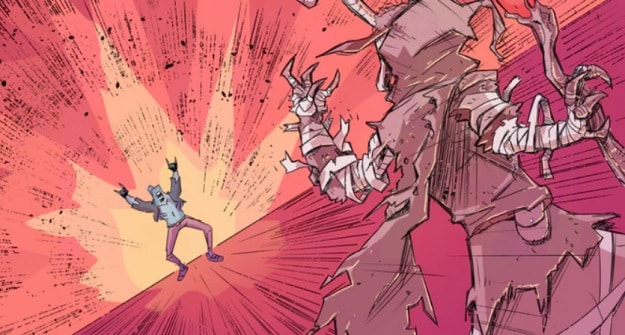 The colours, though, are what drag you in and keep you rocking until the last beat. Like an animated show, they simmer from panel to panel, before bursting into a fiery glory during the action scenes. It's kaleidoscopic crack for your brain; the paintjob that turns heads, so to speak.
If you're bored of superheroes saving the world and the morose crime drama comics flooding the market, Metalshark Bro is the palate cleanser you never knew you wanted. It's a laugh-a-minute hilarity that showcases sharks and heavy metal in a weird and wonderful light. In short, it's e-fin-ing fantastic and you shouldn't sleep on it, bruh!
The Review
Metalshark Bro
Raise your fins to the new king of metal!