The next thrilling instalment of the Spider-Man franchise Spider-Man: No Way Home opens in cinemas across South Africa on December 16, but lucky fans can meet their favourite web-slinging superhero before then — at the Spider-Man costume tour which comes to Cape Town on Friday.
Spider-Man will be making special free appearances at cinemas and malls across South Africa (including Cape Town, Johannesburg and Durban). Families and fans can come and get their photos taken with him.
The full schedule can be found on the Sony Movies SA Facebook page or via THIS LINK. Covid restrictions will be in place.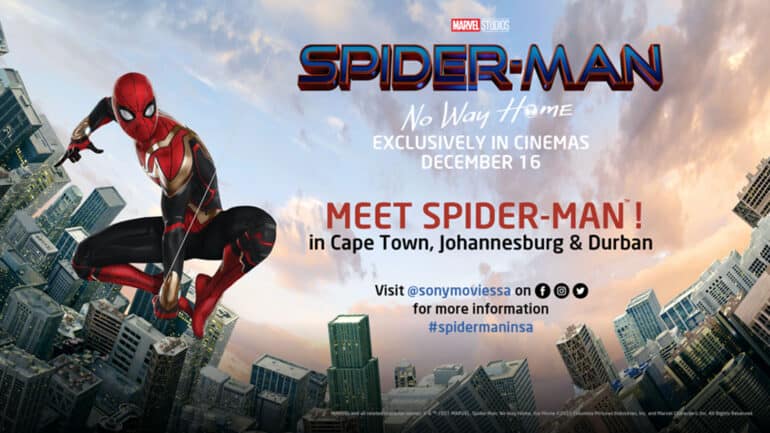 On Saturday 11 December, Spider-Man will be showing off his agility skills at Rush Trampoline Park in Claremont (Cape Town, South Africa) and Playstation at Rush in Retreat (Cape Town, South Africa). These events are for ticket holders only and full details and times can be found on the Rush social media pages. Plus, anyone who snaps their pic with Spidey and shares it on social stands the chance to win an amazing hamper with prizes to the value of R10 000!
Following a successful trip in Jo'burg, Spidey will be in Cape Town, before heading to Durban to meet fans there.
The brand-new Spider-Man: No Way Home movie, which beat the record for the most-watched trailer in its first 24 hours online with over 355 million views, sees Tom Holland reprise his role as Peter Parker, a.k.a Spider-Man.
Following on from events of the last movie, Spider-Man has been unmasked, his identity has been revealed and he's no longer able to separate his normal life as Peter Parker from the high stakes of being a superhero. When Peter asks for help from Doctor Strange, the stakes become even more dangerous, forcing him to discover what it truly means to be Spider-Man.
The highly anticipated Spider-Man: No Way Home releases in South African on December 16. Tickets are now available. COVID-19 regulations are in place, so make sure you book your seat for the most exciting movie of 2021!
Don't miss the chance to meet Spider-Man during his South African tour.