Meccano is a model construction system that's been around since 1898. For more than a century, it's been a manufacturer that's not only brought fun and joy to children, but also education as it teaches them the basics of engineering and robotics. In 2013, Spin Master purchased Meccano and has continued to grow the brand's footprint across the globe.
Fortunately, Spin Master provided a few Meccano sets to the DIY-impaired Fortress team to test out. While every member wondered if we'd end up twisting our fingers together, the experience surprised us all, proving to be both enjoyable and informative.
Meccano 5-in-1 Roadster Cabriolet
If you're buying a Meccano set for your child, it's important to note the age and level on the product box. It doesn't mean that it's only for that age group, but it's a good indicator of how much assistance they might require in the build.
Overall, the 5-in-1 Roadster Cabriolet is a solid build for novices and newbies to Meccano. Featuring 174 parts, two real tools, a pullback motor, sticker and instruction sheet, everything you need to build five different versions of a sports car is in the box.
Naturally, it's advised that you follow the instructions carefully, because they're there for a reason. While it isn't too difficult to get into the hang of building, the Meccano experience is certainly much more different than building a LEGO Technic set.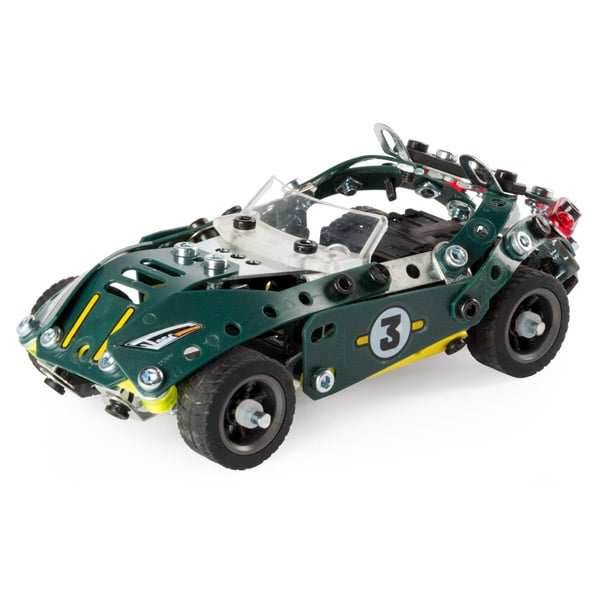 More importantly, don't be an idiot like us and spread out all the parts far and wide. You'll spend hours looking for that one missing part and using a magnet to see if it catches the metal piece.
At the end of the day, however, there's nothing more rewarding than seeing your built car in action. It's almost a shame to dismantle and build another version of it.
Meccano 10-in-1 Race Truck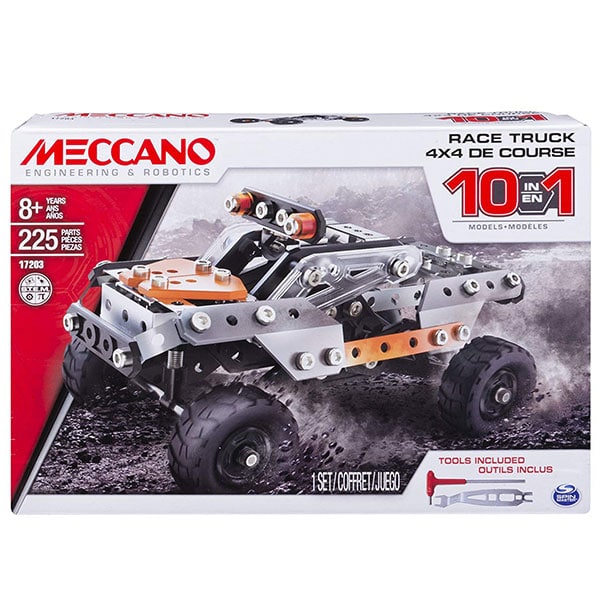 Unlike the Roadster Cabriolet, the 10-in-1 Race Truck is a slightly trickier build. Maybe it's because it has more parts or isn't quite as cool as the sports car. That being said, it's impressive to see the builds you'll be able to capture from 225 parts.
Like before, ensure that you follow the instructions and use the two tools to your advantage. While there's a temptation to cut corners, you really shouldn't because it'll be to your own detriment. Despite it being a race truck, it has several key parts that can't be ignored.
Additionally, like other Meccano products, this build supports the STEM curriculum, which encourages the learning of science, technology, engineering and mathematics (STEM) in an interdisciplinary and applied manner.
Since South African schools and parents are always complaining about the lack of interest in science and mathematics locally, maybe it's time to boost the children's interest by getting them to play with mind-stimulating toys like Meccano's sets.
Meccano sets are available at all good toy stores countrywide and online at Just Fun Toys.