One of the oh-so-many joys of parenthood is getting to share some of the most beloved characters from your childhood with your favourite little humans. What's even more special is when you get to discover new adaptations of those beloved characters together. The Little Mermaid was one of my absolute favourite Disney characters growing up, and I remember watching the animated film over and over again, mesmerized by Ariel's enchanting voice and her underwater adventures. And I won't even mention how many times I've sung Ariel's "Part of That World" while casually scrubbing dishes in the kitchen.
RELATED: Celebrate International Harry Potter Day With These Amazing Toys
Now, as a parent, I am thrilled to introduce my own children to the newly reimagined world of The Little Mermaid, not only in movie form but also in the form of impeccably designed Mattel dolls which I received for review. Although the original film will always hold a special place in my heart, I can't help but be excited about the modern updates and enhancements that the new film and dolls bring.
So, did these dolls live up to their live-action counterparts? Or do they fall short in capturing the magic of the beloved characters? Let's take a deep dive into Mattel's The Little Mermaid Ariel and Ursula dolls and find out.
Disney The Little Mermaid Ariel Doll
When I first unboxed Mattel's The Little Mermaid Ariel doll, she was met with a resounding "Wow!" Even my 4-year-old son couldn't help but gasp at how truly mesmerizing she is. From the moment you lay eyes on her, you can't help but be captivated by her cinnamon skin and flowing auburn locs that so perfectly captures the ethereal beauty of her live-action counterpart, Halle Bailey.
It may be important to note that Ariel did come with her tail detached, but all it takes is a simple click to attach it securely, and the tail should hold up well during playtime.
The doll's face is meticulously crafted, capturing Halle's youthful and enchanting features with a cartoonish stylization. She even has a tiny beauty spot right above her left eyebrow to match her real-life counterpart. Talk about attention to detail!
The makeup on Ariel is delicately applied, enhancing her natural features and staying true to the live-action inspiration. Her signature hairstyle, with its cascading waves and intricate braids, is flawlessly recreated, even showcasing the perfectly swooped edges that elegantly frame her face. Her hair is soft to the touch and has a lustrous shine, making it perfect for hours of endless styling.
The designers have also paid close attention to Ariel's iconic mermaid tail, whose ombre colours seamlessly transition from a beautiful turquoise hue to vibrant purples. The tail also has a transparent glittery fluke that shimmers in the light and an intricate scale pattern that adds texture and depth to the overall design.
A few minor gripes I have with the doll are the lack of articulation points, with only her head, arms, and tail being movable. She is also not able to stand on her own (having a tail and all), so she is better off seated if wanting to display her. Additionally, the painted details on the tail stop at the front of the doll, leaving the back of the doll's tail a plain turquoise. The same applies to her moulded bralette. The front is beautifully painted with lilac and turquoise, but the back of the doll is just a plain lilac colour. I also really do wish the doll came with some seashell accessories or one of her beloved sea creature friends, like Flounder or Sebastian. However, the doll itself is enough to captivate any child's imagination and is sure to provide hours of creative play.
These are minor drawbacks compared to this Ariel doll's overall beauty and attention to detail. It truly captures the essence of the beloved Disney character and would make a stunning addition to any collection or a cherished playmate for imaginative adventures under the sea.
RELATED: Barbie Extra Doll #9 & Barbie Cutie Reveal Doll Review – Fantastic Plastic
Disney The Little Mermaid Ursula Doll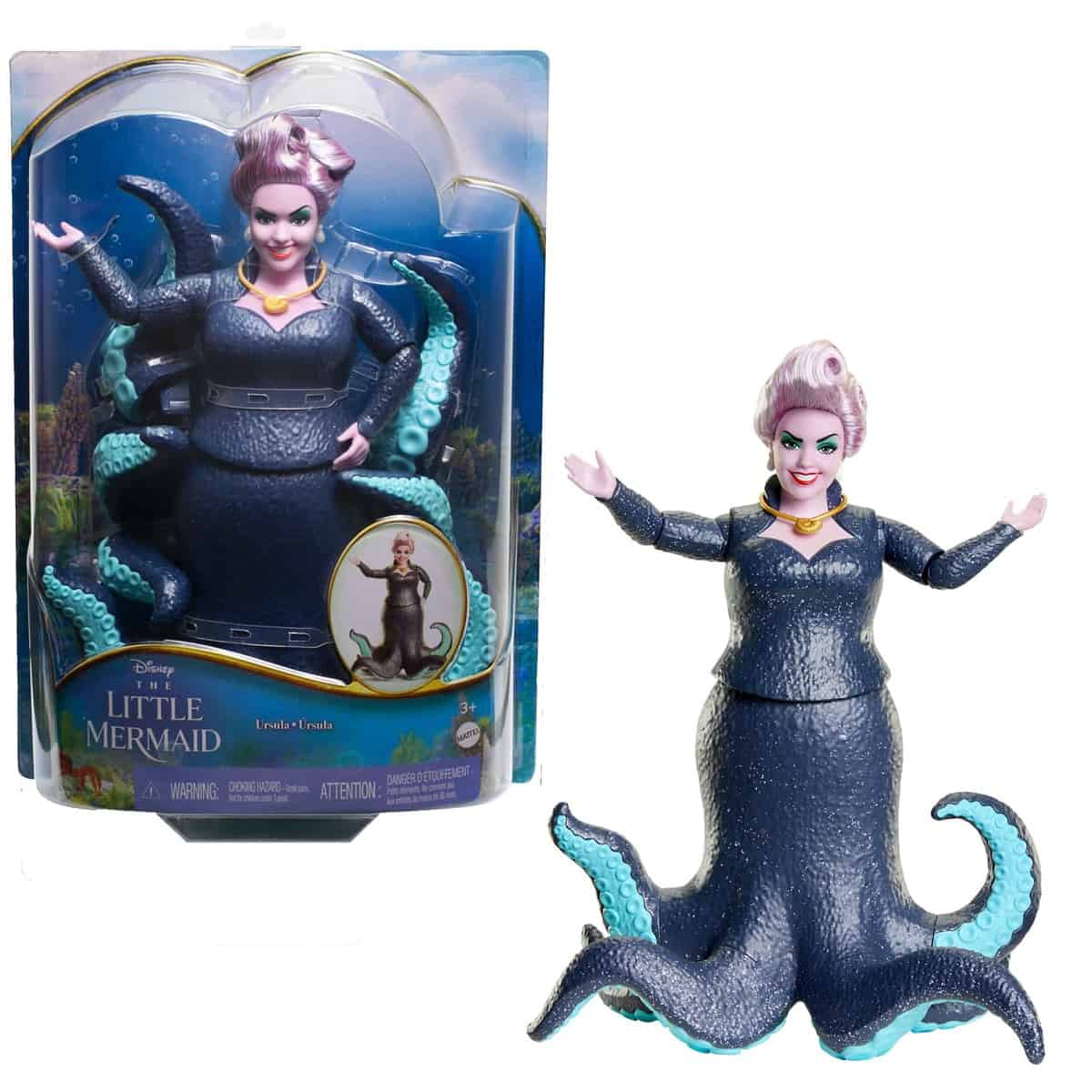 The second package we opened up was the Disney The Little Mermaid Ursula Doll. As soon as she popped out of her box, my kiddos so aptly pointed out, "Mommy, she's definitely the bad guy", and indeed she is. With her evil grin and outrageously coiffed hair, the half-octopus sea is no doubt a menacing adversary for our beautiful mermaid doll.
Again, this doll has unattached appendages, so you will need to assemble Ursula's tentacles before she can join in on the underwater fun. Assembling the tentacles may require some adult assistance, but once complete, Ursula will be ready to wreak havoc in the imaginary world of the bathtub or wherever you choose to play with her.
The doll itself is made of high-quality materials (she is super sturdy but lightweight) and has intricate details that bring the character to life. Ursula's purple skin, sinister eyes, and signature navy dress (glittery sparkles included) with tentacle-like accents make her instantly recognizable.
The convincingly conniving look on her face perfectly captures the essence of Mellissa Mc Carthy's iconic portrayal of the sea witch. Her makeup is expertly done, with her teal eyeshadow and bold red lips that add to her villainous charm. Her silver and lavender hair is styled in Ursula's signature updo, which even feels like it's been doused with a ton of hair spray to keep it in perfect shape.
To complete the look, Ursula comes with various accessories that enhance the play experience. She wears a removable gold seashell necklace (the same one used to capture Ariel's voice in the movie) and a beautiful pair of pearl earrings that I wish came in my size.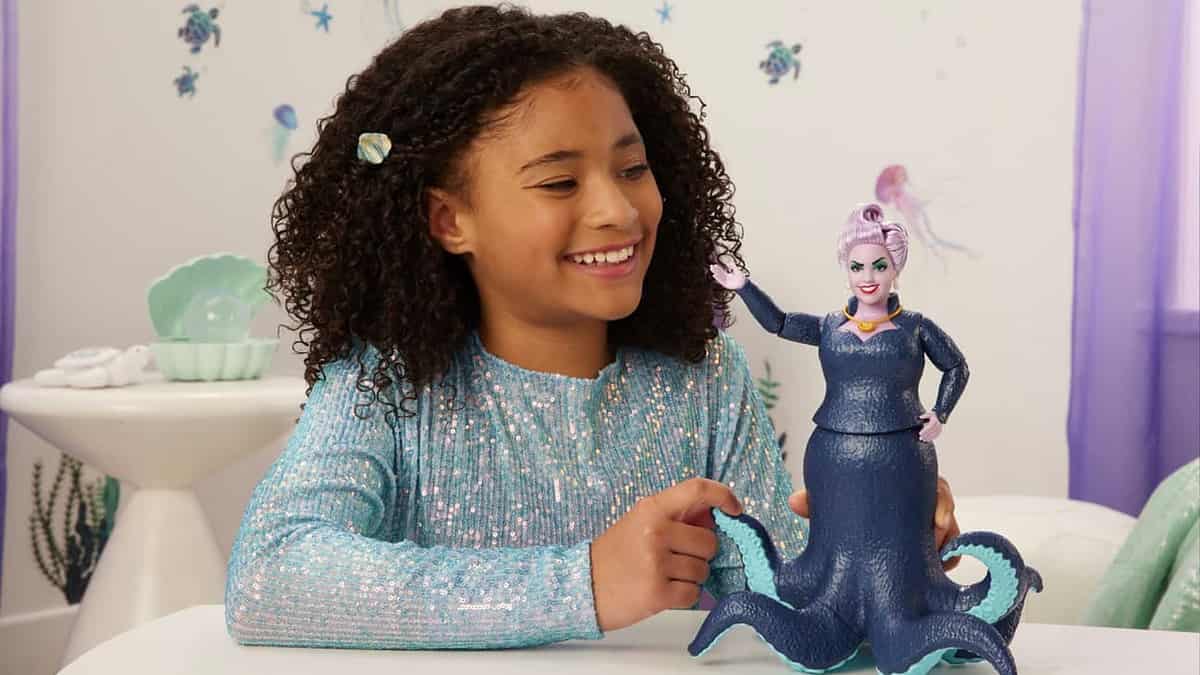 The attention to detail extends beyond just her appearance, as the Ursula doll also features articulated joints (elbows and a few of the tentacles included) and a swivel waist, allowing for various poses and imaginative play. You can definitely try to recreate the iconic "Poor Unfortunate Souls" scene from the movie with this doll as long as you are up for doing all the singing yourself.
My kids were thrilled to recreate scenes from the movie and create their own underwater adventures with Ursula as the main antagonist. The doll's size is perfect for little hands to hold and manoeuvre, adding to the overall enjoyment of playtime.
Whether it's battling against Ariel or devising wicked plans, the Disney The Little Mermaid Ursula Doll provides endless entertainment for fans of the movie and encourages imaginative storytelling.
RELATED: Mattel Gift Guide: Keep The Family Entertained This Christmas
Final Thoughts on Mattel's Little Mermaid Ariel and Ursula Dolls
As a parent, I appreciate how these dolls encourage imaginative play and storytelling. My kids have already created countless adventures for Ariel and Ursula, taking them on daring underwater quests and epic battles of good versus evil. Believe it or not, these dolls (and the live-action movies) have even sparked questions about heavier themes like morality and the consequences of one's actions. It's fascinating to see how these seemingly simple toys can ignite such deep discussions and introspection in young minds.
These dolls are budget-friendly, with the Ariel doll coming in at $14.99, while the Ursula doll is priced at $24.99. Despite their affordability, the attention to detail in their design is remarkable. Every aspect of the dolls is meticulously crafted to bring the beloved characters to life in a way that fans, young and old, can appreciate. From Ariel's vibrant red hair to Ursula's sinister expression, each feature is carefully sculpted and painted with precision.
The Little Mermaid Ariel doll and Ursula doll make the perfect gift for kids to play out their favourite Disney The Little Mermaid scenes or make up their own exciting adventures! You certainly won't regret making these figures a part of your world.
RELATED: He-Man and Masters of the Universe (2021) Toys Review
What do you think of Mattel's The Little Mermaid Dolls?