PSVR games have come a long way since Sony's virtual reality headset launched in 2016. The fact that gamers are able to spend hours playing games without experiencing motion sickness is revolutionary. Marvel's Iron Man VR is evidence that PlayStation is breaking ground with the technology.
That said, it's game probably more targeted to younger audiences than serious gamers.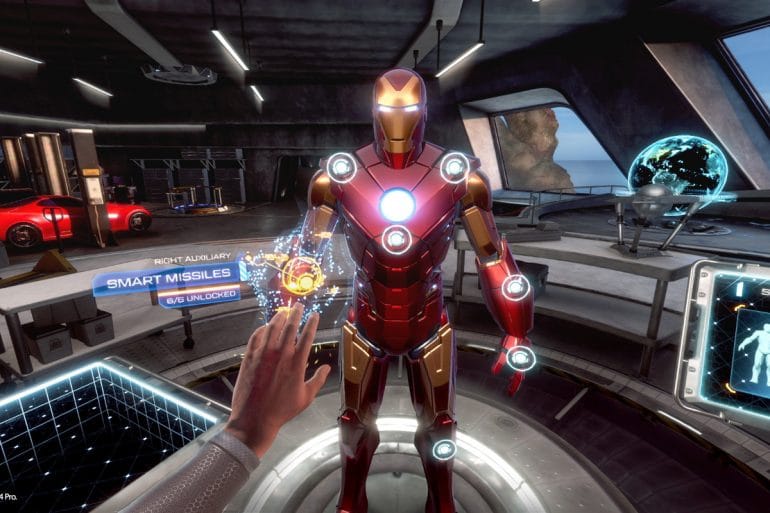 Using the PlayStation Move controllers and the PSVR setup, players suit up as Iron Man as they fly and blast their way into first-person superhero action fun in Marvel's Iron Man VR. While a lot of it relies on the repetitive fly-through this loop, shoot this drone robot and land on this mark gameplay (you know, amateur gaming stuff), it does offer fans a cool experience: being Tony Stark.
If it's superhero flair you after, and you really want the chance to feel like an Avenger, Marvel's Iron Man VR has got you covered. From the moment you first suit up as the iconic hero, you genuinely feel like Iron Man. The experience is further cemented when you interact with the world – talking to Jarvis or Pepper Pots, walking around the Stark mansion, flying across the open waters, and using the technology available to you to solve technical puzzles.
While the game gets all that right, the story fails to impress. In fact, it's pretty bland stuff, especially for an Avenger. There are times where Marvel's Iron Man VR feels more like an interactive storybook for kids than an actual video game.
Learning to navigate the PSVR and PlayStation Move elements of Marvel's Iron Man VR is the really rewarding part of the game. It's fun learning to master moving and controlling the world. In fact, it's the sort of thing that would work great for family get-togethers. It's hilarious watching someone balance as they play.
And that's probably what the creators of the game were after. They're not trying to create another Batman Arkham game. Instead, they're focused on creating the most simple but fun experience for VR owners.
Having said that, the charm could wear thin after a few days though. It's just not a game you feel like you need to complete or invest your time in.
Again, Marvel's Iron Man VR is a fun game. It's just not the greatest game ever. Had it not been for the VR aspect, this would be a dead title that would be heading straight to mobile phones. It genuinely has endless amounts of potential but, unfortunately, it is never truly reached.
Your kids will love it, you might get tired of it pretty quickly.
The Review
Marvel's Iron Man VR
If you ever wanted to feel like Iron Man, this game definitely offers you the full Tony Stark experience. However, it offers very little in the story department and often feels incredibly repetitive.
Review Breakdown
Gameplay

0%

Graphics

0%

Replay Value

0%

Sound and Music

0%