Daredevil is easily the most beaten-up Marvel character ever, yet every time he gets knocked down he always gets up and continues fighting. So it seems strangely appropriate that after a disappointing second season, Daredevil rebounds for a season that's even better than the first and is almost perfect. Almost. To say it isn't without flaws would be ridiculous. It's just really hard to find them.
Daredevil is the man without fear… but Matt Murdock has become the man without faith, without friends and without hope. After his last battle left him near death, Matt Murdock struggles to recover and is no longer able to continue his role of being the devil of Hell's Kitchen. However, an old enemy has returned in the form of Wilson Fisk – the Kingpin. Fisk's time in prison is cut short when he finally cuts a deal with the FBI in order to save the life of the woman he loves. His actions are not entirely selfless though, and he has a far greater plan in mind – one which brings Matt's life crumbling down around him and could restore the Kingpin to power.
As Matt tries to push away those closest to him to protect them, he learns the shocking truth of his own past and confronts enemies old and new. But without his friends and with no hope of winning, can he succeed…  or even survive?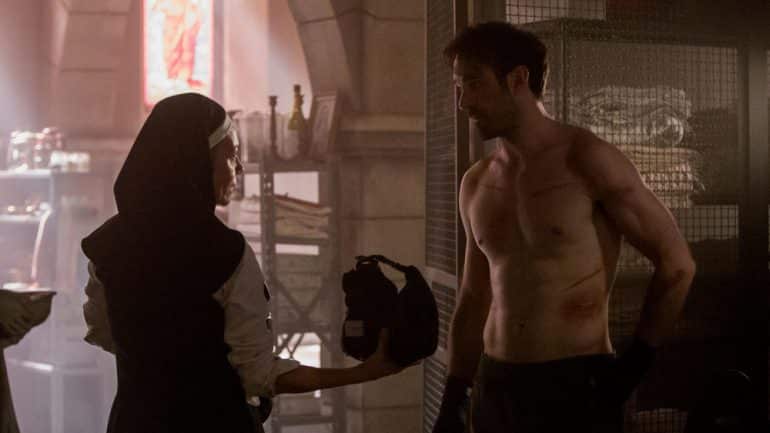 Everything season 1 of Daredevil got right, season 3 doubles down on and succeeds with. Matt's life is even more screwed-up than usual, Foggy is both smarter and funnier, the action is superior, the tension is so thick you could choke on it, and the Kingpin is more menacing and powerful than ever before. The story, after an initial slow build, breezes along at such a fast pace (by Marvel Netflix standards) that it barely allows viewers to catch a breath. And amazingly, a large amount of it is accurate to the comic books too so it should please just about everybody.
Vincent D'Onofrio steals every scene as Wilson Fisk once again. For all his size, it's his sheer presence on screen that's truly terrifying. Given that this is a character who spends half of the season in a single room, that's quite an achievement. He easily manages to out-class every Marvel villain in the movies just by standing still. Meanwhile, Charlie Cox turns in another great performance as Matt Murdock while Eldon Henson shines as his best friend Foggy and Deborah Ann Woll brings new levels of depth to Karen Page.
Then, of course, there's Bullseye.
Ever since the trailers came out, fans were discussing the possibility of Bullseye and we get to see him (and his abilities) brought to life properly. He's as dangerous and creepy as he is deadly and, as with all of the Marvel Netflix shows, he's presented as a lot more than just a guy in a costume. His personal life is explored in such a savvy way that we get to understand what makes him tick… and in turn are willing to accept his skill at turning anything he holds into a weapon.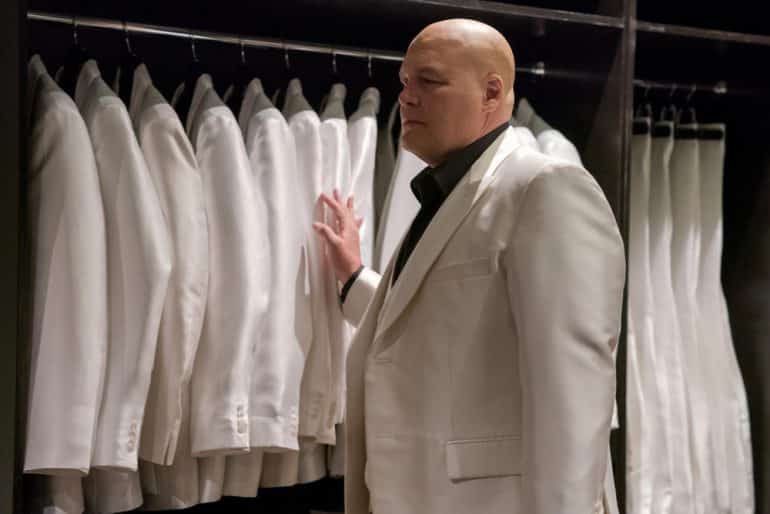 Story-wise, this covers mostly familiar territory that corruption can taint anyone even if it isn't obvious. As distasteful as the concept is, nobody is truly untouchable. This time around, the suspicion of a corrupt police force is expanded to a corrupt FBI and even our heroes, while each new reveal twists the knife. It also echoes the real world, where each day it seems like things are spiralling out of control and being overtaken by darkness. Yet, at the same time, there's also the concept of redemption and justice, that nobody is above the law… nobody.
As for the action, it's astonishing and just when you think you've seen the best of it there's something even better. Episode 4 features one of the greatest one-shot style action sequences ever, reminiscent of staircase fight in the Tony Jaa film The Protector, while Daredevil's first fight with Bullseye puts all of the movie version to shame.
Ultimately, Marvel's Daredevil Season 3 is possibly the greatest superhero show ever. While others are offering cheap superficial thrills, characters who barely resemble their comic book counterparts and a masquerade of maturity, Daredevil gets it right in every way. It's everything it should be and more, delivering a high-quality, highly polished production.
They say that the devil is in the detail and, in this case, that's true in every way…
The Review
Marvel's Daredevil Season 3
Outstanding, a must-see show for fans.