Marvel found themselves in some hot water this week for removing the Black Lives Matter logo from the cover of a Spider-Man comic book. Although the book in question was published over a year ago, that didn't stop fans on social media from pointing it out and wanting to know why Marvel made the change.
The logo first appeared in an issue of Miles Morales: Spider-Man #9, which artist Patrick O'Keefe previewed on his Twitter page. The image shows Morales swinging through New York, where he passes a streetlight baring the famous logo.
But when the comic book was released on August 14, 2019, the Black Lives Matter logo was gone. A spokesperson for Marvel says the decision may have been the result of a policy regarding "third party logos" for copyright reasons.
Why did marvel edit out the blm fist from the textless for this cover? pic.twitter.com/ZxmHAGqPja

— Jacob – bIm (@SouljaSphinx) August 10, 2020
While it may seem odd for a company so intent on pushing diversity and inclusion to remove a logo so closely associated with fighting injustice, it's important to note that a lot can change in a year. In 2020 we've seen a surge in the worldwide fight against racial injustice through the Black Lives Matter protests. And Marvel has since declared its support for the Black Lives Matter Movement.
Created in 2011 by writer Brian Michael Bendis and artist Sara Pichelli, Miles Morales first appeared in Ultimate Fallout #4 following the death of Peter Parker. An Afro-Latino teenager, he is the second Spider-Man to appear in Ultimate Marvel, an imprint with a separate continuity from the mainstream Marvel Universe.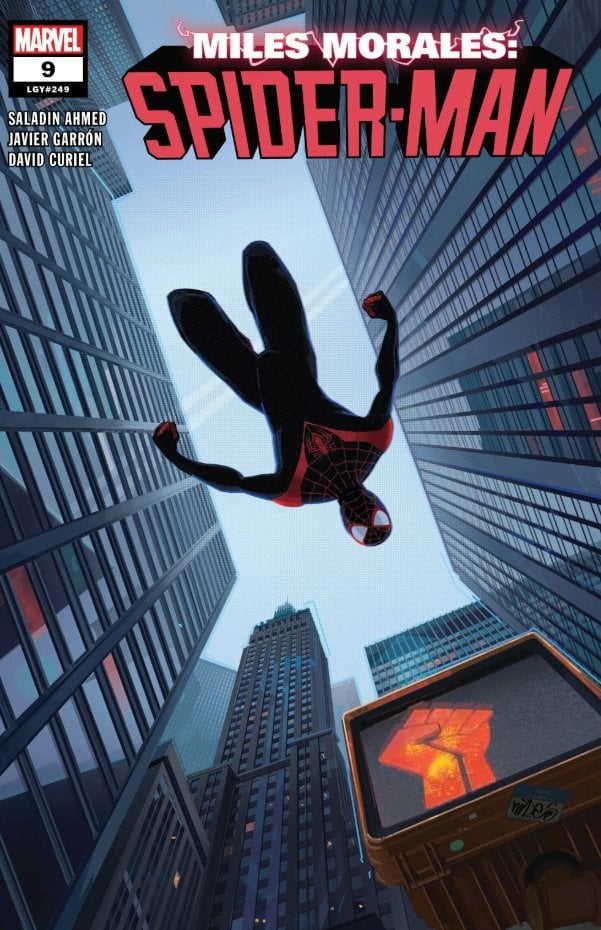 Morales was also featured in the Ultimate Comics: Spider-Man comic book series and after Marvel ended the imprint in 2015, he made his debut in the main Marvel Universe. Miles was also the main character in the 2018 movie Spider-Man: Into the Spider-Verse, which won the Academy Award for Best Animated Feature. He will also be the lead character in PlayStation's Spider-Man spin-off game, Spider-Man: Miles Morales.