I suppose Nintendo has as much right to be part of the Remaster and Remake party as anyone else, and their choice of a classic RPG title from 2009 is far from the worst choice they could have made. Let's take a look and see if Mario & Luigi: Bowser's Inside Story + Bowser Jr.'s Journey still worth the price of admission this time around.
First, for those of you unfamiliar to the convoluted paths that Mario titles have split off into over the decades, let's do a quick summary of what's involved here because the clumsy title of this release definitely doesn't help matters. Firstly, you get your main-line Mario platformers, like Super Mario Odyssey from a couple years back.  Games like these are full of technical splendour and tight mechanics and fun challenges, but they offer little in the way of plot or character work. Part of that is surely intentional – by keeping Mario "bland," for lack of a better word, they keep him perennially approachable and marketable as a mascot. Marios' got even less personality than Mickey Mouse, and that's saying something. Whereas Sonic the Hedgehog staked his whole identity on '90s attitude, and look how far that got him when the '90s ended.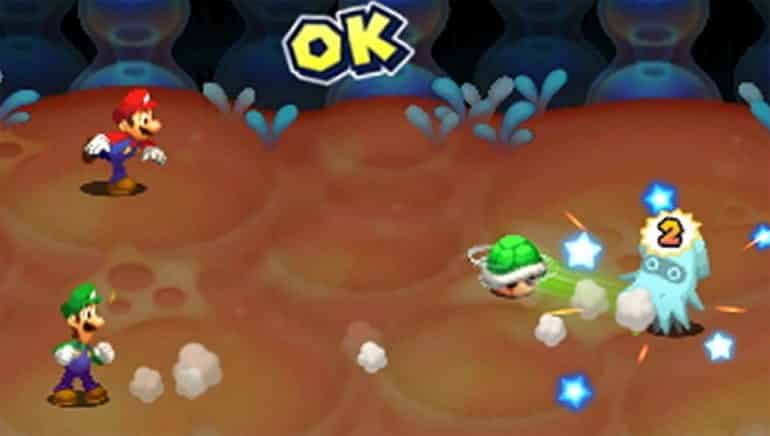 So, back in 2003, Nintendo decided to license off their characters to a second party developer who would create a spin-off brand of handheld turn-based RPGs, which would emphasize teamwork between the two Mario brothers, and would suitably enough be called the Mario and Luigi series. Within this brand, there would be a greater opportunity for clever writing, more dynamic plots, and the closest that Nintendo would ever allow Mario to be subversive as a series. The pinnacle of that franchise was Mario and Luigi: Bowser's Inside Story, originally released in 2009 for the Nintendo DS. This game is a remaster of that title, with a few additional bells and whistles attached.
The plot, such as it is, features the villain Fawful, who in his attempts to conquer the Mushroom Kingdom, tricks Bowser into eating a special mushroom that causes him to uncontrollably swallow everyone and everything around him, shrinking them in the process. This happens to include our heroes, Mario and Luigi. The main sections of the game thereafter focus on controlling the Mario Bros who are inside of Bowser, and Bowser himself as he navigates the outside world. This allows for the most interesting spin on the classic Mario plot immediately, as the Bros and Bowser must work together in quite interesting ways to progress and stop the villains.
This manifests in both story and gameplay elements – for instance, if you have a ledge that is too high to reach inside of Bowser, you can have Bowser find and drink enough water in the outside world that it floods his stomach and the Bros can swim to the top. If Bowser needs to punch something but isn't strong enough, then the Bros inside of him can attack his muscles to stimulate them enough to pull it off. Bowser in some fights can even swallow enemies and have the Mario Bros defeat them once inside him. The Bros being inside of Bowser also allows for all kinds of insights into him that possibly characterise Bowser more richly than he ever has been before.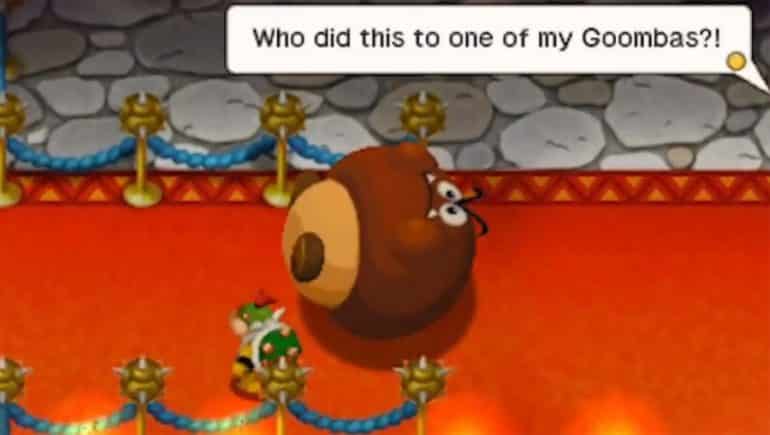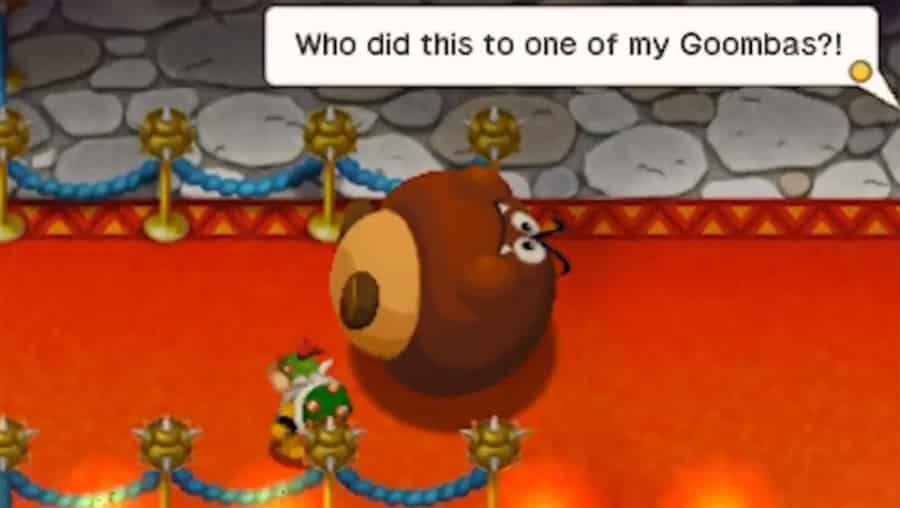 When controlling Bowser, you have a sort of top-down, Zelda-like view of him, and when controlling the Bros inside him, you generally have a more side-scrolling view of things as you travel from room to room inside of Bowser. The Bros can run and jump and attack enemies, with Mario always controlled with the A button, and Luigi always controlled with B. When attacking an enemy, you are taken to a battle screen, where you pick commands in a typical turn-based fashion.
What livens things up is how attacks are modified or enhanced with special controller actions, like certain button presses for extra damage, or using the touch controls for modification. The Bros share special team-up attacks that use both of them at once, and these can be devastating and entertaining if you can hit the prompts in time. Aside from that in battle, you have equippable gear, items to use, and stats to manage, creating a JRPG that is not particularly in depth but has enough heft in it to keep you going through the roughly 20-hour playtime.
The dialogue and plot are often where the game shines, as it may not all be very unique if you just summarize it, but when playing the game, yourself, you will see that nearly all the characters are designed and written with a great deal of heart and care and wit that can be genuinely entertaining throughout your time playing.
A lot of wall-breaking jokes are made about being in a video game, to begin with, and it can be all rather cutesy at times, but it has a hint of self-awareness and charm about it that can often be the reason why you keep playing past the more grindy bits of it.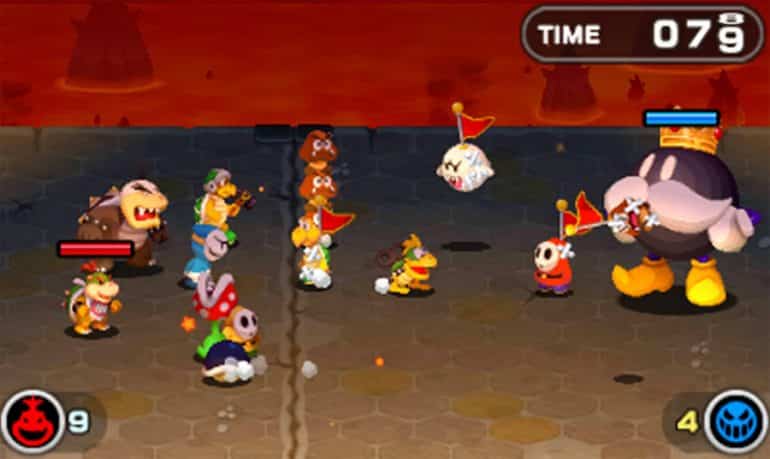 Well, all of that was in the original release 10 years ago, so let's see what's changed meaningfully since then. Firstly, the graphics are vastly improved, and noticeably better and more expressive for all the characters. Secondly, there has been a myriad of quality of life changes, including a lot of balancing, and things like being able to skip past dialogue. Finally, and most noticeably, there is a new mode that exists as a sort of sub-plot, which has its own save file. Titled Bowser Jr.'s Story, this mode takes place in the same time frame as the main game, and features Bowser Jr, the son of Bowser, trying to defeat Fawful in his own way, teaming up with the various armies and minions of his father. This mode has the same charm and clever writing as the main game, albeit while being a bit shorter, but it has its own unique gameplay form.
Battles in this mode are controlled by the AI over a grid, where you position your army at the start, and then watch as they battle the opposing army, with some buffs and debuffs given by you, as well as timed commands for extra damage. The armies feature a Rock, Paper, Scissors style of unit positioning, and there is some tactical element to it. It can be slightly tedious at times, but it is an entertaining enough campaign to play through.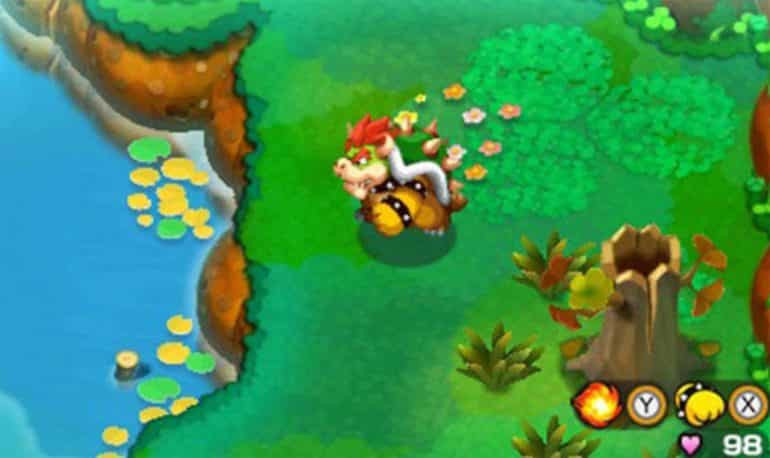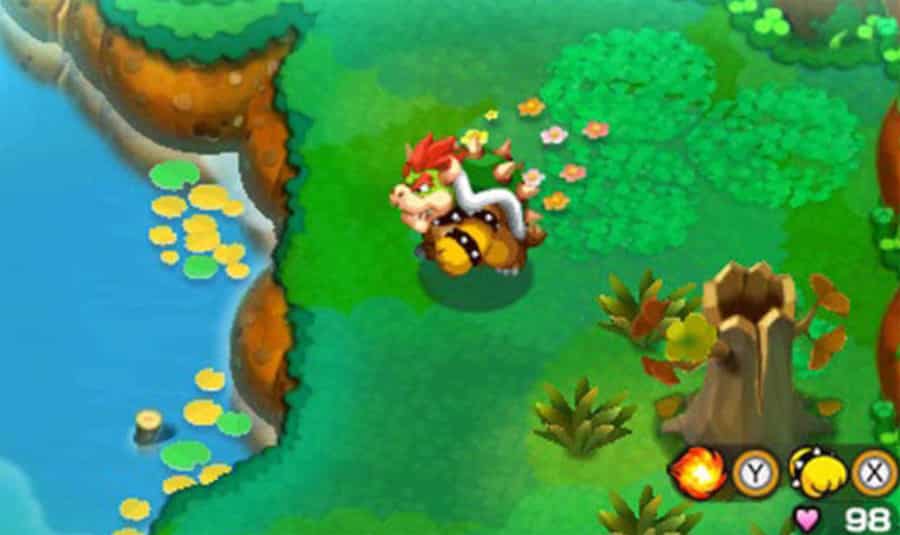 Mario & Luigi: Bowser's Inside Story + Bowser Jr.'s Journey is not revolutionary in the field of JRPGs, and it is essentially 10 years old. However, if you are not so intensely into the minutia of the genre and want a fun, charming introduction to this type of game, with plenty of little extra moments of excitement to bridge the gaps when it might just start getting boring, then you will have a great time than this. It uses the platform you control it on in interesting ways, which I always enjoy seeing, and which Nintendo is perhaps the best at doing.
I can't really recommend it if you already played the original to death unless of course, you loved that game in 2009 and haven't played it since. But if you have never played a Mario and Luigi handheld game, and your 3DS is still hanging around, you could get a fair bit of mileage out of Mario & Luigi: Bowser's Inside Story + Bowser Jr.'s Journey.
The Review
Mario & Luigi: Bowser's Inside Story + Bowser Jr.'s Journey
If you haven't played Mario & Luigi: Bowser's Inside Story + Bowser Jr.'s Journey then this is a game worth getting for your 3DS.
PROS
Charming.
Witty writing.
Makes great uses of 3DS features.
CONS
Not enough to make it worth revisiting if you've played the 2009 versions.
Review Breakdown
Storyline

0%

Gameplay

0%

Graphics

0%

Replay Value

0%

Sound and Music

0%