Any film that tries to fully encompass the life of global icon and apartheid activist Nelson Mandela in less than three hours is taking on an incredibly daunting task. Furthermore, it also runs the risk of falling into the rut of only highlighting the former president's accomplishments and forgetting to truthfully reveal the real man behind the legend. Thankfully, Mandela: Long Walk to Freedom, based on Mandela's 700-page memoir, finds a healthy balance and, although it becomes a little didactic, the film is inspirational and essential viewing for every South African.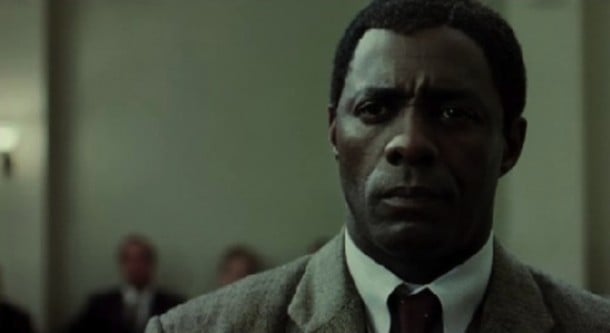 Painted through golden sunsets, breathtaking scenery, haunting visuals of mass killings, heartfelt inspirational moments, swooning strings and Idris Elba's towering performance, Mandela: Long Walk to Freedom reminds us of the painful past of apartheid, while providing a strong message of hope. Although the majority of the film is focused on Mandela's time in prison, it also tells of Winnie Mandela's struggles with the oppression outside of the four walls. To its credit, the writers also don't ignore Mandela's darker side, specifically his womanizing and his involvement with violent protests and actions against the government of the time. No stone is left unturned and the story realistically depicts some of South Africa's most horrific and brutal events. Unlike previous attempts at capturing the horror of apartheid, Long Walk to Freedom makes the experience real – close your eyes and you could probably smell the ash, the gun powder or the scent of dead bodies lying across the open streets. Pack your tissues.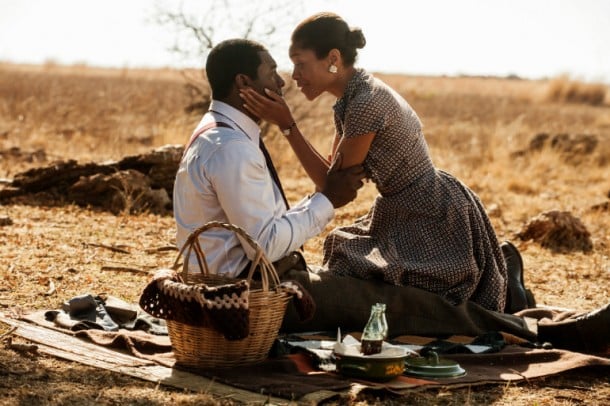 The film starts by briefly touching on Mandela's Xhosa roots before rushing into his career as a fiery lawyer. It's not long after that we fast-forward through his first marriage, joining the ANC and his run-ins with the law. The first third of the film is fast-paced, to the point and only cherry picks the highlights of his early life. However, it all slows down when he meets a feisty social worker named Winnie Mandela. As their struggle against the apartheid regime increases, the ANC decide to take violent action to stop the mistreatment of non-white South Africans, forcing Madiba to go into hiding. But after a national manhunt he is captured and sentenced to life imprisonment on Robben Island. It's here that we meet the Mandela we know today, a man who has learnt to fight back through peace and love.
Probably the most powerful scene in the movie comes much later when Madiba and Winnie are arguing about their different methods of bringing upon change. It's terribly sad to see a couple who were so in love and fighting for the same justice now at different ends of the spectrum. An aging Mandela confides in a friend that the government has had no victory over him, except one; they have taken away his wife.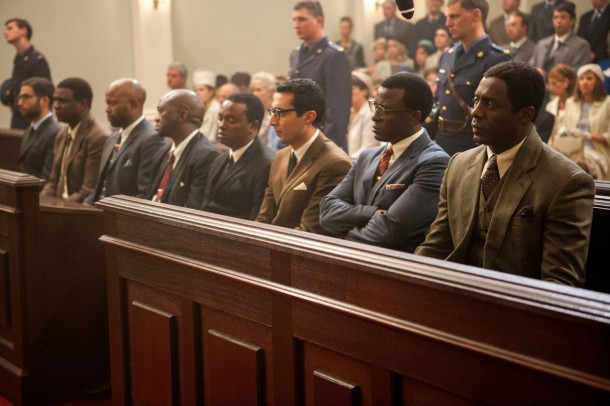 The film is driven by strong performances, with Idris Elba delivering Oscar-worthy magic. Mandela's voice, his passion and his charisma is transferred immaculately to Elba, who embodies the role like no other actor could. This isn't simply an impersonation, this is Elba engulfing himself into the character. Naomie Harris also does a striking job as Winnie Mandela, although she seems to be channeling "angry woman" rather than her character at times. Even still, she evokes a sympathy for Winnie that has yet to be seen.
Some might find the film flawed, especially in its beginning sections, but it's hard to deny the impact of the film's themes and, ultimately, its story. Mandela: Long Walk to Freedom is deeply moving and is bound to leave an impression on the hearts of every South African. This isn't just a Mandela story, it's our story. Amandla!