Man And Superman #1 is a tale that has spent over a decade filed away, awaiting publication. Despite being written by Marv Wolfman, a true legend in the comic book industry, this story never saw it's way to print due to unfortunate timing problems and other issues. Now, finally, it's appeared on the shelves. And honestly, it's a crime that Man And Superman #1 wasn't released years ago because it's a truly incredible piece of work.
Having recently left his home town of Smallville, a young man named Clark Kent arrives in the bustling, vibrant city of Metropolis. Determined to become a reporter for the Daily Planet newspaper, whilst using his incredible abilities to help people as a costumed superhero, it all sounds so easy… in theory. However, he soon discovers that life doesn't always go according to plan. His dream apartment is a cockroach-infested tenement in a crime-ridden area; struggling to find any work as a writer at all, he's forced to take a job as a janitor; and while the city is being attacked by a mysterious terrorist, his investigations are caught on camera making him the prime suspect.
Facing the depressing reality that Metropolis may be too much for him to handle, young Clark suffers from a crisis of confidence and every decision he makes seems to be the wrong one. It's a bad start for the simple Kansas farmboy destined to become the Man of Steel. Yet his spirits are soon lifted by the one reporter in Metropolis who believes this "flying man" is there to help them in their darkest hour: a woman named Lois Lane…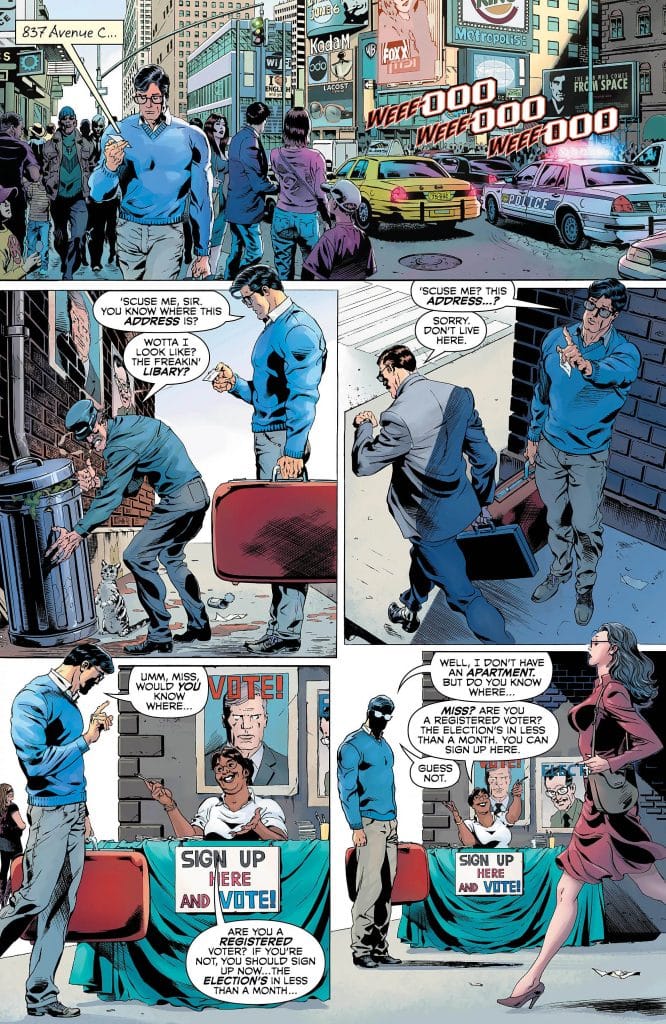 By Man And Superman #1 focusing more on a young Clark Kent the man, as opposed to the Superman, readers are allowed to see a side of him which isn't often shown. Given Clark's age at the time in this tale, the burden of responsibility on him is almost overwhelming and every rookie mistake he makes has colossal ramifications. His usual optimism fails him, his good-natured manner isn't enough, and his biggest battle is self-conflict as he faces an emotional battering that leads to some depression. He can't get his life together as Clark Kent, let alone become Superman, because it's all too much to handle.
It's a level of human vulnerability shown in the last son of Krypton.
While the plot regarding the terrorist attacks on the city is an obvious one, it's the insight into how Clark functions as a person and relates to those around him which is the true highlight. The small joys that he takes in helping others, the need to be recognized as someone who's trying to do good, and even the desire to be taken seriously as a writer… they all help to make him an unlikely everyman figure that we can all relate to. When he gets things wrong, we grimace and feel his anguish, but when he gets things right we can smile, because the story makes that emotional connection with the reader.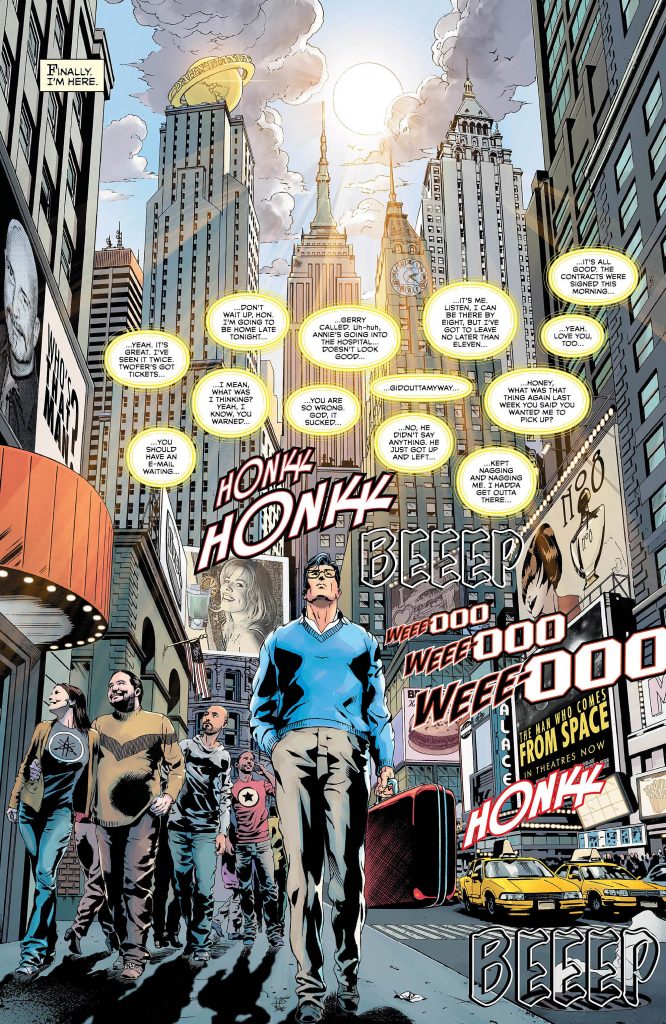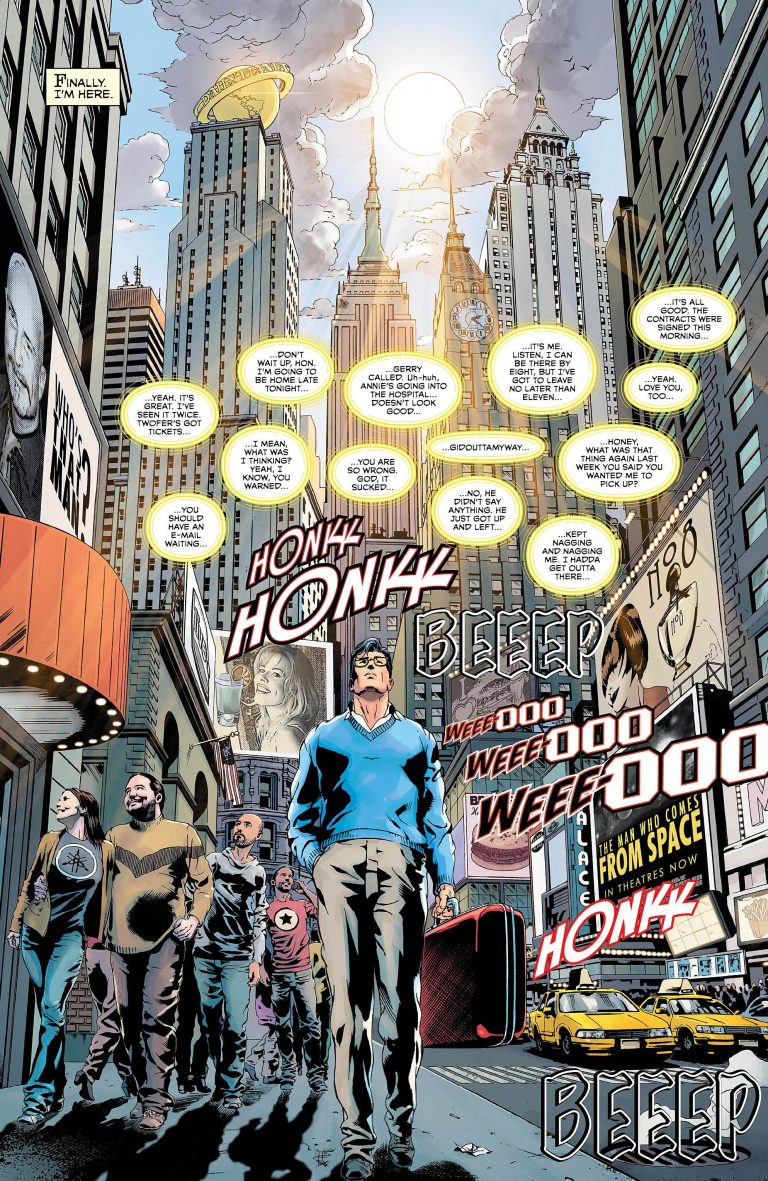 Many of the expected supporting characters appear (Jimmy, Perry White and others), while Lois is an obvious standout given the role she's to play in Clark's life. Their portrayals aren't necessarily new takes on the characters, yet it all feels subtly different but in the right ways and that vibe runs throughout the story itself.
As a self-contained adventure, it feels both familiar and fresh, offering an appeal for both long-time fans of Superman as well as newcomers. If Man And Superman #1 was adapted as part of a Superman movie or became the pilot episode for a show, it's unlikely anybody would complain because it does a wonderful job of conveying who Clark is and why those around him matter.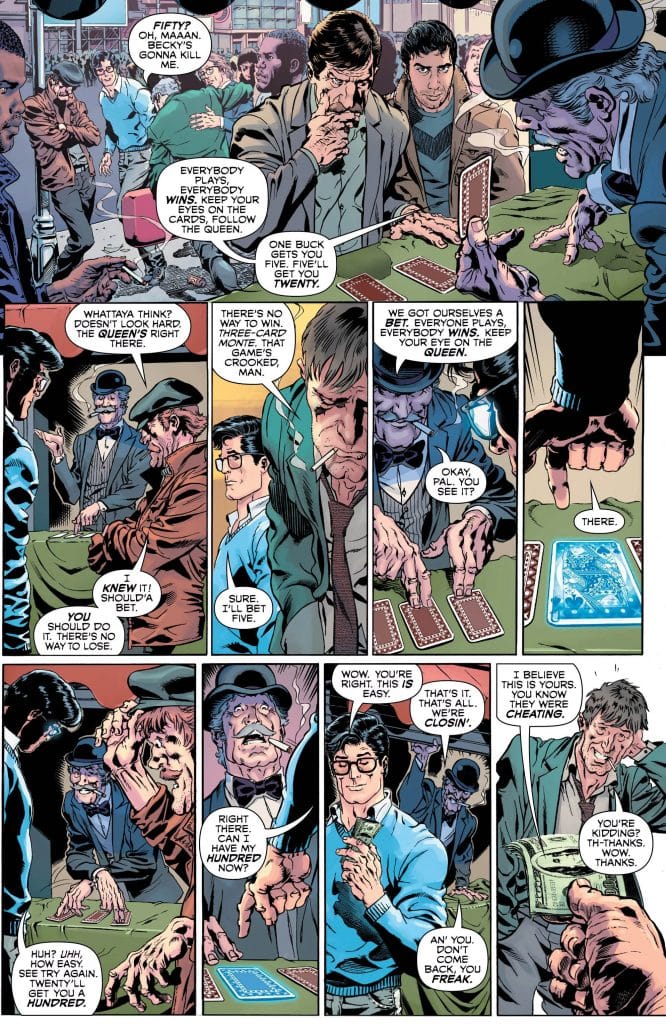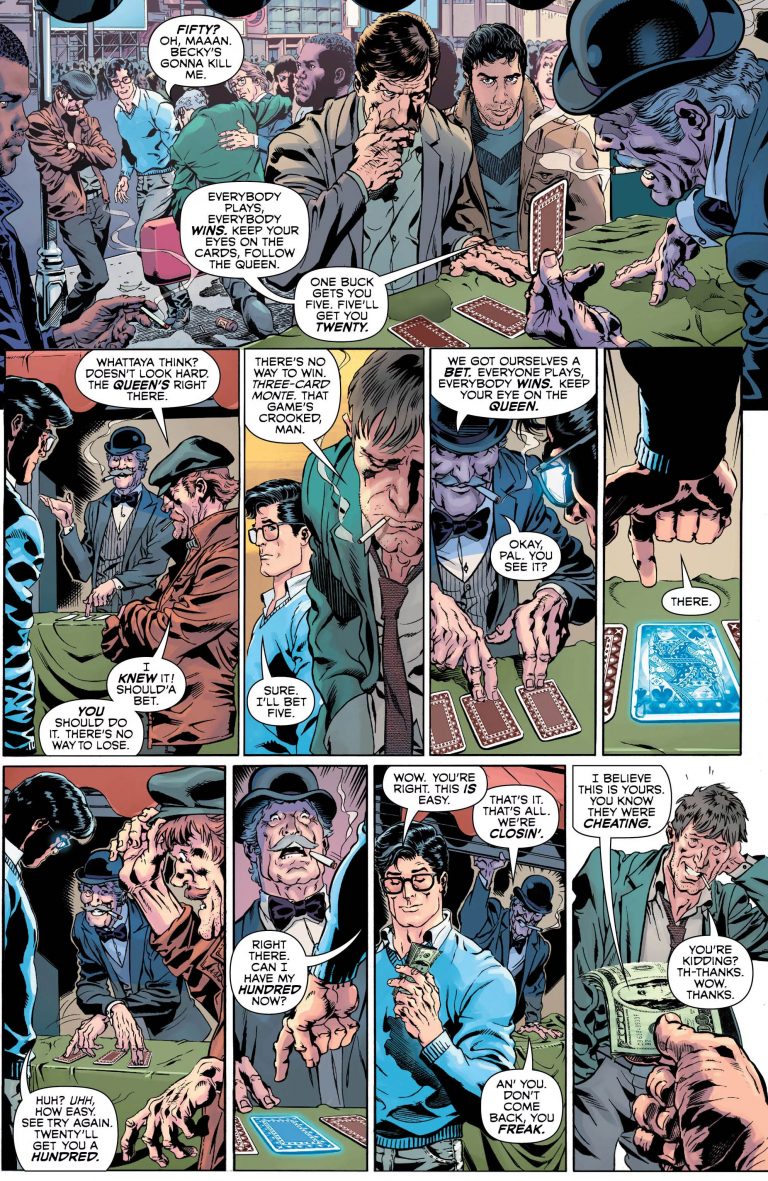 The art, by Claudio Castellini, flows smoothly too and when it's at its best it bears a similarity to the work of Curt Swan and John Byrne. From majestic shots of the city and impressive action sequences to close-up facial expressions, use of shadows and an understanding of body language to convey the character's emotions, it's a visual treat. Some of the angles used in panels are almost cinematic, working in harmony with the writing without being distracting.
Despite – or because of – the apparent "smallness" of it, this is easily one of the finest and most important Superman stories of all time. Seeing him at his lowest point offers us a glimpse of him at his best, reminding us of what makes him so special… and that he's just like us.
If you're a fan of the Man of Steel then you need Man And Superman #1 in your collection.
The Review
Man And Superman #1
One of the finest Superman stories of all time.