I never had a chance to play any of the previous Luigi's Mansion games and, judging by the latest entry in the series, Luigi's Mansion 3, it seems I've been missing out.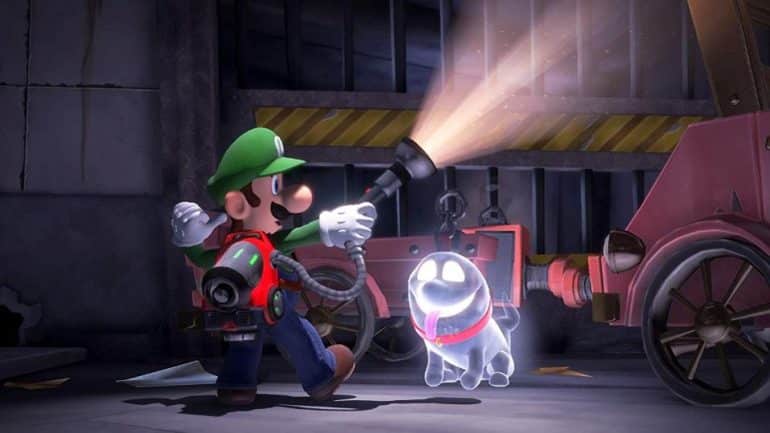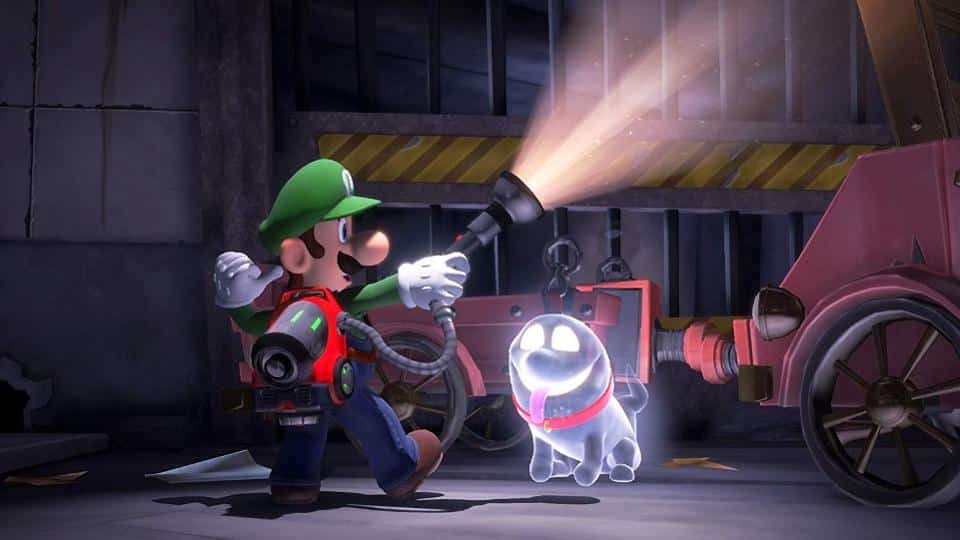 To be honest, Luigi's Mansion 3 is actually quite a misleading title for the game as this time around it takes place in a haunted hotel and not a mansion as the name suggests.
The story is quite simple, but it is effective in getting players invested in hunting down various ghosts and exploring the vast and towering hotel. Mario, Luigi, Peach and a few of their pals book into a mysterious hotel, fittingly called The Last Resort Hotel. It's quite clear from the onset that something is a bit off and that all is not as it seems in the hotel.
Things take a dark turn when Luigi and his adorable ghost puppy, appropriately named Polterpup, are forced to rescue their friends who have been sucked into paintings by the game's resident ghosts. Luigi soon discovers Professor E.Gadd, who outfits him with a ghostbusting vacuum cleaner and a few other ghost hunting gadgets. This, of course, includes a brand new addition to the game in the form of the slimy Gooigi, a slimier and much more malleable version of Luigi.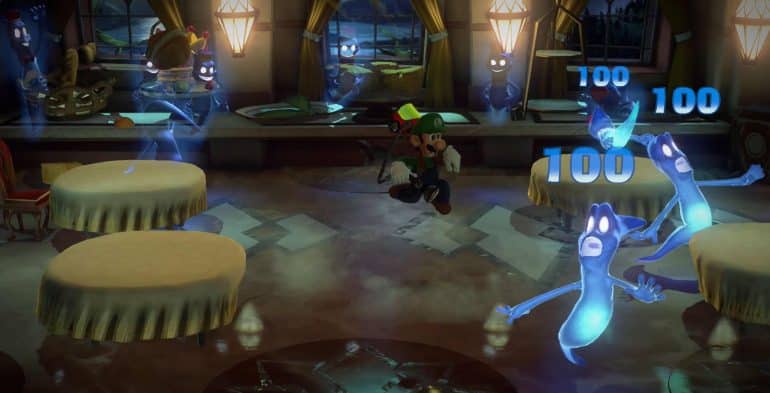 Each floor in the hotel is designed around a specific theme, such as the ghostly knight infested medieval floor, a plant-filled greenhouse floor, a movie studio floor and even a sand-filled Egyptian themed one. These floors feel unique and offer their own challenges and enemies. Surprisingly, each floor drips with atmosphere and the amount of detail (and destructible objects) stuffed into each floor is remarkable, especially for a Switch title.
Destroying various objects can reveal hidden areas, collectables or, more importantly, loads of cash, which Luigi can use at Professor E.Gadd's store. Rarely have I had so much fun just destroying a bunch of furniture as I've had while playing Luigi's Mansion 3.
Although this is a visually cute game, there were numerous occasions where the game's spooky atmosphere, combined with a few well-timed jumps scares, left me startled.
The highlight of exploring each floor is facing off against the various boss ghosts. These bosses feel like their own little puzzle, and it's not always obvious how to defeat them. Fortunately, you can always call Professor E. Gadd on your Virtual Boy-esque communication device and ask him for some advice.
It's actually refreshing fighting bosses in a game that did not just involve hitting them on the head until they keel over, and I found myself looking forward to seeing how the next battle would play out.
As you can probably gather, combat in Luigi's Mansion 3 involves Luigi's ghostbusting vacuum, the Poltergust 3000, which allows him to suck up the ghosts that inhabit the hotel. But before the ghost sucking can begin, Luigi must first widdle down their defences by using a well-timed flash from his trusty flashlight. This freezes them and, once he has them stuck in the vacuum, he can also slam them into objects weakening them even further.
Taking on one or two ghosts is quite easy but once those little ethereal buggers gang up on you it can be tricky defeating them. Of course, ghosts come in various forms, offering varying levels of difficulty. Some ghost don sunglasses which have to be sucked up before Luigi can blind them with his flashlight. Others need to be attacked from behind. Figuring out how to defeat each of the different enemies is a fun little challenge in itself.
That said, I did find aiming a bit tedious when using the suction shot, which did make taking care of some ghosts a lot more challenging than it should've been.
One of the newest additions to Luigi's Mansion 3 is Luigi's slimy doppelganger, Gooigi, who can help out during battles and is quite handy when it comes to puzzle-solving.
When playing in single-player mode, players can switch between Luigi and Gooigi at will. Gooigi is mostly handy as a distraction during tough battles or when something spiky stands in Luigi's way. He is able to effortlessly squeeze through spikes and gates unharmed (like a greener T1000).
Most of the puzzles Gooigi helped me solve were surprisingly inventive and, although I was able to figure out most of them, one or two had me stumped for more than a few minutes. What was surprising was that the game does very little to hold your hand and lets you explore and figure out things mostly on your own. This is surprising in an era where games rely on overly long tutorials to lead the way.
What makes the addition of Gooigi even more special is that Luigi's Mansion 3 can be played in co-op, with one player controlling Luigi and another his slimy green twin (once he has been unlocked). Granted, Gooigi has a lot less health than Luigi and does have a weakness for water but his ability to squeeze through various tight spots does make up for this.
Along with the co-op mode, the game also introduces a bunch of mini-games similar to Mario Party in the form of its ScreamPark mode. These are games that task you with earning points for sucking up the most ghosts and ones that sees teams competing to see who can collect the most coins avoiding various death traps. It's a nice distraction for when you want to take a break from the main game.
Visually, Luigi's Mansion 3 looks amazing. It is easily one of the best-looking game's on the Switch. The way your flashlight illuminates a dark room, a curtain billows from a gust of wind or an eerie mist fills a whole floor not only helps create atmosphere but just looks stunning. It continually felt like I was watching a Nintendo version of a Pixar movie.
Luigi's Mansion 3 is one of my favourite Nintendo Switch games to date. It's charming, easy to pick up, and finds just the right balance between being goofy and scary (for me at least). Exploring the haunted hotel and sucking up ghosts in a retrofitted vacuum cleaner is some of the most fun I've had this year.
The Review
Luigi's Mansion 3
Luigi's Mansion 3 is a charming little game that gives Luigi some time in the limelight. Hunting down ghosts has never been so much fun.
PROS
Great boss fights
Gorgeous visuals
Gooigi!
CONS
Aiming specific abilities can be tedious
Hunting ghost although fun, can become a tad Luigi's Mansion repetitive
Review Breakdown
Storyline

0%

Gameplay

0%

Graphics

0%

Replay Value

0%

Sound and Music

0%