We put Logitech Lightspeed G435 headphones to the test. Does it live up to Logitech's promises?
It's been a little over a year since our last full headphone review, the Logitech G733 Lightspeed. With the popularity of in-ear, Bluetooth earbuds, there has been a clear switch of focus in the market. That isn't to say that over-ear headphones aren't still popular, especially among gamers. A few weeks ago, Logitech announced its latest gaming headphones, designed as a lightweight and affordable gaming headset.
The Logitech Lightspeed G435 Headphones launched in South Africa last month, which comes in three vibrant colours.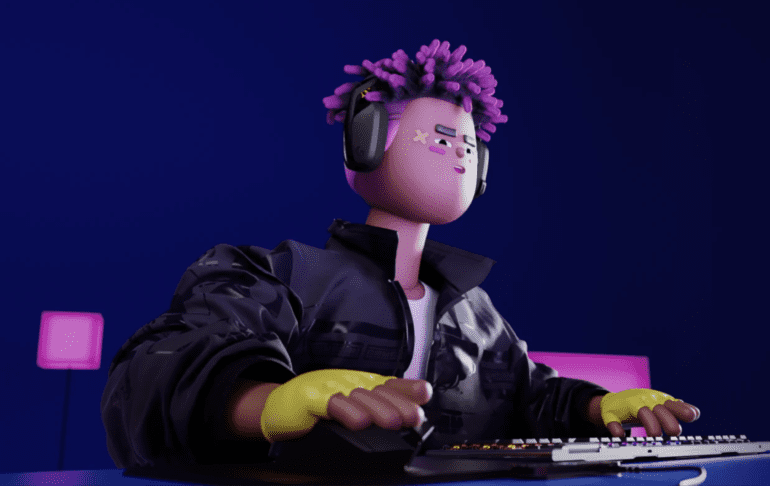 Logitech Lightspeed G435 Design and Build
The Logitech Lightspeed G435 is a great-looking headset. It picks up where the G733 Lightspeed leaves off with its bold colour palettes. However, there has been quite an improvement throughout the design.
The first of these is its weight. It weighs just 165g. That's absolutely impressive. At times, it barely feels as if it's on your head after a few moments of wearing them. This means that you can easily use these headphones for an entire day without having to worry about any additional stresses to your ears, head and neck. To add to the comfort, the memory foam earcups are also great. They wrap around your ears without any effort and is quite soft as well.
Unlike other headphones, the arms are built directly into the earcups. They slide in and out with ease to make it effortless while in use. The mic is also built into the left-hand side earcup. This means you won't have any protruding bits that get in your way or can easily break during transportation. In addition to that, they're also very flexible. This speaks to the build quality of the unit, as it is extremely durable as a result.
Colours for the G435 include Black and Yellow Neon, Blue and Raspberry and Off-White and Lilac. While each of them is great respectively, I received the latter colourway, which I would have preferred over the other two in any event. Its neutral colours and minimalist aesthetic matches its lightweight design.
As with many brands' approaches in recent times, Logitech has pushed some eco-friendly initiatives with the build of the G435. Each headset has a minimum of 22% post-consumer, recycled plastic. What's really impressive about the manufacturing and end product is that it is CarbonNeutral-certified. This means that it has a zero-carbon footprint as a result of its packaging and build materials, while the brand has also invested in offsetting its carbon output for each device.
You can tell there was a lot of thought put into the design of the Logitech G435. From its looks to the various components, it all comes together beautifully.

Logitech Lightspeed G435 Setup and Features
The setup of the headphones is fairly straightforward. There are two options provided, allowing users to choose between Bluetooth pairing or using the included wireless USB dongle. This makes it easier for devices that don't have Bluetooth, but in this day and age, I can't see there being too many around.
When opting for the Bluetooth option, you'll first need to pair the unit. While it's off, long-press the power button until you hear the signal or the light starts to flash green. You'll then be able to select it from the device and that should be it.
When using the wireless USB dongle, things are much simpler. Just plug in the dongle to a USB port and power on the Logitech G435. It will then auto-connect to the source and you're good to go.
The benefit of using the dongle is that it doesn't require any pairing. It just connects. You'll be able to connect to the headphones using the Logitech G Hub software irrespective of connecting via Bluetooth or USB dongle.
There aren't many surface features on the device. Most of these are hidden or don't require you to activate or trigger them. The unit only has three buttons. The power on/off/pair button, the volume rocker and a third button that doubles as a mute/unmute for the mic and doubles as a toggle between the dongle and Bluetooth modes when both are available.
The mic also has some nifty technology built-in. It's labelled as dual beamforming, which means that it uses the two mics to keep the audio in some kind of a bubble around the mouth. It blocks out background noise and can work even in some of the loudest environments.
Audio features include Dolby Atmos, Tempest 3D AudioTech and Windows Sonic support.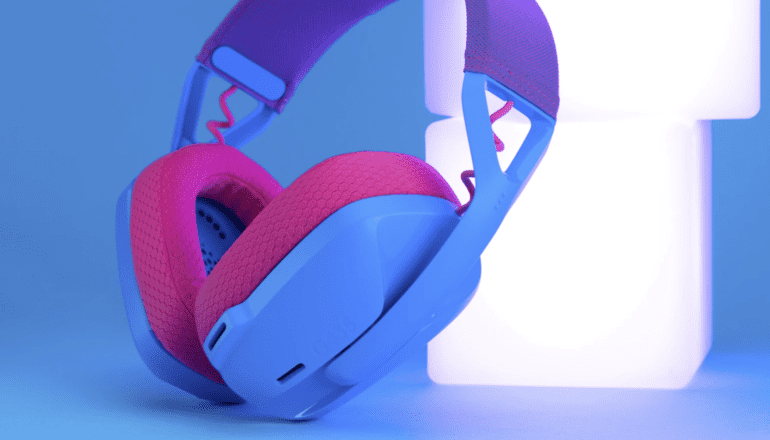 Specifications
One of the cool aspects of the unit is that it is compatible with a wide variety of units. Even if you're not using the Bluetooth pairing, the dongle is compatible with Windows, macOS X, PS5 and PS4.
The Logitech Lightspeed G435 features a 40mm driver in each earcup. This has a standard 20Hz to 20Khz frequency response, as well as 45Ohms (passive) impedance. Additional audio specifications include 83.1 dB SPL/mW sensitivity, <100 dB with optional limiter at <85 dB and a frequency response of 100Hz to 8KHz.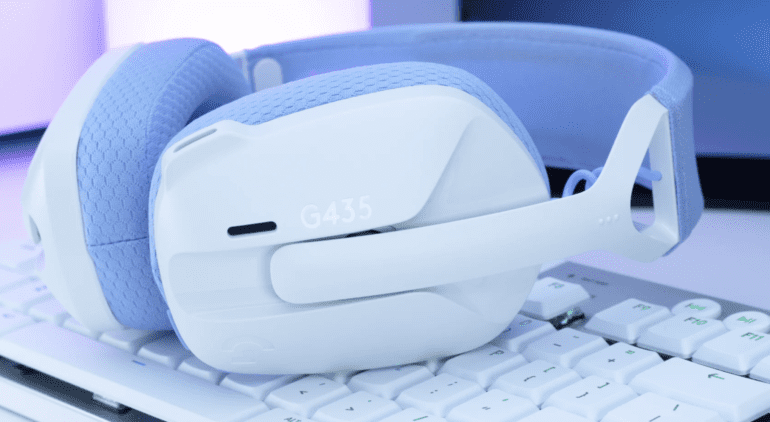 Performance and Audio Quality
When it comes to the actual audio, the Logitech Lightspeed G435 delivers a decent set of results. It's not mind-blowing or class-leading but gets the job done. It has decent clarity although the volume is underwhelming. While it is able to get very loud, it starts to lose that clarity.
The audio has been set up, by default, for gaming. You'll be able to make out all those detailed sounds in the environment. That said, you're not going to be hearing any new or enhanced details, but still good enough. When switching to music, it's also well rounded. There is one common denominator in both modes is the lack of bass. When listening normally, it doesn't seem bad. When you're listening attentively and expecting a bang during gunfire or when that beat drops, you'll be left a little wanting.
The latency was impressive on the G435. Hence the Lightspeed title. Audio sync was good and there were no notable delays between visual and audio when watching movies, music videos or the likes.
The memory foam serves a dual purpose. While added for its comfort, it also doubles to reduce noise when wearing. And it does a fairly good job of it as well.
The dual beamforming mic also does a solid job. I think Logitech were careful with their wording on marketing. It doesn't specify that it blocks out background noises, but rather reduces them. And it does a fair amount of reduction. But, when you're not talking, you can still hear some of those noises come through. The mic quality itself is good. Since it's not a boom mic, it's not as clear, but there shouldn't be any difficulties in anyone on the other end making out what you're trying to say.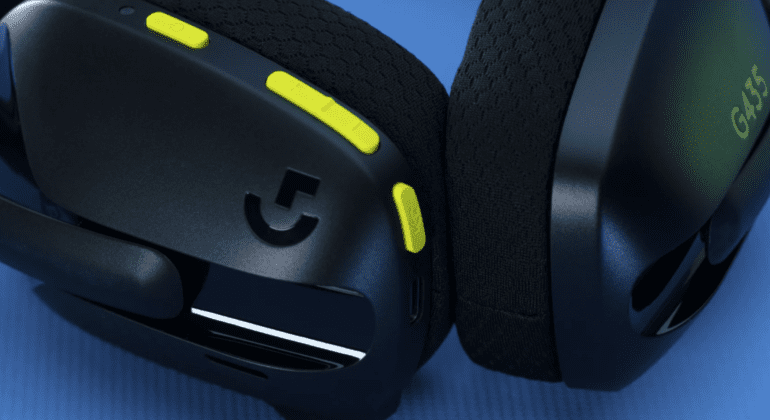 Battery Life
Logitech claims that the unit will power you through 18 hours of audio playback. Under normal circumstances, that would last an average user about a week's worth. During my testing, I ran down the battery with continuous audio over the course of the week and the battery would easily last the specified 18 hours.
In fact, this was closer to 19 hours. That said, the unit was fairly close to the source – roughly less than two metres. This means that it didn't require any signal boost, which may save a few mAh. Either way, the packaging doesn't misinform the user.
Additionally, there's no difference when switching from Bluetooth to the wireless USB dongle.
Should You Buy the Logitech G435?
The Logitech Lightspeed G435 Headphones is a reasonably-priced, lightweight and colourful headphones. It's quite a flexible unit, offering a well-rounded list of features. Usually, when buying on a budget, you're often left having to choose which features you're will to live without and which isn't the case with this set of headphones.
At a price of just R1,499, they'll easily fit into your budget as a novice to mid-level gamer or audiophile. In comparison to many of its other wireless headsets, which often cost well above the R2,000 mark, the price point is a welcome one. This allows more prospective buyers to get their hands on a very good pair of headphones without having to break the bank.
The Review
Logitech Lightspeed G435
The Logitech Lightspeed G435 is a well-rounded pair of headphones. It looks great while also being eco-friendly with its CarbonZero certification. It's comfortable while delivering decent audio. It won't win any prizes in this regard and lacks a bit of overall bass, but is fairly solid. However, it's its pricing that steals the show, making it quite affordable in comparison to many others in the same range.
PROS
Extremely lightweight
Choice of bold or minimalist colours
Low latency audio
Affordable
CONS
No full ANC
Lacking bass
Some background noise creeps through with mic
Review Breakdown
Ease of Learning

0%

Ease of Use

0%

Design

0%

Performance

0%

Enjoyment

0%

Value for Money

0%