Logitech is one of the leading peripheral brands in the world and has never known to rest on their laurels. Even with their leading devices, they continue to push the boundaries with updates. The company features a host of accessories for your PC or laptop in the form of mouses, keyboards, gamepads, steering wheels, speakers, headphones, and much more. Their product lineup is split somewhat between the more budget-friendly, wired units, to the more portable, wireless units. The Logitech K780 Multi-Device Keyboard offers a new take on the wireless keyboard simply by giving it the capability to connect to multiple devices that support wireless connectivity.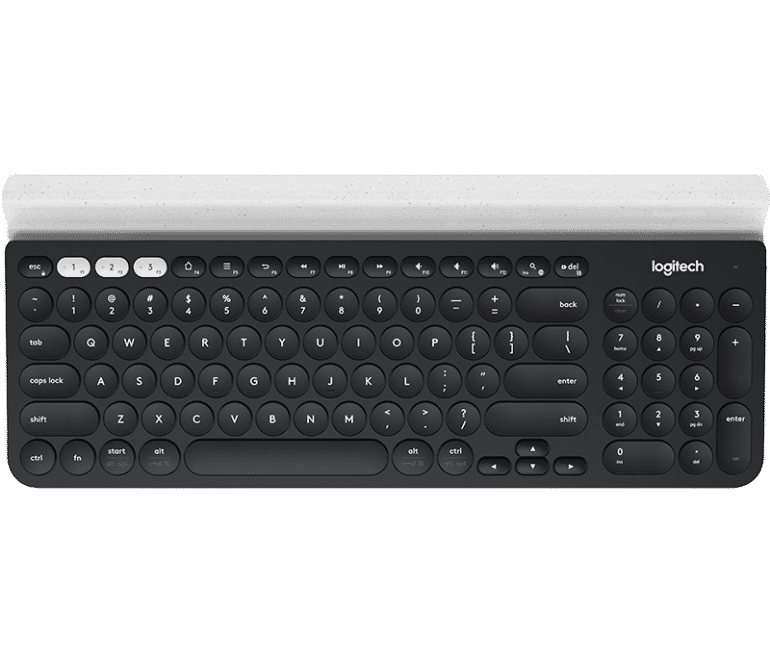 Build and Design
Keyboards aren't generally over-the-top devices, only offering additional lighting to spruce things up. For the most part, keyboards are unassuming pieces of equipment just there to do a job. The K780, however, does a little bit more in that regard by fitting rounded keys to the device. Based on appearances alone, it fits the bill for a cross between an old typewriter and keypad home phones. The results of the design choice here is twofold – how it looks, and how it feels. In terms of its look, there's no doubting that it stands out. As a modern-day portable device, it certainly looks the part. The device is also split into two portions by way of the "conventional" keyboard, bolted onto a stand of some sort. The stand runs underneath the main part of the device and extends slightly beyond to form a cradle, which users can use to house their tablets, 2-in-1s, phones, and anything slim enough to cram into the space.
The second aspect of the design is how it feels and the experience you have as a result. And if I'm honest, I didn't like the experience all at much from the rounded buttons, as it drastically slowed down my overall typing speed as a result. Even after a few weeks of usage, I wasn't able to get back to my average typing speed as I would on a more conventional layout. The ergonomically designed keys, which curve slightly inward was supposed to address some of this, but, while it does feel nice on my fingertips, it didn't do much to resolve the issue. The unit is also seemingly heavier than most other keyboards, weighing 875g on its own. To put that into perspective, there are some Ultrabooks released lately that weigh around the 900g mark, which says a lot of a keyboard alone. The extra bulk, however, does have its advantages in that it feels sturdy and robust, with no sense of it breaking or bending at any point. Even the rounded keys are bolted down well enough so as to not have to concern yourself as to keys popping out unexpectedly.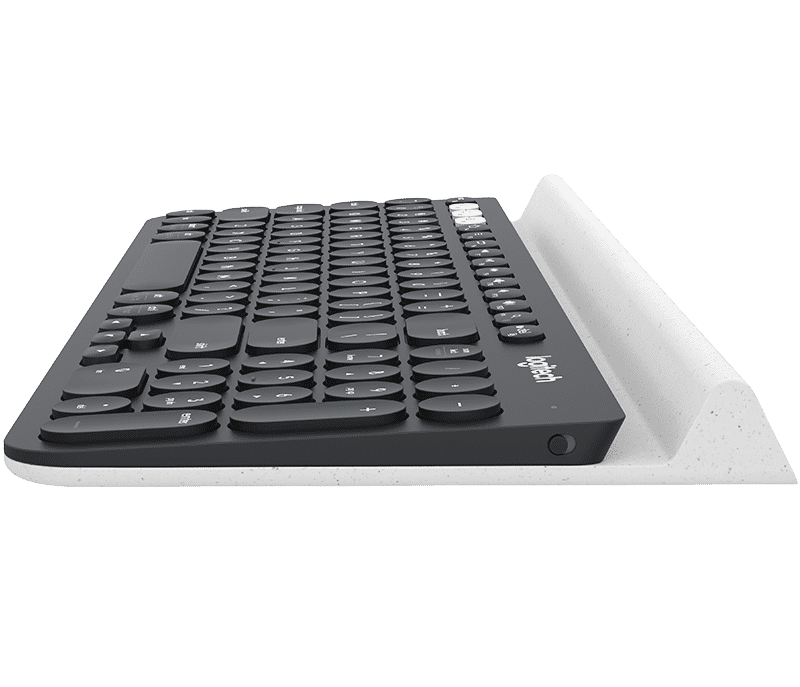 Performance and Battery
The K780 has no issues in the performance department. One of the highlights of the device is that it's able to support numerous different devices to pair with, from your PC, laptop, MacBook, iPhone, Android, and many more. In addition to this, users also have the option to pair more than one device at a time (three at most) and can simply select the highlighted keys on the top left corner to switch between devices. Using the device with as a replacement for your conventional, the K780 is well-equipped. Things get a slight bit trickier when switching to macOS devices, with keys such as the CMD button not always clickable. To resolve this, you'll have to install the Logitech Unifying software on your Apple device, which isn't ideal compared to the near plug-and-play capabilities on Windows. On your mobile device, whether it be an iPhone or Android smartphone, the onscreen keyboard doesn't translate as well, with functions such as autocorrect, swipe, and the likes not being able to convert the experience onto the physical keyboard.
What I've always enjoyed about Logitech wireless keyboards is their longevity in terms of battery consumptions from the standard pair of AA batteries. In this instance, it's AAA battery in use. Even still, the batteries are expected to power the K780 for around two years, and that's quite a lot. Having switched my household batteries to rechargeables, it isn't really a factor of replacement, but given that my currently recharged batteries within my Logitech wireless keyboard are now well into its third year, I'm almost assured that these figures aren't just cheap marketing ploys.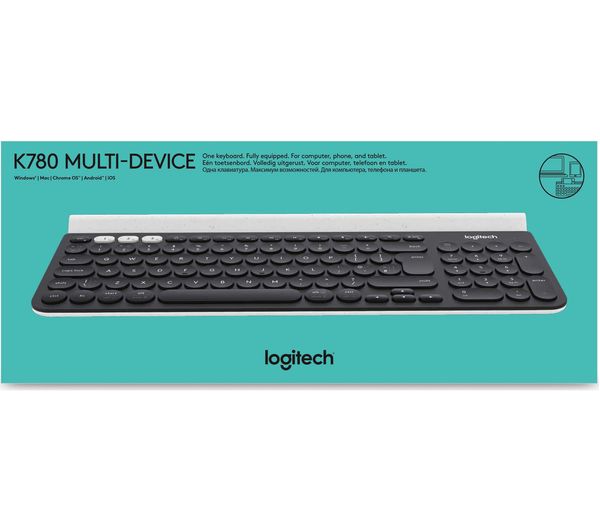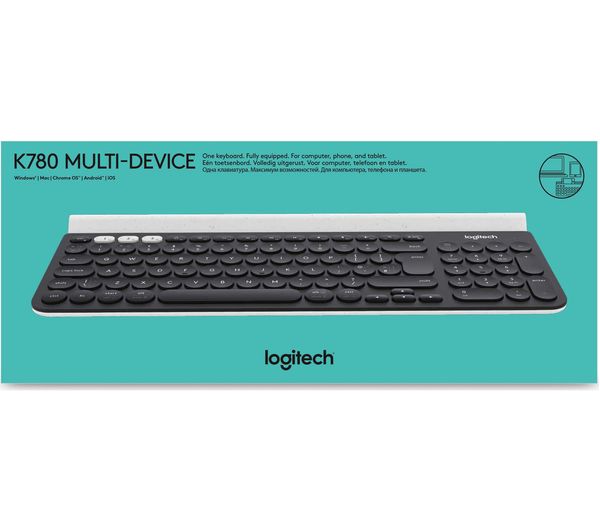 Conclusion
Overall, the Logitech K780 Multi-Device Keyboard is quite a nice unit, although it does have a few noticeable flaws. While the keyboard is portable and can switch between three devices when prompted, it isn't the ideal travel companion in your laptop bag adding almost a full 1KG to the weight. The device isn't foldable either, so you'll have to be assured of the space requirement. The rounded keys may also look good and feel good but doesn't do much to aid speed typists.
That said, there are some good features too. For starters, the amazing battery life. Then there's the easy switch between paired devices, clearing quite a lot of clutter in your living room or desktop. For non-Bluetooth devices, Logitech has also included the Unifying USB dongle to connect to the K780. At a price of around R1,400, it isn't the most affordable keyboard on the market, and slots right between many of the leading gaming keyboards, which is quite a tough market already. If you're in the market for devices to meet some of the needs these features cater for, then the Logitech K780 is definitely the way to go.