Earlier this year, Logitech announced a few new peripherals. As part of the announcement, the brand launched the new Logitech G413 TKL SE Mechanical Gaming Keyboard. The TKL edition, or Tenkeyless, is a form of compact keyboard, without the standard Numpad.
According to Logitech, the new line of gaming keyboards has been engineered for precision and performance. Additionally, it also offers an affordable alternative to full-size keyboards, while still offering gaming-grade mechanical switches.
Build and Design
As with most tech, the first aspect you'll come to appreciate (or not) is the design of the product. In the case of the Logitech G413 TKL SE, it's in its size. While not quite the full 65% compact build, it is a compact keyboard.
To put it into perspective, it measures 355mm in length, along with a width of 127mm. It shaves off about a third of its size with the removal of the Numpad, as indicated in its name, TKL. What this also does is reduce the overall weight, down to a reasonable 650g. There is a bit of weight packed onto the keyboard, which adds to its ruggedity. It's a really solid unit that doesn't feel flimsy in the slightest.
To add to its robustness, it has an aluminium plate beneath the keys. In addition to the sturdiness it provides, it also adds to the design with its brushed finish. Despite its cost-effective build, it looks really good.
The Logitech G413 TKL SE is a very minimalist product. As such, there aren't any other additions to factor into the design. There aren't any USB slots or fancy features. Instead, it has only the four rubber feet and the two stands on the bottom to raise the unit to create a better angle for your hands.
Finally, the cable has a length of 1.8m, which is quite elongated. Can't recall seeing a cable this long before, as it's longer than I am tall.
Keys and Layout
Irrespective of the design and build, the Logitech G413 TKL SE telling aspect lies with its keys. These keys feature tactile switches, which make for quite cushioned keystrokes. There's a notable difference over other gaming keyboards, which tend to offer mechanical switches with a distinct audible click.
In terms of specifications, these switches have an actuation distance of 1.9mm and a force of around 50g. The total travel distance from the top is 4mm. All of these add to a softer touch with each stroke with your fingers.
Given its low-cost build, the Logitech G413 TKL SE doesn't offer individual RGB lighting per key. Instead, all keys offer standard white lighting. You can switch between three lighting options for the keys. That is, off, on and bright. You may want to keep the lights on, however, as the key markers themselves are pretty dark, even in broad daylight. So, if you're not one to use the standard markers on F and J keys, it may be quite the challenge without the lighting.
The keycaps are made from durable PBT, which makes it wear, fade and shine resistant. This isn't something I'm able to gauge, as you'll only be able to monitor this over an extended period of time.
Despite its compact nature, the key layout is pretty ideal. It feels comfortable when typing and doesn't feel cramped at all.
Setup and Connectivity
Unlike many other modern devices, the Logitech G413 TKL SE doesn't offer a variety of options. Instead, all you're left with is a USB 2.0 cable and support. Once you've plugged in the keyboard it lights up all of the keys.
There's very little in the way of customisation as well with only the standard setup and some changes with the lighting. Additionally, there's no downloadable software to enhance the experience, so what you have on power-up is what you'll have throughout.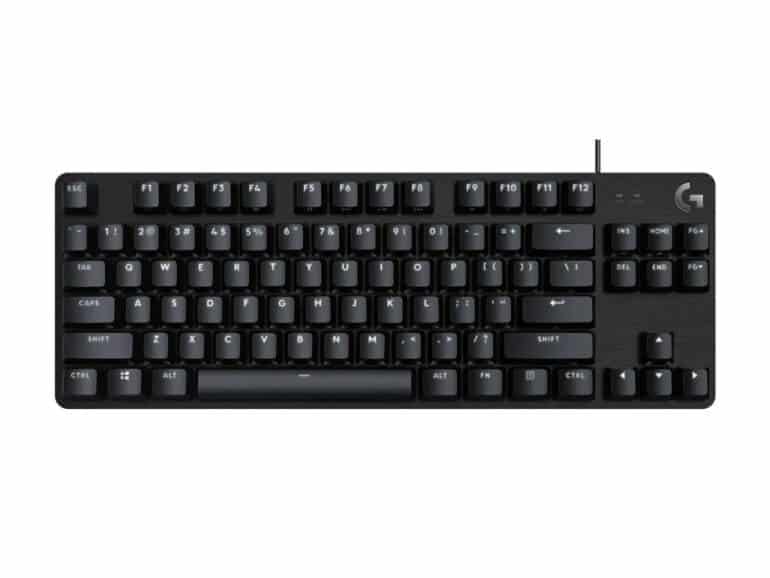 Features and Performance
As stated previously, there is not much in the way of features on the Logitech G413 TKL SE. If there are any features to speak of it's the shortcuts provided with the use of the Function key, doubling some of the uses for each. These include brightness (of the key lighting), media controls, mute and a few additional.
In terms of performance, it feels great and does a really solid job. It feels good with every keystroke. It may not be as light and responsive as other mechanical keyboards, but it feels good nonetheless.
With the layout as well, it is spaced quite well. Even when not gaming, it allows for quick typing. The softer keys also make for a longer period of time typing without getting tired from constantly clicking away.
Should You Buy the Logitech G413 TKL SE Keyboard?
While the keyboard has launched globally, it's only slated to land in South Africa in June 2022. Despite this, the pricing has been made official in recent weeks. The Logitech G413 TKL SE is set to retail for R1,299. The full-size variant, the Logitech G413 SE will go on sale for R1,499.
The Logitech G413 TKL SE keyboard does a good job of what it sets out to do. It is a fairly minimalistic gaming keyboard, with little in the way of additional features. Given the price, while also looking across Logitech's own range of gaming keyboards, it's a bit of a hard sell in that regard. However, if you're looking for a very robust, reliable gaming keyboard without the fuss, then it'll still be a solid buy.
The Review
Logitech G413 TKL SE Keyboard
The Logitech G413 TKL SE is a very solid compact gaming keyboard. It may not have the features of its predecessors, but does a good job overall. It looks good and has a very robust design with a very reasonable price point to boot. However, its lack of features may turn some people away.
PROS
Compact design with good layout
Robust, minimalist design
Extremely long cable
Durable keycaps
CONS
Lacking G-Hub support
No customisable lighting, macros
No additional features
Review Breakdown
Ease of Learning

0%

Ease of Use

0%

Design

0%

Performance

0%

Enjoyment

0%

Value for Money

0%