Over the years of reviewing tech products, there have been plenty of novel, if not over-the-top, ideas and solutions. Unfortunately, while I've had the privilege of reviewing plenty of these types of tech, not all have been useful in relation to their gimmick. For example, Logitech recently launched its new Aurora Collection. The range features a central White Mist aesthetic across various products, including keyboards, mouses and headphones. Having recently received the Logitech Aurora Collection G715 Keyboard, I was intrigued by the form factor and cloud palm rest.
In addition to its standout aesthetics, the unit is slated to have plenty of useful features to add to the experience.
RELATED: Logitech G413 TKL SE Keyboard Review – Minimalist Gaming
Design and Build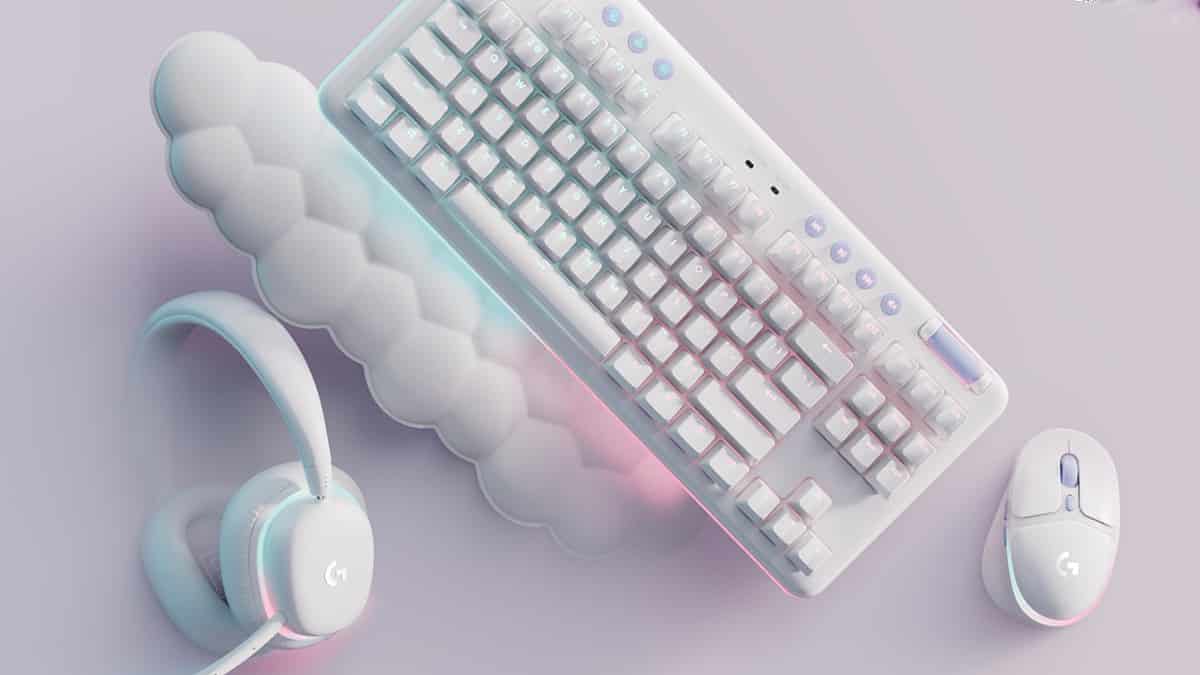 As the introduction mentions, the Logitech Aurora Collection G715 features a cloud palm rest. While it may sound like a metaphor, the palm rest is designed as a cloud (or illustration of a cloud) supplemented with a soft material to cushion your hands as you type.
And it works. I'm not one for added palm rests on any of my previously owned keyboards, as they're usually left in the box they came in when ordered. However, with the cloud palm rest of the G715, I found it quite helpful. It's not too elevated to annoy my wrists while typing and is not attached to the keyboard. This makes it better to position to your perfect position to get the most comfortable placement.
The palm rest is undoubtedly the standout aspect of the design, but it's not the only notable inclusion. From a design perspective, the cloud theme is further highlighted with its rounded edges and soft colour. Added to this is the light pastel-coloured LED lighting, and it all blends into a calming design approach.
Other nice-to-haves on the keyboard are the multimedia and shortcut buttons on the top as an additional row. These also complement the calming design with soft buttons. There is also the addition of a volume knob, which can also be customised for other features.
If there is one worrying aspect about the clean design is how long it will stay that way. With the light colours, there's always the potential to pick up dirt and nicks, which are noticeable over time. It's difficult to determine its longevity from this perspective after only a few weeks with the keyboard, but it's worth pointing out.
It's also a bit challenging with most other peripherals available on the market, typically using darker colour schemes. As a result, you won't immediately have an all-white keyboard, monitor, mouse and headset for a complete layout. Logitech's Aurora collection caters to many other peripherals, but replacing your monitor won't be easy.
Keys and Layout
Technically, the Aurora G715 doesn't classify as a compact keyboard. I'm unsure if there are restrictions on the dimensions, but the unit is relatively compact compared to my current gaming keyboard. It has dimensions measuring 370.6x157x37.2mm, which is diminutive.
It may have quite a small frame, but the layout configuration is well-spaced. It's not as wide as your conventional gaming keyboard but can be comparable to a laptop keyboard, which many would be reasonably comfortable with. As a result, there isn't a lengthy adjustment period for getting used to typing on the G715.
As mentioned above, there are several additional functional values on the unit. While plenty of modern keyboards use the Function keys to double as shortcuts and media keys, this unit offers a few standalone keys to fulfil that requirement.
The Logitech Aurora Collection G715 uses GX Brown Tactile switches for its keys. As a result, they're usually on the softer side regarding noise and tactile feel.
Setup and Connectivity
As with many modern peripherals, setup is a breeze. Out of the box, there are two ways to connect the keyboard to your device. The first of these, which is also the quickest, is using the included wireless USB dongle. Once you've plugged this into your laptop or PC, it'll take a few seconds for Windows to recognise the device before connecting and starting usage. It's not complicated at all.
The second connection method is via Bluetooth. As with most other devices, you'll simply long-press the Bluetooth button on the keyboard to begin scanning and then select the device on your PC or laptop (or even smartphone) to pair. Once this is done, you're all set to start typing.
There is a third, hidden connectivity that isn't really marketed. This is the conventional cable connection. Using the USB charging cable, users can connect it directly to their PC or laptop, and it'll pick up the device as a regular keyboard.
Further, there's also the optional configuration of the Logitech G Hub software. Using the software, you'll be able to customise your experience entirely. This includes adding customised keys, adding macros to the Function keys, as well as managing your RGB lighting and toggling Gaming Mode features.
RELATED: Logitech G Pro Gaming Keyboard Review – A Colourful Display of Keys
Features and Performance
The overall experience with the Logitech Aurora Collection G715 is excellent. Its keys feel solid yet soft to the touch. Additionally, the PBT keycaps have an excellent feel, almost like it has been coated. This complements the good spacing of the keys and the added cloud palm rest for cushioned typing.
The larger modifier keys (spacebar) feel solid. However, the medium modifiers (Caps, Tab, Enter) lack stabilisers, which gives way to some play on each key when typing. This adds a certain level of "rattle" when typing, but if it's not something you're actively looking at or testing, you may not even notice this as you go along.
Again, the Aurora G715 has a built-in battery, as with many modern devices. The battery is a lithium polymer, which provides excellent up-time while in use. As an example use case being continuous gaming, it has an estimated 25+ hours rating. I would hazard a guess that there aren't many gamers spending more than 20 straight hours in any session.
I couldn't deplete the battery during the review period under conventional use. After the first charge, I didn't have to recharge again, even after three weeks of use.
Conclusion
The Logitech Aurora Collection G715 Keyboard is unique. It was designed with calmness being the central theme and carries this through with its LED lighting and colour scheme. Additionally, it has plenty of functional buttons and features to create a customised experience for every user fully. It has a decent battery life, and you shouldn't have any trouble keeping it powered with its built-in battery.
The one major caveat with the Logitech Aurora Collection G715 is its price. The keyboard's price is above the R4,000 mark, meaning it has a very niche market. It doesn't help that some accessories are also sold separately in addition to the already high pricing. As a result, it isn't an easy purchase by any means, despite its welcoming aesthetic and feature set.
The Review
Logitech Aurora Collection G715 Keyboard
The Logitech Aurora Collection G715 Keyboard makes for a great addition to any setup. It has a calming design philosophy, a theme carried throughout the build. It has decent features, a built-in battery and multiple connectivity options. However, if there is one hurdle to get over, it's the price. It's not one for an everyday consumer.
PROS
Unique, calming design
Soft, cloud palm rest
Built-in, rechargeable and long-lasting battery
Smooth, quiet switches
CONS
Extremely pricey
Some clunky keys
Some accessories are sold separately
Review Breakdown
Ease of Learning

0%

Ease of Use

0%

Design

0%

Performance

0%

Enjoyment

0%

Value for Money

0%