Are you ready for a new live-action Star Wars Rebels TV series focusing on Ezra?
Now that Star Wars has successfully broken into the world of live-action TV with The Mandalorian, what's next for the popular franchise?
With an array of unique characters that have only appeared in animated series, the possibilities for new shows are endless.
The Mandalorian has already taken the lead by casting Rosario Dawson as Ahsoka Tano (a character that's only appeared in animated form) for the show's second season. It's the first major role to break the wall between the animated and live-action realms of Star Wars.
And if recent rumours are true there's plenty more on the horizon…
Disney and LucasFilm have reportedly begun casting for a live-action version of Ezra Bridger from Star Wars Rebels. Reports suggest that Ezra Bridger is expected to make an appearance in season two of The Mandalorian and then branch off into his own show.
While fans may remember Dave Filoni's adamancy about there not being a fifth season of the animated Star Wars Rebels series, he hasn't technically ruled out a live-action spin-off.
So far the only tangible evidence we have to support these rumors are the details from the casting call.
The casting search is said to be focused on finding a male actor of color, between the ages of 30 to 40. Although the studio's preferred choice is an actor of Asian descent, they are open to Indian, Latino, or Middle Eastern performers as well. Additionally, the casting call specified that the role is for a Disney+ debut, and not just for The Mandalorian.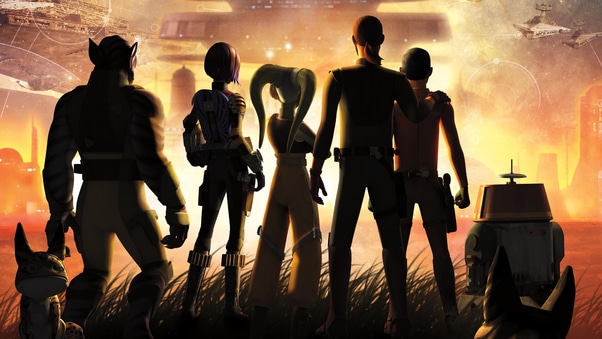 The animated version of Star Wars Rebels made its debut on Disney XD in 2014. Created by Dave Filoni, the show focused primarily on brand new characters – specifically a small band of freedom fighters known as the Ghost Crew. The story followed the adventures of Hera, Kanan, Sabine, Zeb, Chopper, and Ezra, as they fought the Galactic Empire in an attempt to help the Rebellion however they could.
The show ended after four seasons. But it left some lingering questions about the fate of Ezra, who stayed with Grand Admiral Thrawn as the Purrgil jumped to hyperspace with the villain's ship. Since then, there's been no clue as to what happened to the young Jedi – although Filoni has assured fans that both Ezra and Thrawn survived.
The news of a new live-action Star Wars Rebels series is exciting but since this isn't official news from LucasFilm, it's best to be a little weary just in case.