Simplicity goes a long way. In the video game world, there's often a desire to pack a game with as many features and gimmicks as possible, in an attempt to stand out from the crowd. Conversely, Little Nightmares II chooses the road less travelled here. Much like German expressionism, a minimalist approach goes a long way in conveying more emotion than a sprawling diaspora of shapes and colours.
When you start the adventure here, you're instantly transported into a world that wouldn't seem out of place in a Tim Burton stop-motion film. Mono and Six feel very much like outsiders in this nightmarish world—whether due to the fact that they're smaller than everything else around them or because of the extremely isolated nature of the environment. Even though the world feels vast, the mood is suffocatingly claustrophobic.
Indeed, Little Nightmares II's soundtrack does a fantastic job of replicating the mood. It isn't constant or overwhelming, but it fuels the atmosphere in a similar way that Joseph Bishara's score simmered in the Insidious film series. You can't quite shake off the idea that a sense of dread is lurking around the next corner.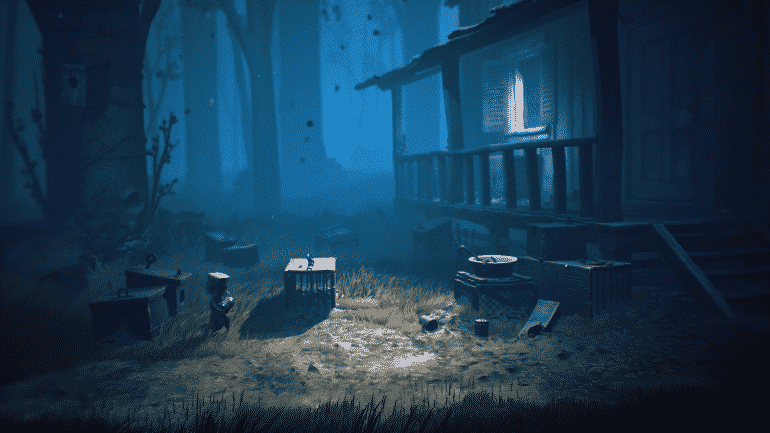 With the scenery and music matching the frightening title of the game, it's wonderful to report that the gameplay in Little Nightmares II is the complete opposite. As a puzzle-platformer, you're required to solve numerous challenges and tasks—some of them are simple enough, while others call for more grey matter usage. Mono is the main character that you'll need to navigate; however, Six will be essential to many sections of the game. The characters assist each other—whether it be a little boost to get across a pit or push a heavy box across the ground.
As you progress throughout the game, the puzzles become tougher and more challenging than the last one. That being said, one of the most difficult elements of the game is still the spooky antagonists, who look straight out of Thomas Ligotti's Nightmare Factory. Their speed is highly deceiving and they can end your character in a heartbeat if they spot your location. Fortunately, the save points in Little Nightmares II are rather generous and you don't have to restart from too far back if you get flattened.
Little Nightmares II is a phenomenal reminder that keeping it simple should be everybody's motto in life. Make no mistake, though, what the developers do here, they do exceptionally well. This was always going to be about atmosphere and gameplay, and they've achieved it by understanding what truly frightens the human mind. Less is certainly more in the case of this horror title.
Fortress of Solitude was provided with a PC code for the purposes of this review.
The Review
Little Nightmares II
This was always going to be about atmosphere and gameplay, and they've achieved it by understanding what truly frightens the human mind.