Written by Stephen King. Starring Academy Award-winner Julianne Moore and Academy Award-nominee Clive Owen. Produced by J.J. Abrams' Bad Robot Productions. This brooding Apple TV+ series (based on the 2006 best-selling novel which won the 2006 Bram Stoker Award for Best Novel award) already has the recipe for a great psychological horror thriller. Watch the first trailer for Pablo Larraín's Lisey's Story below.
Draped in tension and ominous unease, the nightmarish Lisey's Story trailer showcases the intense drama we can expect in the eight-episode limited series.
It's beautifully shot.
It's incredibly haunting and deeply mysterious.
And, most importantly, it's intriguing.
But none of this should be a surprise when you consider that Stephen King himself considers this one of his favourite works.
"Lisey's Story' means a lot to me because it's the one I love best," author Stephen King said earlier this year on the show's TCA panel. "It's a story about love and marriage and the creative impulse and also has a kick-ass villain in it. My idea is to be all the way in as much as possible… This is a passion project."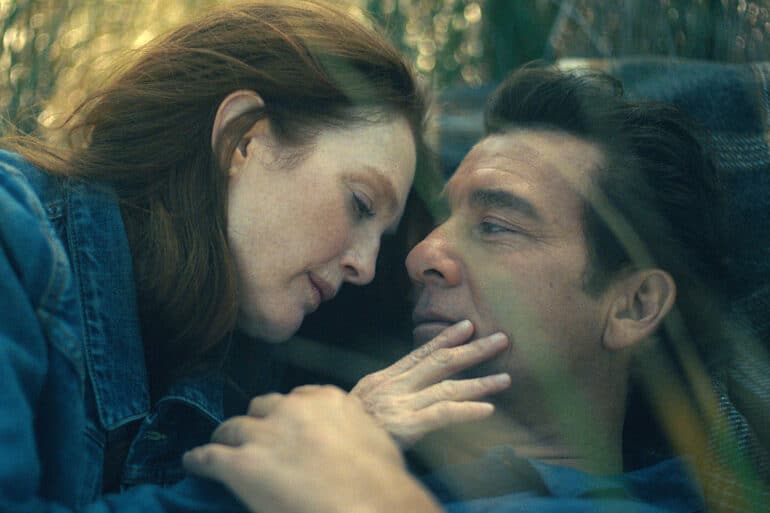 The official synopsis reads:
Lisey's Story' is a deeply personal, pensive thriller that follows Lisey Landon (played by Julianne Moore) two years after the death of her husband, famous novelist Scott Landon (played by Clive Owen). A series of unsettling events causes Lisey to face memories of her marriage to Scott that she has deliberately blocked out of her mind.
The supporting cast includes Joan Allen as Amanda Debuher, Jennifer Jason Leigh as Darla, Dane DeHaan as Jim Dooley, Ron Cephas Jones as Professor Dashmiel and Sung Kang as Officer Dan Boeckman.
While Apple TV+ doesn't have a long roster of shows and movies, it makes up for it by delivering quality content. Shows like Ted Lasso, Servant, See, Defending Jacob and The Mosquito Coast have all been well received.
What did you think of the Lisey's Story trailer? Will you be watching the show?