With the festive season around the corner, there are many potential buyers combing the internet in search of the best smart TV for their budget. There are tons of options on the market, determined by even more factors. You can base your decision on size, on smart features, on quality, the number of inputs, wireless and casting capabilities and, one of the more important factors, price. Safe to say, there is no one-size-fits-all package available, even for the majority of buyers. There is also a big drive in future proofing any TV you buy today, given the significant investment, even with the lack of support for the technology in South Africa.
When I was offered the opportunity to review the LG C8 65", there was no way I could decline it. Not only does it have a massive and good-looking screen, but it also boasts quite a large number of features thrown in for good measure. But, given the limited content available at your disposal on a daily basis, is it a worthwhile investment in 2018? More specifically, how much better performance does it boast over mid-range units to justify the price difference?
Build and Design
Two weeks ago, I reviewed the Hisense 65″ 4K ULED Smart U7A, which featured an ultra-thin panel with a large base to house the electronics, the tuner, as well as a few other hardware features. The LG C8 has a similar design principal, although much sleeker.
There's no official specification for the thickness of the screen, but my measurements put it around 6-8mm, which is quite impressive. That's thinner than almost all smartphones on the market today. As for the base itself, it's also not that thick, measuring roughly 47mm. The stand is a little thicker and measures 231mm, but, unlike many other stands in the market today, it doesn't have the traditional, left or right-pointing feet to support the TV. Instead, the metal frame curves towards the front and rear, which forms part of the design while having a functional use.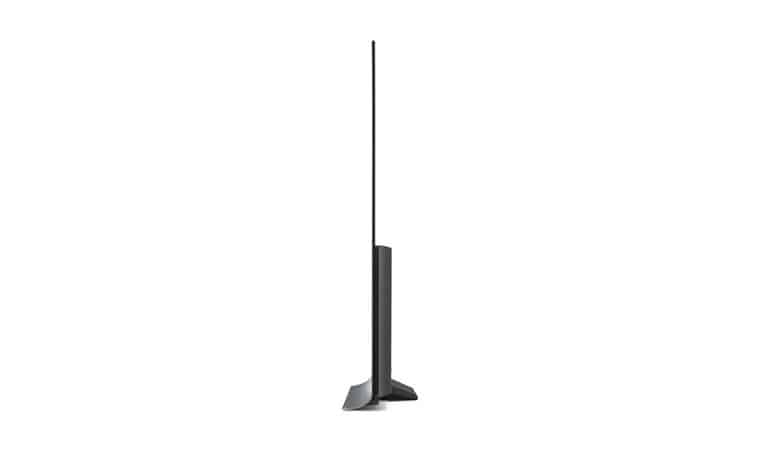 With the down-firing speakers (2.2-channels, 40W) positioned in such a way as to make use of the curvature, the Dolby Atmos® sound is broadcast much better into a room. The stand stretches across the bottom of the TV to the length of 104cm and has a bulky weight of just over 4KG. It's extremely solid, with much less room to sway as with your conventional foot stands.
While the rear is plastic, as with on the U7A, the brushed aluminium look makes it appear a lot more premium. Even though you won't necessarily get to look at it much, it does look the part and is very minimalistic in design. The inputs panel is positioned towards the bottom right-hand side of the device. There are quite a generous amount of inputs available to the user, which is very welcome. These include x4 HDCP 2.2 HDMI ports (one with Audio Return Channel Support), x3 USB 2.0 ports, RF In (Antenna/Cable), Composite In, Ethernet, Digital Audio Out (Optical) and RS232C (Mini Jack). It also includes Wi-Fi (802.11ac), Bluetooth 4.2, Wi-Fi Direct, IP Control and Simplink (HDMI CEC).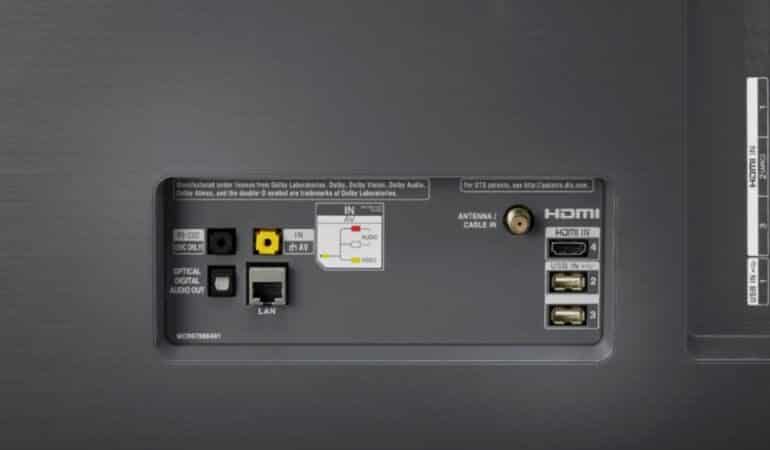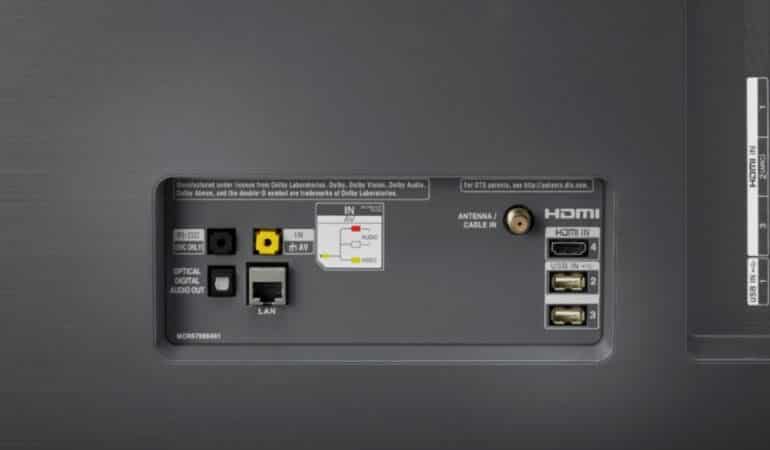 Setup and OS
As with most smart TVs, there are two aspects to setting up the unit. This includes the physical installation of the hardware, as well as the software installation component. Starting off at the beginning, the setup of the physical parts of the LG C8 is relatively straightforward. Mind you, it is a two-person job, having to lift the TV onto a safe spot in order to screw in the numerous screws to connect the base to the main unit, of which there are many. Once this is done, you can then simply plug in all your inputs, including the HDMI cables and USB cables from storage devices.
Moving onto the software setup of the unit, there's nothing more than a few simple prompts to select through. There are no sign-in requirements, although I would have preferred a central repository in order to store my preferences for future use. Prompts include date and time, user agreements and the likes. There is already a small base of installed apps on the WebOS firmware, which includes favourites such as Netflix, YouTube, Amazon Prime and, local to South Africa, DStv's Now app. Apart from YouTube, these apps required sign-in upon the first load.
There is already a small base of installed apps on the WebOS firmware, which includes favourites such as Netflix, YouTube, Amazon Prime and, local to South Africa, DStv's Now app.
If you wish to fine-tune some of the features of the LG C8, there are two settings options, basic and advanced. The basic settings are available as a shortcut panel on the right side of the screen, which you can change settings on the fly, including the picture and image quality, sound source and quality, internet options and various other shortcuts that are useful. From the same menu, you can choose to select the more advanced settings, which opens up a menu on the right-hand side, where you can deep dive into more options. It's all pretty straightforward and easy to select from. The level of customisation is also very good. The basic settings panel is good for when you don't want to exit from the stream you're watching and only intend to make quick changes.
There's a second shortcut menu, which you can access by pressing the Home button on the remote. This opens up a panel on the bottom of the screen showcasing the different inputs and apps available. This is also a very useful menu as you can easily switch between inputs in a blink of an eye. All, except for one input, USB storage. In order to access any connected drives, you'll have to open up an inputs screen, and then open another screen before being presented with the list of connected devices. It's quite annoying, to say the least, and a bit tricky to have to explain over the phone to your fiancé who's attempting to use the TV for the first time.
In terms of the remote, it's a mix between a standard remote and infrared mouse/pointer. For anyone using a smart TV, you know there's always some or other email address or password to enter, which is quite cumbersome having to scroll letter by letter. Thankfully, the LG remote allows you to easily point and click on each. It does take some getting used to, especially judging by my shaky hands at the start. The unit remains active at quite a distance, which I found very interesting. To reach the maximum distance where it's no longer detected by the TV, I had to leave the house and walk some 20m down the passage before it no longer interacted with the TV. I never had any need for that, but it would certainly be a useful feature in bigger homes.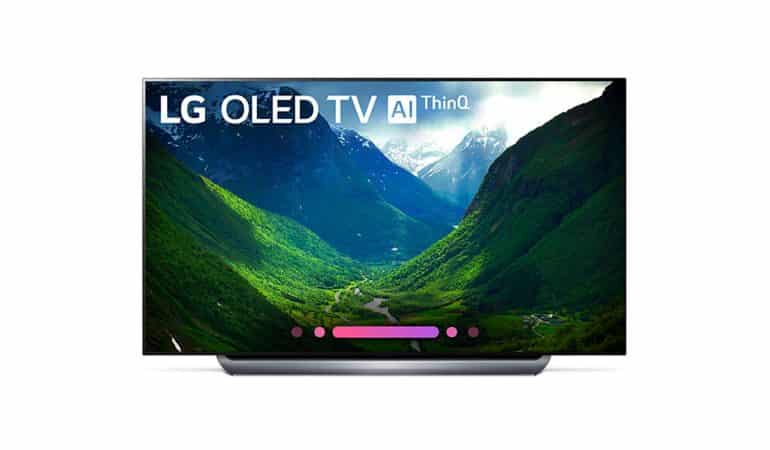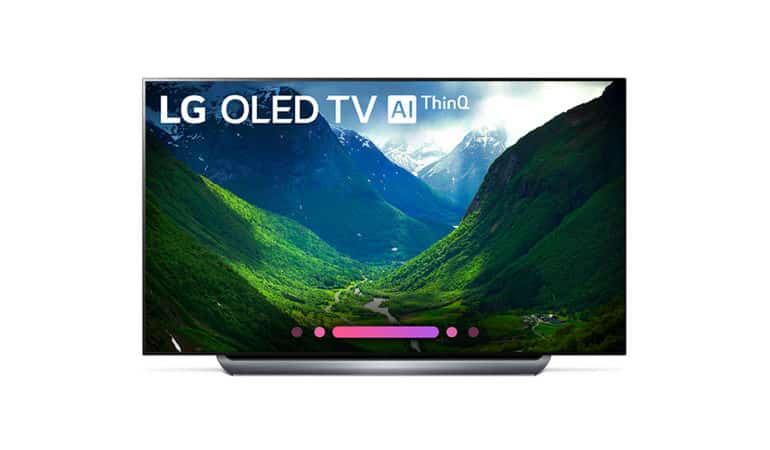 Screen and Display
LG has been designing some of the best display panels for years now, as it continues to battle with Samsung for top honours. What you get at face value may look impressive, but there's a lot of functionality that happens behind the scenes in order to power some of the best images on a TV.
The unit also supports a significant number of HDR formats, including HDR10, HDR+, Dolby Vision, HLG, Advanced HDR by Technicolor and a host of other technologies across various standards and manufacturers.
The LG C8 is powered by the company's new Alpha 9 CPU, which is fitted into the majority of its OLED units. In addition to processing images, the unit is also capable of reducing noise, enhancing sharpness and adjusting colours on the fly. It does this for all content, which is especially useful given that most of the content I consumed required to be upscaled to 4K resolution.
The unit also supports a significant number of HDR formats, including HDR10, HDR+, Dolby Vision, HLG, Advanced HDR by Technicolor and a host of other technologies across various standards and manufacturers. The one that is missing from its arsenal is HDR10+, although that isn't as widely supported as yet. These are all quite useful to the novice user, who don't know what happens in the background, or why their videos aren't supported. Switching on the HDR option is as simple as selecting it from the settings shortcut menu, as highlighted earlier.
The overall screen dimensions measure 1449x831x46.9mm, which includes the bezel. With the actual panel dimensions of 1428.5×803.5mm, which then represents a bezel size of 10,25mm on the left, right and top sides, and about 17,2mm at the bottom. These aren't exact stats, but close enough to paint a picture.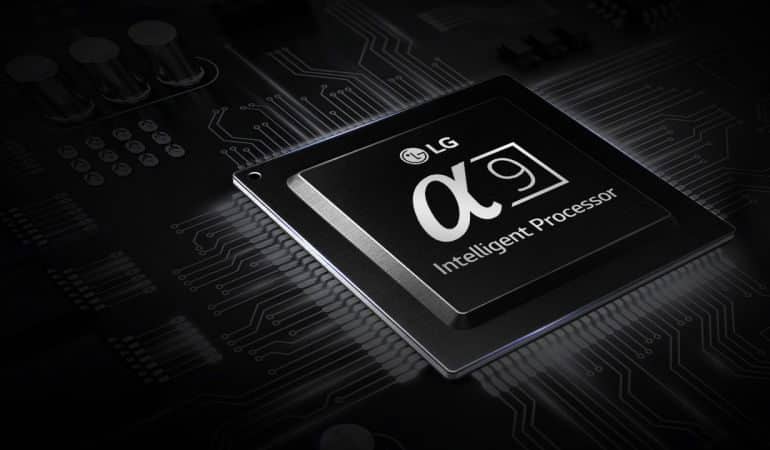 LG has focused more on driving the chipset on their 2018 units due to the fact that there haven't been significant breakthroughs in the OLED space to make much difference. How the image is rendered, sharpened and enhanced will play a larger role going forward it seems, as the OLED panel tech may have peaked somewhat. That said, the specs on the C8 are still pretty impressive.
The unit is also great for gaming, with response times of 21ms, making it quite effective.
The unit is also great for gaming, with response times of 21ms, making it quite effective. This input time is suitable for most casual to pro gamers and can be selected simply by entering game mode via the settings menu. There is no G-sync capability as yet, which I would hope will be added to future units. That's, of course, whether LG wishes to market to the gaming market.
In terms of the specs under the hood, the LG C8 has a 64.5", OLED screen, which has a 3,840×2,160px, 4K resolution. There are a few features built into the panel, which include Infinite Contrast, Pixel Level Dimming, Ultra Luminance, Intense Colour, 10-bit Rich Colours, True Colour Accuracy, Wide Viewing Angle and 4K Upscaler. Overall picture quality was nothing short of brilliant, producing beautiful colours, great contrast and sharp images from whichever angle you viewed it at. Where the unit did lack somewhat was the lack of brightness when switching to HDR modes. It wasn't very significant, but still noticeable. It's also worth noting that the OLED panel is self-emissive, which means extended viewing or playing time may affect the visuals in the long run, more so when you're doing this continuously over an extended period.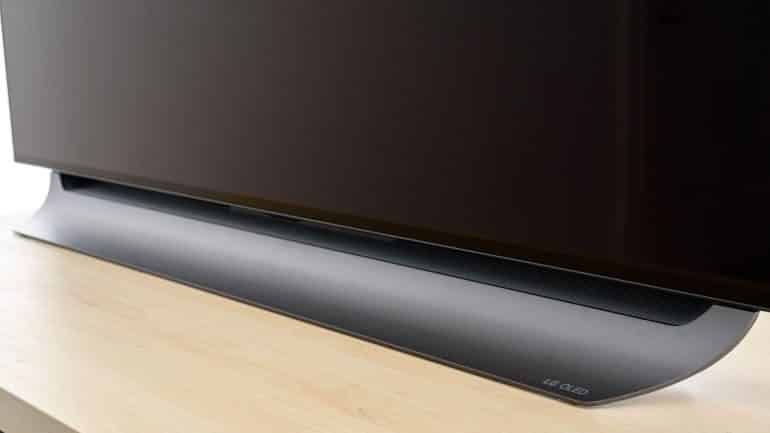 Smart Capabilities
LG's WebOS remains one of the best firmware for smart TVs. In addition to the Alpha 9 chip, the unit also has LG's built-in AI ThinQ® that was launched earlier this year as part of its IoT work over the past few years. This allows the software to determine your daily habits and trends in order to better optimise your experience. This also works for setting up specific image and sound settings for certain content, such as sport. I noticed that this feature was being deployed across the various types of content I was consuming, which optimised picture quality, brightness, contrast and the likes to best viewing.
The LG C8 also supports Google and Amazon assistants to better interact with your unit via a Wi-Fi connection to those devices. It does offer built-in support for Google Assistant, which you can interact with via the Magic remote, which has a built-in microphone. Users can also choose to download the LG remote app onto their smartphones, which also allows them to interact with the TV and give voice commands. LG's ThinQ® technology also provides better interaction with the TV by including natural language processing, which effectively allows the feedback to be more conversational than just barking out orders at it.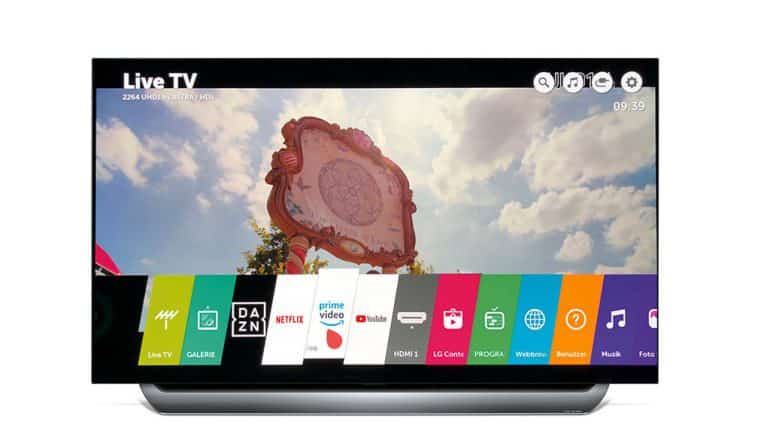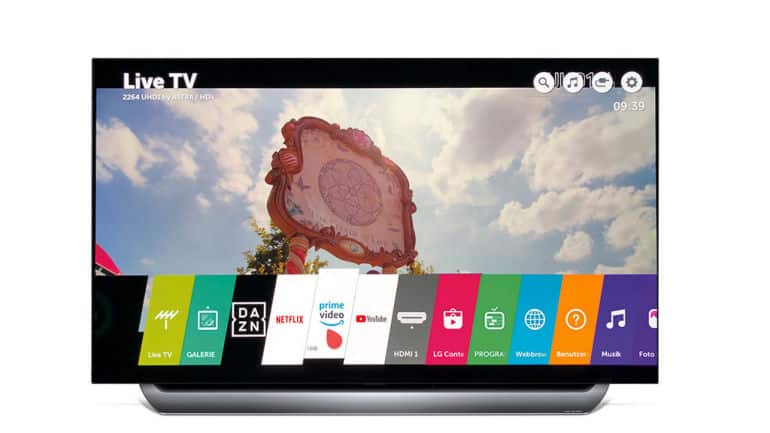 The unit supports quite a number of wireless technologies as well, which allows you to stream content directly from your smartphone or other wireless devices. I was able to play music via Bluetooth, or stream videos via the wireless projection. It doesn't have native Chromecast support, which is a disappointment and a lot easier to use, but having connected my smartphone via the Mirror tools, I was able to play content directly. There are one or two apps that block screen mirroring, such as DStv Now, which only supports Chromecast streaming. It's a bit of a mixed bag overall but still manages to get the job done well enough.
As already mentioned, the unit has quite a few pre-installed apps for your daily streaming requirements, which means you don't necessarily have to have a DStv decoder or satellite to view channels. There was, however, one issue I had with the technology, in that it wasn't able to detect fast-moving objects very well, in order to smoothen out the movement across the screen. This was particularly visible when watching sports, such as cricket, football, rugby and even F1, where there isn't a stationary or central object to focus on. Movements of these objects (balls and cars) came across as blurs on some occasions. After some tinkering with the setup, I was able to lessen the effect, although it wasn't smooth enough for my liking.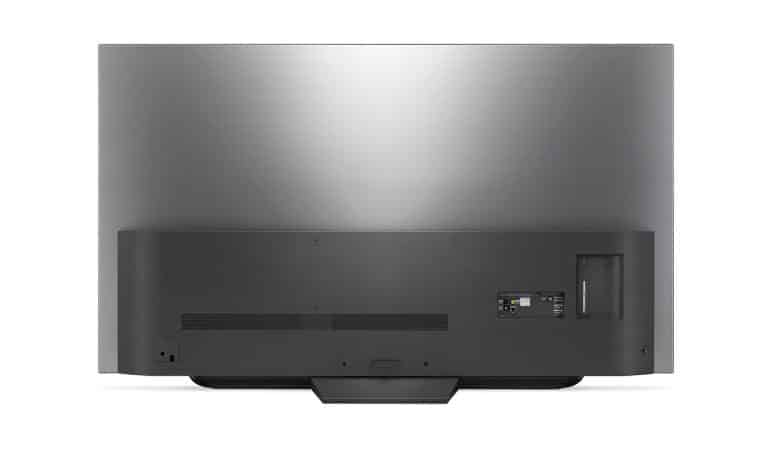 Conclusion
Earlier, I stated that there is no one-size-fits-all package when it comes to choosing a TV. In fact, I doubt that principle even applies to buying socks. For many buyers, they would first calculate their said budget and then find a device able to meet their demands in terms of performance and specs to meet that price point. With a device such as the LG C8 65" at a price of R30,999, your determining factor may be more features and functionality. The LG C8 has that in bucket loads.
The unit supports quite a wide range of image and wireless standards, while also offering a few enhancements of its own thanks to the ThinQ® technology. The LG C8 65" is one of the best-looking TVs, both in terms of the design and the image output. If you have the budget for it, you will have all the features you need at your disposal to make it worthwhile.
The Review
LG C8 65"
The LG C8 65" smart TV has one of the best panels in the business, and with a great set of features to back it, makes it one of the best TVs available.
PROS
OLED picture quality
Smart capabilities
Unique design
Feature-packed
CONS
Limited brightness using HDR
No HDR10+ support
Review Breakdown
Ease of Learning

0%

Ease of Use

0%

Enjoyment

0%

Design

0%

Performance

0%

Value for Money

0%