Lenovo has been a leading technology brand for decades. Although it offers a wide range of solutions and products, they're best known for its laptop range, one of the leading manufacturers in the world. As such, the brand continues to enhance its product ranges year on year, resulting in the launch of the Lenovo Yoga Slim 7i and Lenovo LOQ in South Africa.
Despite the current economy, South Africa is continuing its upward trend and increasing demand for gaming and related products. Lenovo is a brand focused on providing state-of-the-art solutions to not only enhance everyday productivity but also push boundaries when it comes to gaming. Their range allows users to unleash their full potential, from creative projects to unparalleled gaming on the go.
With the updated range comes improved hardware, advanced graphics capabilities as well as innovative new features. This gives everyone power at their fingertips while offering a flexible and portable experience all around.
Yugen Naidoo, General Manager at Lenovo South Africa, had this to say about the newly-launched Lenovo laptop products:
"The rise of content creation and gaming in Southern Africa is a testament to the region's vibrant and creative spirit. At Lenovo, we believe in empowering individuals to explore their passions and push boundaries, and our new lineup of devices is designed to do just that. We are confident that these products will fuel the imaginations of creators and immerse gamers in exhilarating virtual worlds, further propelling the content creation and gaming revolution in Southern Africa."
RELATED: Lenovo ThinkPad Z13 Review – A Complete Redesign of the Range
Enhanced Features with the Yoga Slim 7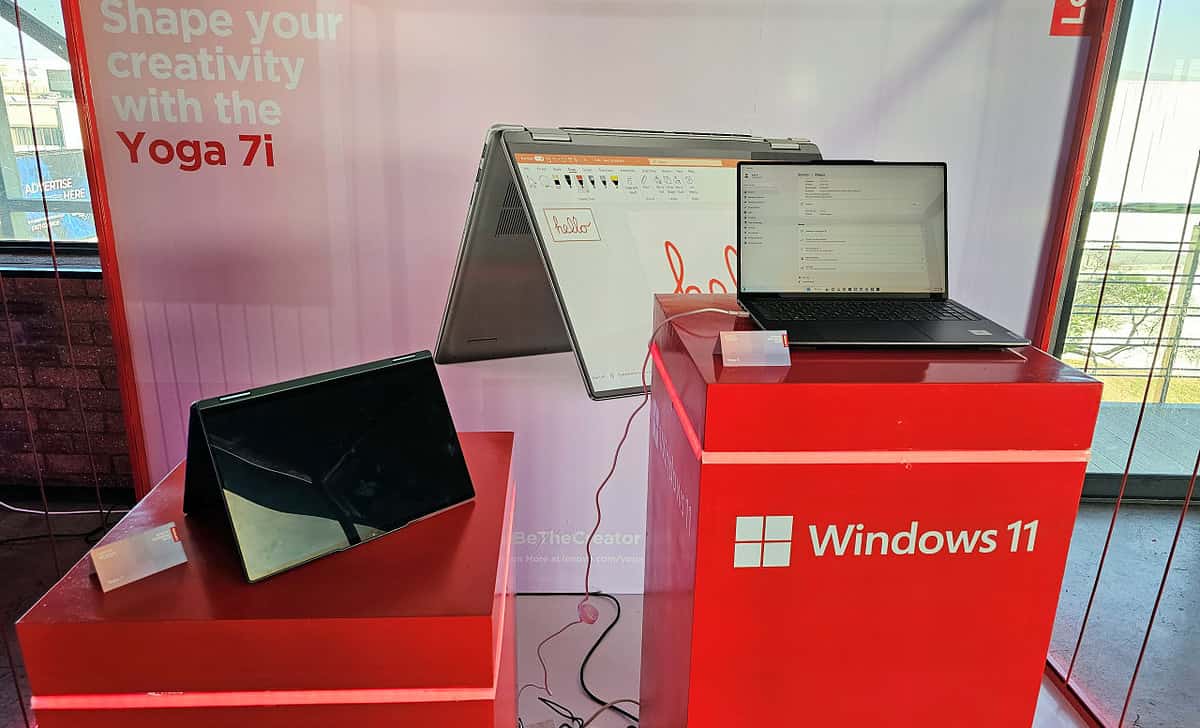 First from the release schedule is the all-new Lenovo Yoga Slim 7. The unit has received a number of new features and hardware improvements and has been specifically designed to elevate the Yoga user experience. It offers a slim chassis that is lightweight and has an elegant finish.
With its hardware update, the device features the latest Intel Core CPU providing more power, portability and longer battery life for users. The range sports a larger 14.5″ screen while also boasting an updated keyboard with 1.5mm dish cap keys. This provides unparalleled comfort and efficiency when you need it most. It also features a larger trackpad to make it easier to traverse, handle and navigate for optimal efficiency.
Additionally, the laptop is equipped with the Lenovo Premium Suite. This includes an experience which includes four microphones to boost video and audio calls with excellent sound clarity. It is also coupled with noise-reduction speakers and quieter fans to allow users to fully immerse themselves in uninterrupted and engaging multimedia.
Lastly, there's the Lenovo AI Engine+. This enhanced technology gives users lightning-fast and intuitive performances while anticipating the power or battery requirements you'll need during your use. As a result, it provides optimal usage throughout, saving battery life while providing all the power you need.
RELATED: Lenovo IdeaPad L340 Review – Impressive & Affordable Gaming
The New Lenovo LOQ Gaming Range
Next up on the release schedule is the Lenovo LOQ product range. The LOQ laptop offers incredible choices for the everyday gamer, allowing them to match their hardware requirements and budget. The LOQ series has been inspired by the Lenovo Legion gaming brand. LOQ brings with it a mix of aesthetics and innovative features.
There are two main lineups for the Lenovo LOQ range. This includes an Inten-based configuration as well as an AMD-based configuration. The Intel range features the new Lenovo LOQ 16IRH8 and 15IRH8 laptops, along with the LOQ Tower 17IRB8 gaming rig. Alternatively, the AMD range features the Lenovo LOQ 16APH8 and LOQ 15APH8 laptops. Each product in either range provides exceptional performance for immersive gaming. It also offers innovative features like the rear I/O notch and the stylized 'O' in both brands' logos.
The Lenovo LOQ product range caters to a diverse group of gamers in the community. Whether you're a newbie, avid or hardcore gamer, the series has a configuration for your requirement and skills. Gamers from all backgrounds can dive into their favourite games, for which the Lenovo LOQ seamlessly paves the way for users to transition between entry-level to high-performance and power.
Lenovo Laptops SA Pricing and Availability
The new range of Lenovo laptops is currently available in South Africa at selected retail partners. The Lenovo Yoga Slim 7i is available at a recommended retail price of R29,999, and the Legion LOQ is available at R16,999.