A few years ago, LEGO and Mercedes-AMG F1 partnered for the Speed Champions playset. The two brands have once again joined forces, much to the delight of F1 and Mercedes fans. The latest LEGO set features the 2021 Car 44, which belongs to Sir Lewis Hamilton.
Over the past weekend, LEGO announced five new sets as part of the Speed Champions brand. That said, there was one standout announcement that piqued the interest of many racing fans.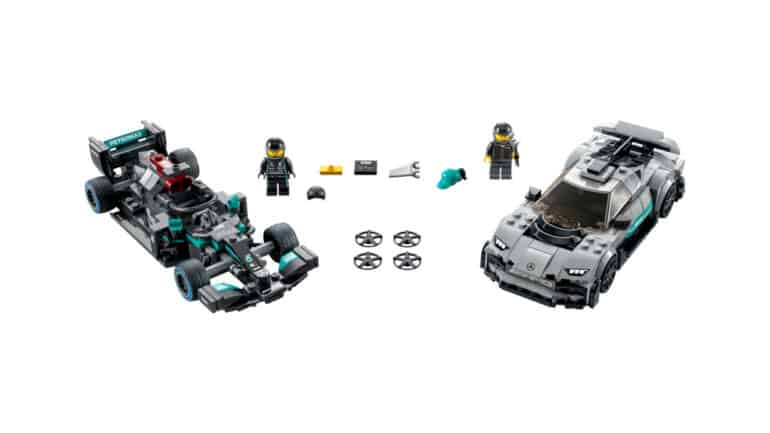 While the first collaboration featured an F1 team, the latest includes just two cars. The full list of pieces from the first drop included 8 minifigures: 2 Mercedes AMG Petronas Formula One Team drivers, team manager, 2 engineers, hot dog vendor, cameraman and a race fan.
The latest collaboration features two cars as a set. This is Car 44, officially known as Mercedes-AMG F1 W12 E Performance, as well as the Mercedes-AMG Project One. LEGO has confirmed the release as building set 76909.
For the Mercedes-AMG F1 W12 E Performance model, it measures over 4cm high, 19cm long and 7cm wide. This is quite a decently-sized set.
In addition to the two cars, LEGO has also included two driver minifigures. Each of these will have their own racing helmet, wig and wrench. There is also an additional two pieces for the number to be changed to Car 77, for fans of Valtteri Bottas.
The Speed Champions set comes with printed, as well as digital building instructions via the LEGO app. LEGO's Building Instructions app provides an interactive, digital guide with amazing zoom and rotate tools. This allows users to better visualize a model from all angles as you build.
The LEGO and Mercedes-AMG F1 playset, which includes the Mercedes-AMG F1 W12 E Performance and Mercedes-AMG Project One will be available from 1 March 2022.
However, this is a global launch, so there is no confirmed date as yet on when it will arrive in South Africa. That said, there is good news that it was confirmed that the set will be on sale on our shores. The LEGO Mercedes-AMG set is a great addition to any LEGO collection – great for display and epic Speed Champions race action.