First of all, please keep in mind that this is NOT the same LEGO DC Universe that features in The LEGO Movie and The LEGO Batman Movie. Even though the LEGO DC Comics Super Heroes looks like it's the same thing and DOES feature a LEGO version of Batman, it's not THE Lego Batman. LEGO DC Comics Super Heroes: The Flash is aimed primarily at young kids, so be warned.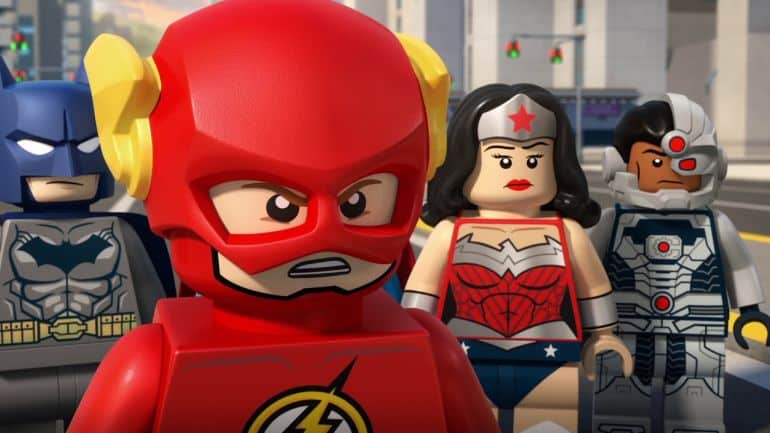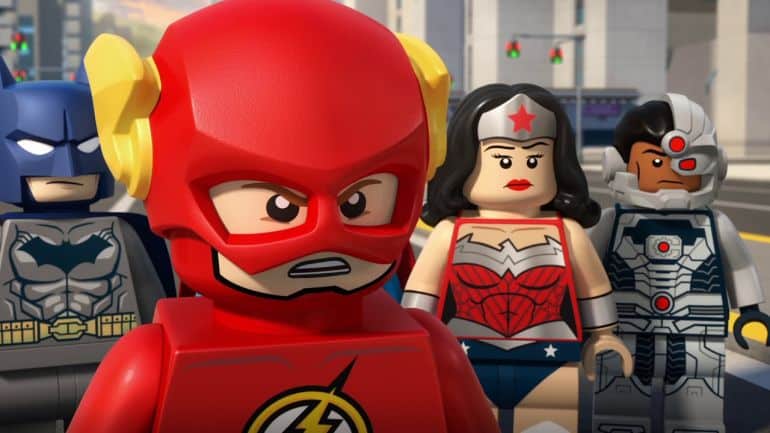 On the same day that the Atom is being inducted into the Justice League, the Joker goes sightseeing around Metropolis – and attacks it! While the Justice League leap into action to stop him, the Flash is running late and keeps getting distracted by other supervillains and snack food. When the Flash finally joins the League, he's criticized by Batman for his tardiness and his day gets worse when Reverse-Flash shows up to torment him.
Flash chases Reverse-Flash into the Speed Force, causing him to enter a time loop which re-starts the day over and over again… and when he finally breaks it, he's shocked to learn that he's lost his superspeed and has been kicked out of the Justice League. But what is Reverse-Flash's real plan, and how can the Flash fight him without his powers? A timely save from the Atom and a visit with Doctor Fate may hold the answers…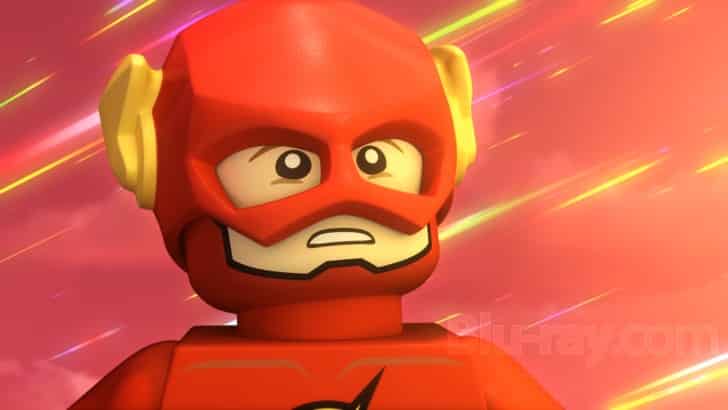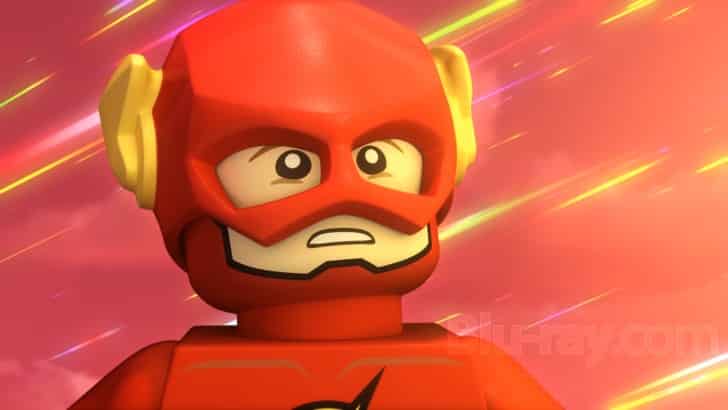 That being said, it's also fair to say that for all the juvenile comedy on display, LEGO DC Comics Super Heroes: The Flash also does a respectable job of telling a decent story and gets the essence of the characters mostly right. Superman is a goody-two-shoes, Batman is constantly grumpy, the Atom is all about the science, and the Flash embodies many of the traits that make Barry Allen tick. While at times he comes across a little too much like Wally West, he's still mostly Barry Allen… and that's a very good thing.
… Far more creative than anything offered up in the live-action Flash TV series.
His Groundhog Day-style time loop early on is entertaining without dragging on, before the loop is broken after just a few minutes. This allows his adventure to continue in ways that are far more creative than anything offered up in the live-action Flash TV series. Reverse-Flash's plan may be simple enough for kids, but there's still some merit to it. And while the Justice League come across more as a bunch of bungling (but good-hearted) numbskulls than effective superheroes for the sake of comedy, it doesn't ruin them as characters. Well, maybe not until the "super pets" of Ace the Bat-Hound, Krypto the Super-Dog and others appear as their cavalry.
Then there's Doctor Fate.
Recently we got so see an incarnation of Doctor Fate as a male stripper in Suicide Squad: Hell To Pay, which was pretty amusing. However, here we get to see DC's master of mysticism in a whole new light as a Barry White-sounding guru laying down some smooth, smooth soul sounds for a short musical number. It's something so unexpected that it's actually brilliant.
It's something so unexpected that it's actually brilliant.
LEGO DC Comics Super Heroes: The Flash may be for kids, and it's so light-hearted that it may make fans of DC's grimmer "adult" fare feel nauseous. But it still gets the basics right, arguably tells a better story than some of the live-action movies like Justice League, and it's a great introduction to many of the heroes for the younger audience. It's fun, throwaway entertainment which should keep younger viewers (and some older ones) happy.
But… please, LEGO. Stop putting Joker in that "vacation" outfit. It was bad enough having it on a minifigure, please don't use it in animation anymore. Some fans know exactly where it's been.