Aquaman is always one of the most underrated members of the Justice League and, as a result, it's not easy to make him look cool. The Brave And The Bold show succeeded by emphasizing his hammy-but-adventurous spirit, while the Justice League film combined that with the physical presence of Jason Momoa. However, for many long-time fans he'll always be known as the dork who rode a lavender-coloured sea-horse in the old Super Friends cartoons. Amazingly, this film makes him look worse.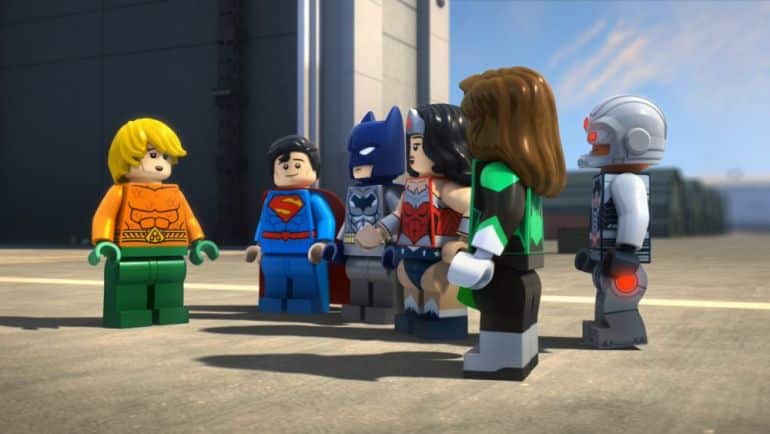 When it comes to members of the Justice League, Aquaman is easily the most enthusiastic about his job. Ready to dive right into any situation, the king of Atlantis loves an adventure. But when the intergalactic bounty-hunter Lobo arrives on Earth to do a job and battles the Justice League, Aquaman is publicly humiliated. A return to his home in Atlantis may seem like the best thing for him, except his evil brother Orm – Ocean Master – has plans to overthrow him.
…this film turns DC's king of Atlantis into a laughing stock.
With Atlantis having turned against Aquaman and the surface world, and with Atrocitus and the Red Lanterns ready to conquer the whole planet, what can the Justice League do? Can the newest Green Lantern, Jessica Cruz, overcome her own insecurities to fight alongside Batgirl and Robin? And will Aquaman ever gain the respect of his fellow heroes and his people, and save the world?
It's a shame that a film which should have highlighted his best qualities reduces him to a moronic simpleton who claps his hands with childish glee upon witnessing Mera's magical party tricks. Okay, to be fair this is aimed squarely at little kids, and his true value as a respected member of the Justice League does become apparent by the end. But still, this film does Aquaman no favours. Unlike the recent LEGO Flash movie, which highlighted the main character in a positive light, this film turns DC's king of Atlantis into a laughing stock.
Aquaman: Rage Of Atlantis' story doesn't help matters either. The Red Lanterns are a strange addition to this tale, reducing the Ocean Master plot to background filler. It's as if there simply wasn't enough material of interest in Aquaman's own comic book history to work with. While Atrocitus's plan isn't a bad one (even with the goofy aspect of using a giant bendable straw to drain Earth's oceans), the film itself plods along at such a slow pace that it becomes boring. Also, many of the jokes simply weren't funny by any standards.
…many of the jokes simply weren't funny by any standards.
All of those negatives aside, there are still some worthwhile moments. The introduction of Green Lantern Jessica Cruz is great to see, and while she's played for laughs as much as anyone (if not more so) she's a fun character. LEGO Lobo is surprisingly accurate to his comic book counterpart, and his amusing anti-hero status remains solid. Above all else, there's a real sense of teamwork between all the heroes – creating a message that everyone is special no matter their differences.
That message alone is a good one, and it's interesting seeing Aquaman used as the embodiment of the point it's making. It's just a shame that he's made to look like an idiot for a majority of LEGO DC Comics Super Heroes: Aquaman: Rage Of Atlantis.
On the whole, this is one of the weakest entries in the LEGO DC Super Heroes line of movies. There may be just enough in it to keep the little ones entertained, but it feels like a step backwards for the franchise. If you're looking for the best of Aquaman before the release of the live action film, look elsewhere.