Since the mid-90s, LEGO has released many video games across various platforms. However, most games have tie-ins across their portfolio to other franchises, creating LEGO worlds as crossovers. At the end of 2022, the brand changed this dynamic with the release of LEGO Bricktales, which lets the player build their way through the story in a more creative approach. As such, the creativity continues with their latest game instalment, LEGO 2K Drive.
RELATED: LEGO 2K Drive: Is This The New Mario Kart?
While it may be a collaboration with 2K, it isn't an expansion of any other existing title, making LEGO 2K Drive an original IP. As the name suggests, this is a racing game. More specifically, this is an arcade racer developed by Visual Concepts. In recent years, the developer has focused solely on sports games (NBA 2K, WWE 2K and previously NHL 2K) but have had some experience developing racing games, albeit some 20+ years back. More recently, however, the team developed the LEGO DLC for Forza Horizon 4 in 2019. So, there was some level of experience there before taking on the task of developing LEGO 2K Drive.
LEGO 2K Drive
Following the success of Bricktales and its take on limitless creativity, LEGO 2K Drive aims to achieve the same as an arcade racer. However, there is more focus on the underlying arcade racer than on making significant differences through any creative building.
At its core, the game aligns more with all the kart racers that have come and gone before it. Think along the lines of Mario Kart and Sonic Racing and others. There's not a lot of distinction regarding the gaming model, with similar styled races, plenty of power-ups and aiming to destroy opponents as you race to first across the finish line.
While players may not expect much difference in the game's dynamics, it is still a decently polished take on the kart racer. The controls feel accurate, almost like a LEGO racer would in the real world. Elements such as drifting, sharp turns and more also feel controlled. Players can choose the best lines of approach, hit apexes as with sim racers, and plan out each lap on the way to victory.
That, however, is easier said than done. With the dynamics of power-ups and weapons, being in the lead a few metres from the finish line isn't guaranteed you'll win the race. Much to my frustration, I found this out the hard way – far too many times to want to reminisce about. But, although frustrating, it's also the joy with many kart racers, where you can exert the exact revenge on opponents just before crossing the line.
On a story level, it's very basic. You're a new racer on the scene in the world of BrickLandia. The world is split into three regions at the time of review, where the aim is to beat rivals in each. As you build up your racing pedigree with victories and collecting flags, once you gain a sufficient number of flags, you'll get to compete in the Sky Cup, the pinnacle of BrickLandia.
RELATED: LEGO Bricktales Review – Fun Virtual Brick-Building for Almost Everyone
The first few races are entertaining, coupled with zany commentary akin to the LEGO franchise. Testing your drifting skills and nitro boosts as you power your way through to victory brings entertainment. However, after the 5th race, you'll quickly notice a pattern. By the 10th race, it becomes increasingly monotonous as you must grind through races to achieve the necessary flags to qualify for the Sky Cup.
Although each race attempts to distinguish itself from one another, each with a different rival driver, the dynamic doesn't differ much. One aspect that annoyed me the most about the grind is the ever-present catch-up logic. I noticed this a few races in, whether I was trailing the leader or racing way up front. No matter the situation, it almost always ends in a close battle, often within one second of each other at the top. In a few races, I picked optimum lines, got the best power-ups and quickly bolted to a quarter-lap lead. I thought this was sufficient to seal the victory, continually using nitro and the like, only to be caught back up inexplicably in the last lap. Watching it all unfold on the world map, it's painfully annoying.
Then there's the creativity aspect of LEGO 2K Drive. Players have the opportunity to craft their builds from the ground up. The builds have a few minimum requirements, such as wheels and engines, which you can then take to the track. You can let your imagination run wild as you craft custom cars to your heart's content. The dynamic is relatively easy to get used to as you spin the camera, invert bricks and connect them to form your racer. However, being a kid's game, I can't see this as easy for those under 10, who will likely want to race.
Then there's the in-game currency and collectables. Although I continued collecting Brickbux (BrickLandia's currency), I never bothered much with it as I played through the story mode. You earn rewards by completing races and side quests or performing a specific skill.
The Continued Pain of Micro-Transactions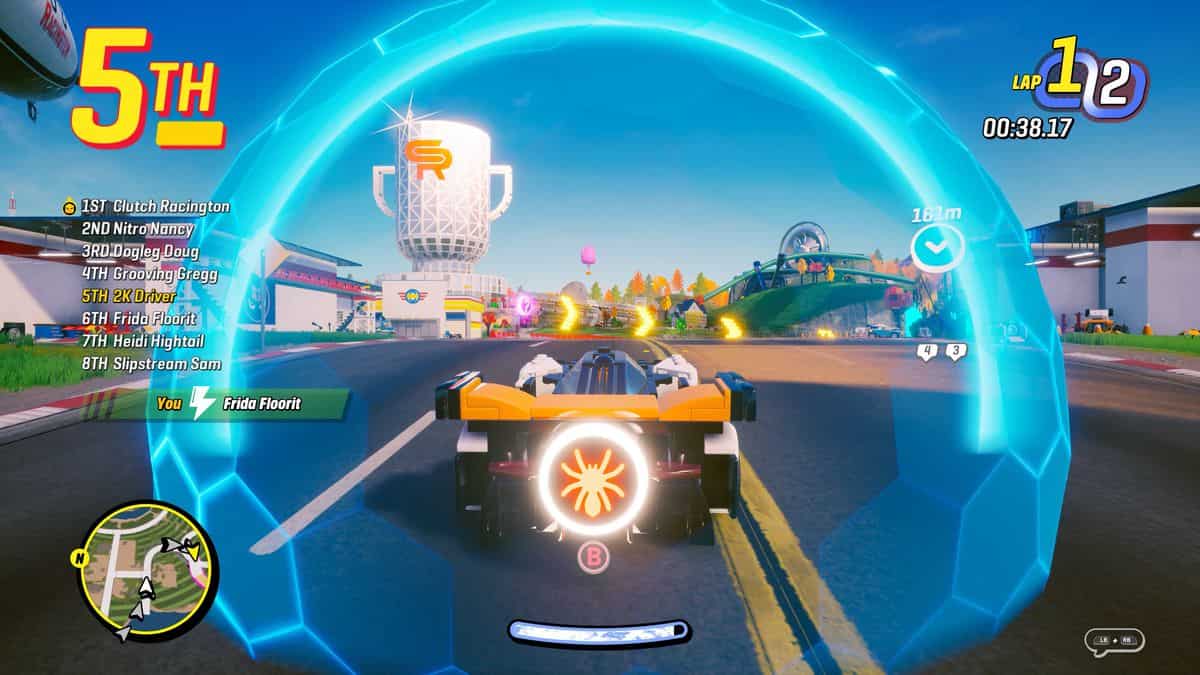 What I didn't like about this was when it came time to spend your hard-earned Brickbux. Although, yes, it was easy to select and purchase some add-ons, such as new cars, bonus LEGO bricks and decals, you would just as quickly use them up. It takes quite a while to collect just 10,000 Brickbux, often the minimum to purchase any car. And this is where the micro-transactions kick in – the bane of almost every gamer.
I won't go into the detail of why micro-transactions are annoying, to begin with, but in games like LEGO 2K Drive, it makes almost no sense. While you can customise and choose plenty of upgrades and more for your racer, it doesn't mean much in the grand scheme.
The parts, such as new engines that are unlocked and specialised vehicles, don't add much to better racing performances, improved speed or handling to have some level of progression with your car upgrades. Yes, there are a few dynamics to each built car, such as speed, handling and health, but it doesn't mean much if you can't build upon this over time for better results. So, spending real-world money for a glorified aesthetic upgrade is quite a drawback.
RELATED: Best of Both Worlds: LEGO Pac-Man Arcade Coming Soon
A Fun Game in Bite-Sized Chunks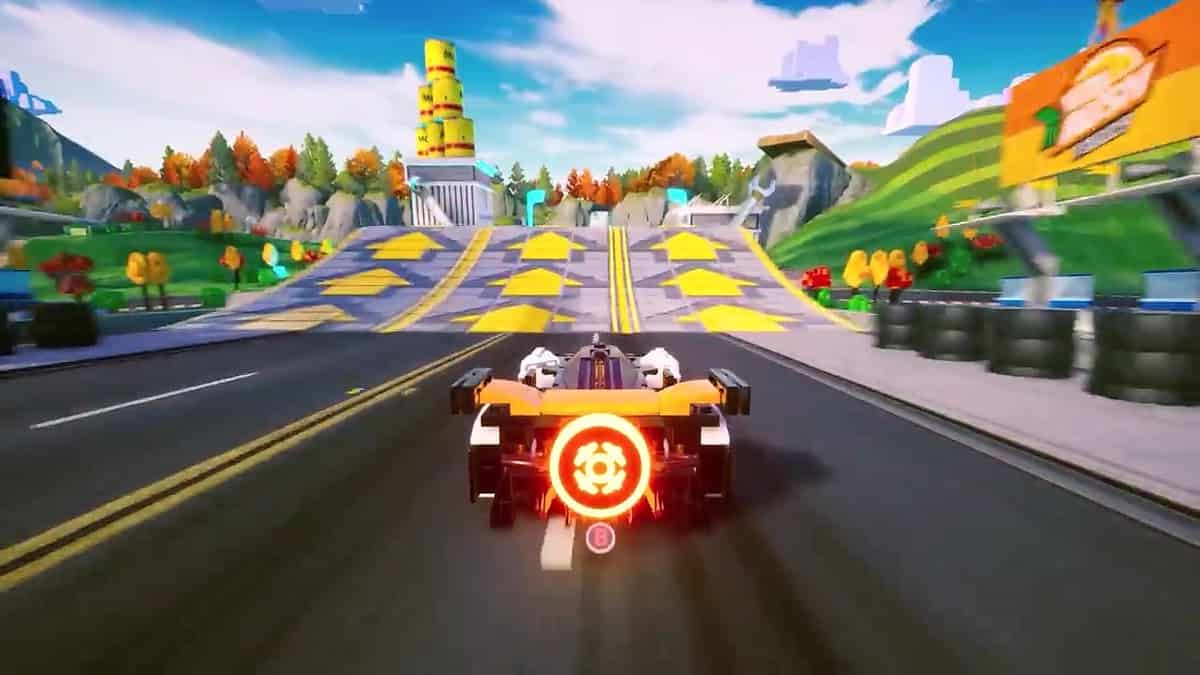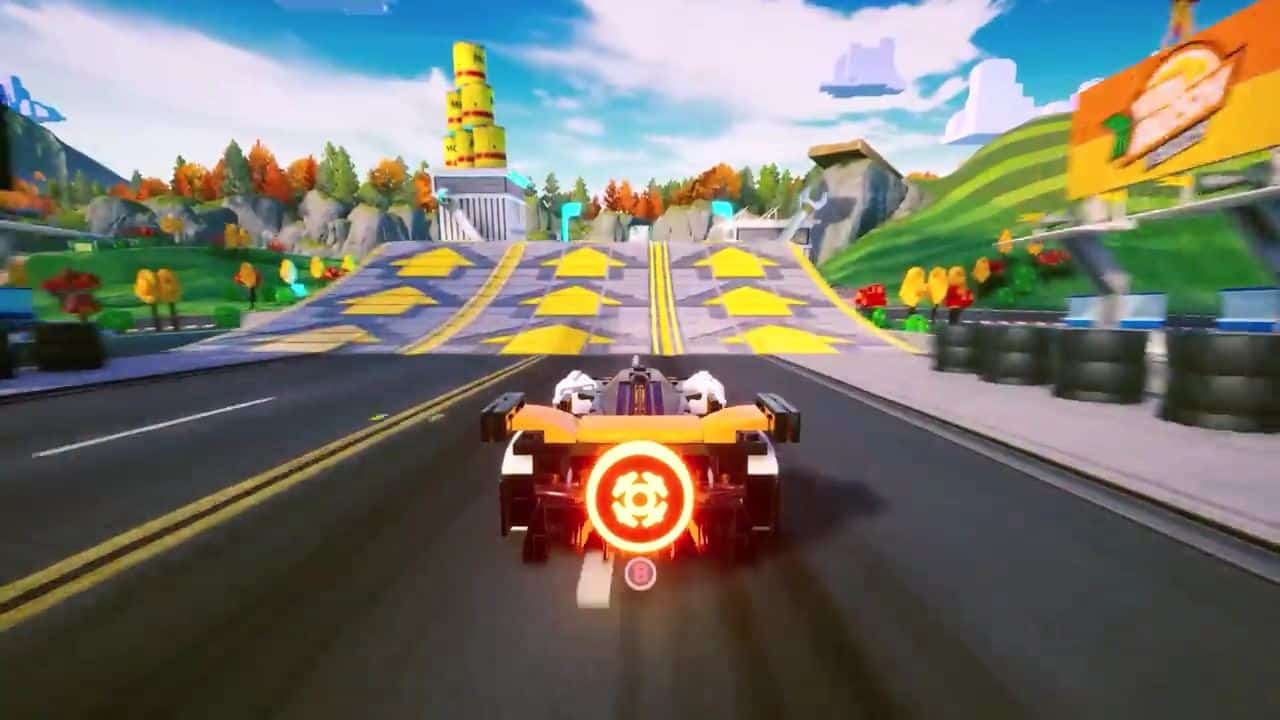 Couple this with the catch-up logic and grinding races, and you don't get a sense of the game's progression as a whole. Instead, it's a fun casual racer you can pick up and enjoy for a few minutes as you compete in races, do a few side quests or attempt to improve in personal bests on some challenges. Furthermore, there isn't much to write home about, and not one worth investing additional money into either.
The Review
LEGO 2K Drive
LEGO 2K Drive is an entertaining game and works exceptionally well in small doses. Unfortunately, it becomes a bit of a drag as you must accumulate flags from victories across repetitive races to reach the final Sky Cup competition. However, the game is quirky and easy to pick up and repeat for a few minutes to kill time.
PROS
Intuitive racing style
Building your own racer
Great Replay value in small chunks
CONS
No true game progression
Micro-transactions
Can be a grind at times
Review Breakdown
Gameplay

0%

Graphics

0%

Replay Value

0%

Sound and Music

0%

Story

0%