Writing for this title must be a daunting task. With so many characters and such a vast backstory, where do you begin? Often comic book readers give the Legion of Super-Heroes a pass because there is no standout character and readers feel at a loss of where to begin. Thus, the Legion often gets the short end of the stick when it comes to publication runs. As is the case when DC started the Rebirth continuity, the Legion was nowhere to be found. Yet there is something special about this title if readers have the patience and the 'smarts' to stick around and explore these characters and their stories.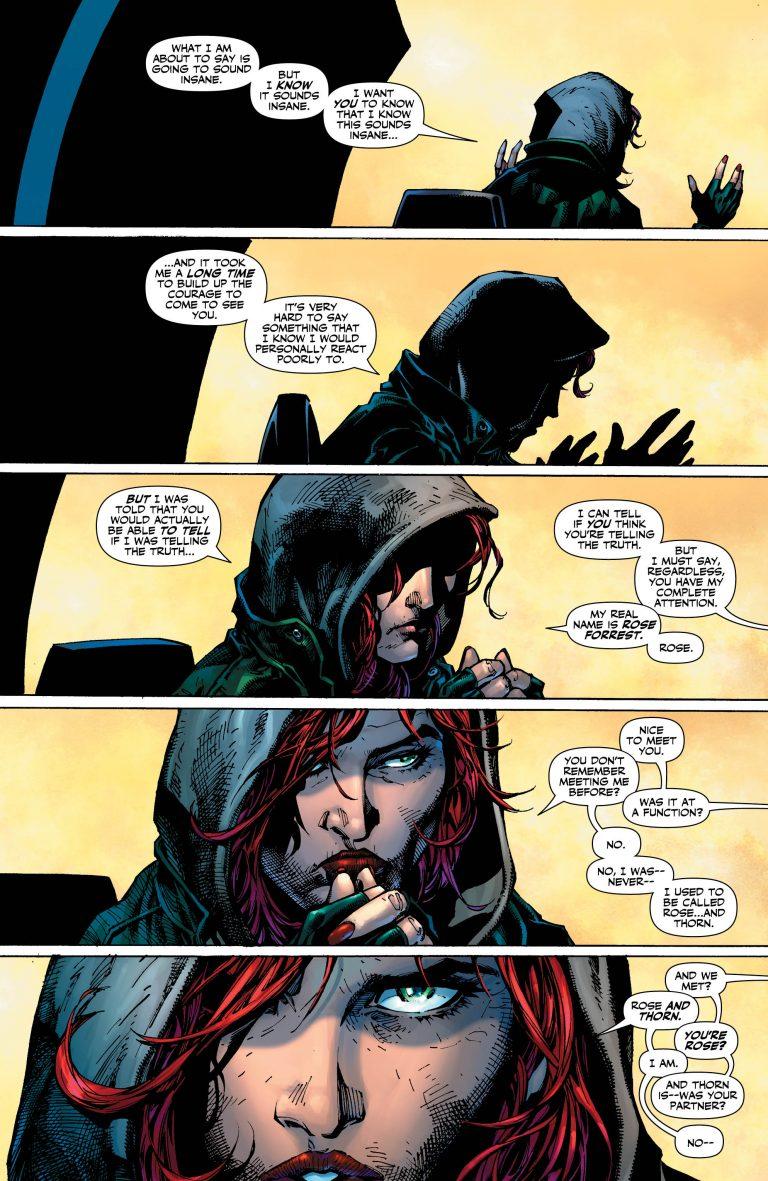 The first two Millennium issues are previews starring Rose Forrest a.k.a Rose and Thorn as the lead. Forrest discovers she is immortal. Seeking answers for her condition, Rose takes readers on a thousand-year quest to find them.
Bendis tells an epic tale across time and space. To focus the story and ground it with an emotional center, Rose is used as a link to connect these disparate futures. On the way, she meets Supergirl, Kamandi and Tommy Tomorrow, to name a few.
While it's exciting moving through time, readers don't get much reasoning for her travels. There is plenty of dialogue but not much context and information besides Rose's search for answers to her split personality disorder. We get scraps of Roses' violent turns into her Thorn persona but as the story jumps around we never see resolutions to these threads.
Legion of Super-Heroes: Millennium #1 opens plenty of avenues, raising questions that will hopefully be answered as we move forward in the series. We also don't meet the Legion of Super-Heroes or understand Rose's connection to them. Readers will have to exercise patience until after the preview editions to sink their teeth into more detailed storytelling.
Four different futures are explored in this issue and each has a different artist. The artwork is varied, naturally but good overall. Standing out is Dustin Nguyen in the Batman Beyond timeline. His work is not as detailed as it could be, but he offers great action panels.
The best work, however, is reserved for Ryan Sook's cover artwork. The composition is brilliant, evoking a sense of spatial disorientation and a lost-in-time feel. The incorporation of the Legion logo into the scene is stunning. Hopefully, he will keep this high standard in subsequent issues.
Bendis has said that he wants to tell a Legion of Super-Heroes story that is consistent throughout. To imitate the creative highs of former Legion stories, like The Great Darkness Saga. Hopefully, Bendis can pull it off and the Legion can get a classic run once more.
The Review
Legion of Super-Heroes Review