Layton's Mystery Journey: Katrielle and the Millionaires' Conspiracy does very little to reinvent the formula of Layton-style puzzle adventures, and it may not even be the best in the series, but it's still worth it for long-time fans. Everyone else may be left wondering what the heck is going on though.
For anyone unfamiliar with this franchise, the Layton games feature a detective in a comparatively harmless and cartoony version of the real world, who for some reason always needs to solve cases by completing a variety of puzzles, mind-benders, and riddles. The series originated on the Nintendo DS, where the second touch screen proved useful in solving puzzles and quickly taking notes. This particular release was originally released on the 3DS, but I don't feel it has suffered too much mechanically with the move to the one-screen Switch.
Series mainstay Professor Layton is absent in this title, as I'm pretty sure he saved the world in the previous game and topping that would be difficult. Instead, you take control of his daughter, Katrielle (Kat) Layton, who opens her own detective agency, and who is plagued by nightmares about her missing father (a strange addition in quite a sweet and upbeat game otherwise). She solves crimes alongside her assistant Ernest, and a talking dog named Sherl.
The whole of Layton's Mystery Journey: Katrielle and the Millionaires' Conspiracy is set in England, mostly in London, and has a delightful aesthetic and tone. Kat is incredibly British, but everything is animated in a wholesome Ghibli-esque, anime aesthetic. The tone will be take-it-or-leave-it for people – it is very cutesy and childish, but crimes are still happening, murders still happen or are implied, and therefore it's not entirely free of adult themes. Personally, I liked the tone, as it was a nice break from grim-dark realism, but I know some people won't take to it.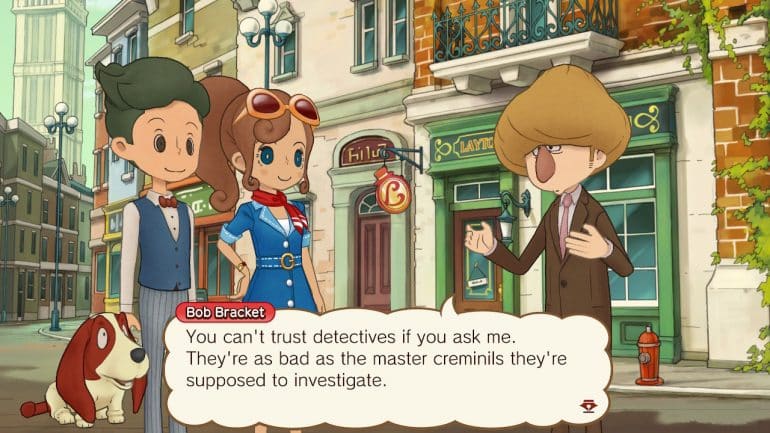 The general gameplay loop is as follows – the game is divided into separate cases, and in each case, you travel around to different locations, search for clues, speak to people, and complete puzzles that people inexplicably challenge you to. The final case brings together some aspects of the earlier cases to reach a sort-of conclusion. In each case, you collect six clues, and Kat solves the mystery. I personally didn't enjoy this aspect of it, as I would have preferred to have had the option to deduce the crime myself and make the wrong assumption – see Frogware's Sherlock Holmes games as a way of doing this better in a detective game.
However, the meat of Layton's Mystery Journey: Katrielle and the Millionaires' Conspiracy is in the puzzles, and there are 500 of them in total. There are even options to download more puzzles per week. With so many puzzles, there will be a mixed bag. Some of them are based on well-known puzzles, and some are based on wordplay or deceiving you in the question itself, but there is such a range that there are bound to be some that you like and some that you hate.
I have heard from long-time fans that the puzzles here are easier than earlier titles, and some are more frustrating than good. I personally got stuck on a fair few and needed to look up the answer (don't tell anyone). However, the game does provide an in-game currency which you can use to provide clues for a puzzle, with levels of clues, including almost directly solving the puzzle. So, you can make things easier for yourself voluntarily.
Also, Kat has 50 unlockable outfits you can dress her up in. So, if you enjoy that sort of thing, you will enjoy your time here.
If I have any complaints, firstly, it would be that the separate cases meant that there wasn't really a cohesive narrative until right at the end, and even then, the major mystery wasn't properly addressed. Secondly, I do find the characters a bit talky and that they take up a bit too much time I wish I could skip through and get to the next puzzle. Even on the fastest dialogue setting, I found myself reading things faster than the game spoke the dialogue.
However, with full acknowledgement that Layton's Mystery Journey: Katrielle and the Millionaires' Conspiracy isn't for everyone, I think it's fine. Adults and kids will all get something from it, and you can certainly do much worse than to give this to your child as an educational tool to improve their puzzle-solving. Just as long as you can stop them sneaking back off to easier fun like Apex Legends when you're not looking.
The Review
Layton's Mystery Journey: Katrielle and the Millionaires' Conspiracy
Layton's Mystery Journey: Katrielle and the Millionaires' Conspiracy isn't going to be for everyone, but it does offer some fun puzzle-solving.
PROS
Charming aesthetic
Delightful characters
Hundreds of puzzles
CONS
Uneven quality of puzzles at times
Narrative falls flat a bit
Small tweaks to quality of life settings are needed
Review Breakdown
Storyline

0%

Gameplay

0%

Graphics

0%

Replay Value

0%

Sound and Music

0%