The original King's Bounty was a game known for being focused on tactics, outmanoeuvring your opponents and trying to keep your rag-tag army of units happy. It was also a game that quickly grew a fan following after its release. The long-awaited follow-up, King's Bounty 2 (developed by 1C Entertainment), aims to bring the franchise to a new generation, keeping the tactical combat but adding new RPG elements into the mix.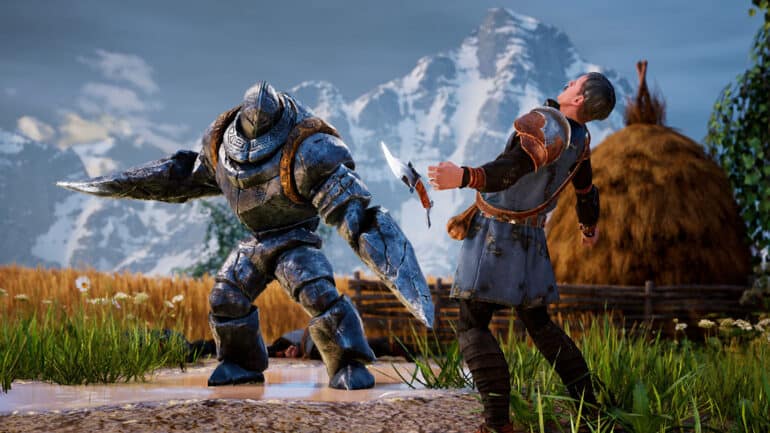 In the name of the King
In King's Bounty 2, a classic tale of the unlikely hero becoming the saviour of the world, you play one of three characters, Aivar the Warrior, Katharine the Mage and Elisa the Paladin. Each protagonist has their own unique perks and abilities to aid you during your journey.
As the game's protagonist, the King tasks you with completing a quest for him. In exchange, he will let you out of prison and forget all the wrongs you have done.
As is standard in most fantasy RPG games, it doesn't take long to find out that there is an evil threatening the world and that you are the chosen one tasked with defeating it.
It's your standard fantasy RPG tale and never veers too much off the well-beaten path of what we've come to expect from these classic and formulaic tales.
Something old, something new
Unlike the previous game in the franchise, King's Bounty 2 sees players exploring the world of Nostria in third-person.
Now, it's important to note that this is not an open-world game. Sure, there are some side quests to complete, but you'll mostly be following a linear path and running into blocked off areas quite frequently. This isn't necessarily a bad thing, as it helps to keep the player focused and move the story forward at a continual pace.
Exploration in King's Bounty 2 does come across as a bit janky. Although you have a steed to help you traverse the world, your character runs at almost the same pace as your mighty steed. This means you'll end up foregoing your mount and just footing it everywhere.
That said, there are fast travel points which do help a lot in exploration.
While exploration might have seen an update, combat still takes place on hexagonally-gridded arenas. You, as the commander, command up to five armies in turn-based combat against your opponents. Your hero doesn't directly partake in the battles but rather cheer from the sidelines and cast various spells and buffs.
Before each battle, you can decide which armies you want to keep in reserve, and which you want to deploy. Each unit has a basic attack and a special ability. Deciding when to use these abilities can mean the difference between winning and losing.
There are also other things to consider, such as which enemy your regiment is facing, as specific enemies are less vulnerable to certain weapon types, and the terrain your units are on. All these elements can affect the outcome of a battle. Luckily, you can always retreat if the battle is too tough and come back later when you are suitably buffed up.
King's Bounty 2 does have a morality system in place where certain choices you make during dialogue can affect the game's story in a very limited way. There isn't much depth to this system and it can feel tacked on at times, especially as it isn't explained very well.
Things to see and places to go in King's Bounty 2
Although the semi-open world in King's Bounty 2 can be a pain to explore, at times it can be surprisingly beautiful. There seems to have been a lot of detail put into the game's stylised world and you do get the sense that the developer, with a bit more time and money, could've created an even more memorable world to explore.
As mentioned, although a lot of the original's humour is lost, there are times when I did find myself giggling at some of the dialogue.
While on the subject of dialogue, the voice acting in the game ranges from serviceable to terrible.
A Mishmash
King's Bounty 2 feels like a game that tried to update some of its mechanics and in the process lost what made the first game so special. A lot of the humour from the first game is missing and, although the open world can be beautiful and detailed, it can be a pain to explore.
The shining light in the otherwise mundane game is the combat, which I time and again found myself looking forward to.
This is a case of trying to change things up to bring a game to a new generation, which doesn't always work out as planned. If Kings Bounty 2 focused a bit more on its combat and less on its open-world it might have turned out to be a much better game. In the end, the game feels like a missed opportunity.
The Review
King's Bounty 2
King's Bounty 2 tries to bring the franchise's formula to a new generation but instead loses some of what made the original so much fun.
CONS
Exploration can be a bit janky
Voice acting is hit and miss
Review Breakdown
Gameplay

0%

Graphics

0%

Replay Value

0%

Sound and Music

0%

Story

0%